Creative Artist Fari has a sense of style that embodies class, sophistication, elegance
and
glamour in one.
"The world is your runway and every moment counts. So why not make the most of it by being yourself and wearing your confidence out through style!" she says, "being a person who wears the hijab it makes it more exciting to layer pieces and bring an interesting look to everyday clothing."
This week, we take a peek at her Street Style;
Look 1 : What better way to dress up for a Massive outdoor dinner with your family and friends. Comfy, cozy yet fashionable and chic. I'm also pairing an emerald green blouse with a stunning embroidery of a hummingbird with black leggings and a flowy beige trench coat.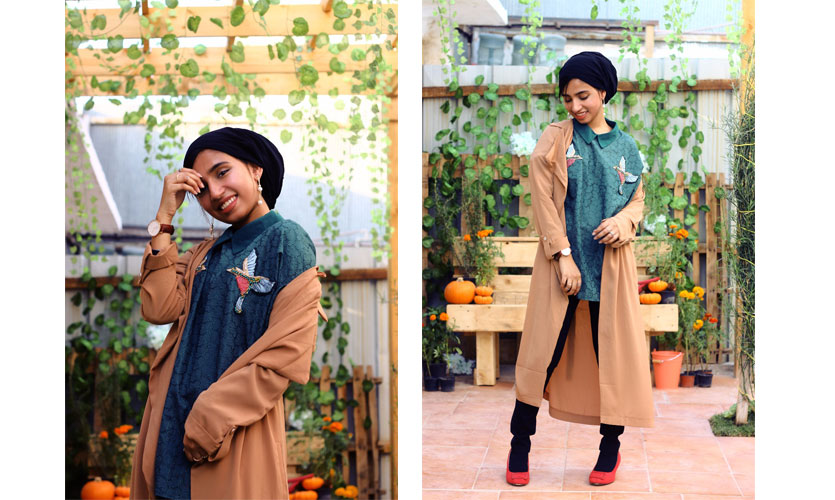 Remember when pairing shoes with your outfit there has to be some connection in the colour scheme to that outfit. My red shoes work with the body of the hummingbird and this makes the outfit stand out! The turban too has to have some sort of colour connection to your outfit. I have paired it to match it with my black leggings!
LOOK 2 : Winter is one of my favourite seasons, so for this look, I have a street style outfit with a twist of classiness. We have the grey joggers paired with a dark grey top and ankle boots. To that, I have added a maroon satin bomber jacket which is too stunning! As I mentioned, all your pieces need some sort of connection, so I wore a maroon lip to add to the look. Most of the time I make sure there is some statement piece in the look; here it's the faux fur muffler.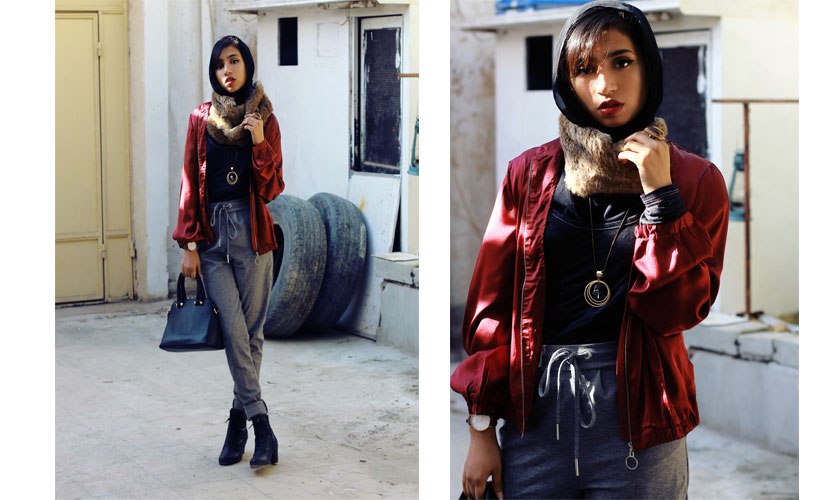 LOOK 3: This outfit is perfect for a classical concert or Broadway show or even a horse racing event! This outfit was inspired by the 1960's but with a modern touch. Here I am wearing a gorgeous yellow blouse with puffy sleeves and wide sap green pants. Paired with a black beret, leather gloves and black cobra skin clutch. The statement pieces here are the beret and the gloves.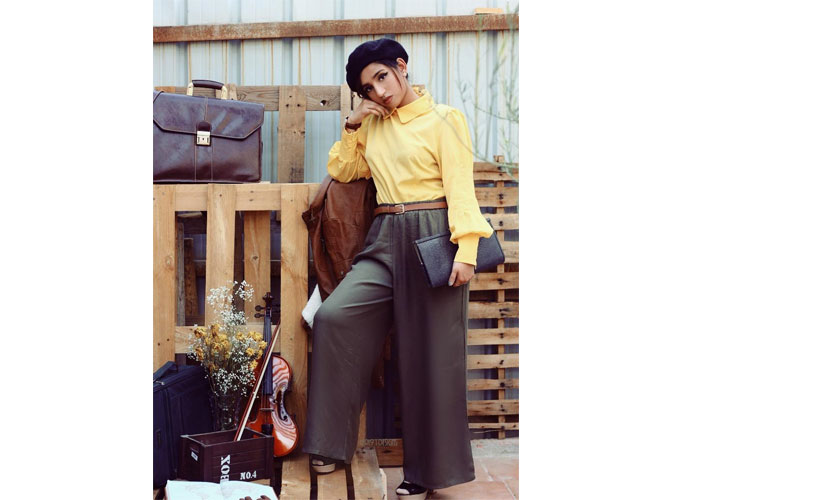 LOOK 4 : I love wearing comfortable yet stylish outfits when I go for such exciting events! This gorgeous long pastel top with jeans and wedges (the comfy kind) just looks fresh and fun! I choose to be a little extra by wearing wedges since they have good support. My statement pieces here would be the hoop earrings and the peach pastel clutch.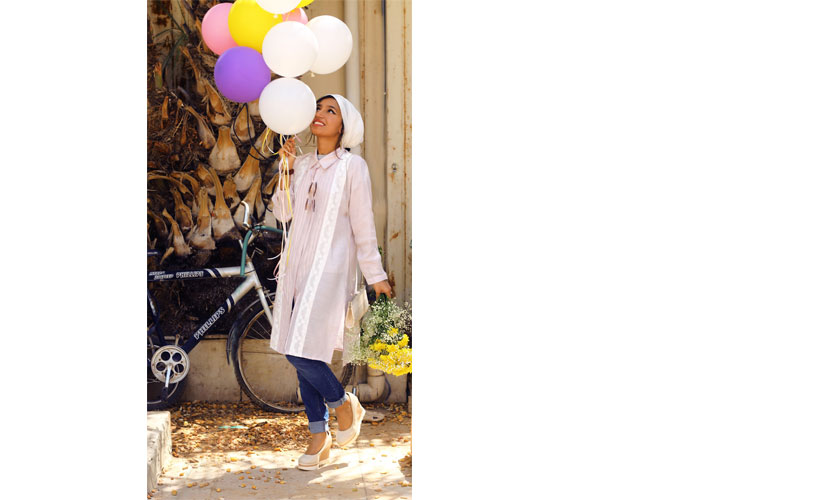 LOOK 5: Since I am an artist I do enjoy visiting beautiful art galleries. So, wearing a gorgeous black and white jumpsuit with a white inner top was just an instinct. Paired it with a simple yet classy set of pointed toe flats and a sheer scarf around the neck made it complete!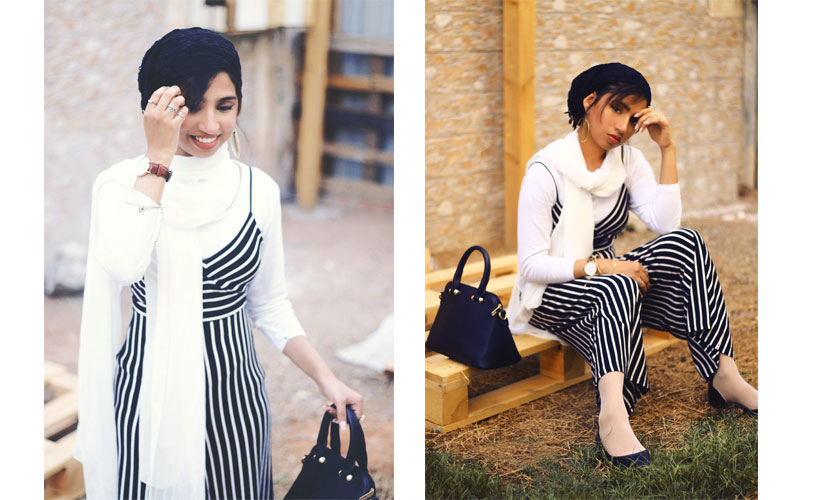 Style Role Model: I have a few of role models I get inspired by. They are Dina Tokio, the late Princess Diana, Coco Chanel, Dolce & Gabbana and Audrey Hepburn. All of them have a great panache with elegance, classiness and charm to their style. They inspire me to go in an effortless and glamorous path towards styling. I always think it is also important to be brave and confident with your style as it builds your self-esteem as they have encouraged me to do so.
Favourite Colours to Pair: To me pairing colours that are neutral and earthy bring out a more peaceful and timeless look to your style. Pairing any of these neutral or saturated colours such as beige, maroon, sap green, black, browns, peach with leather or satin statements complete the colour palette.
Go To Outfit: A long sleeve stripe t-shirt and black leggings with a pair of oxfords, maybe throw on a loose overcoat. You cannot go wrong with STRIPES!
Oh! You got to own a WATCH! This must be one of the most amazing things ever invented! I love looking at the time and having a watch have that done for me with its own stylish appeal completes my wardrobe.

Ankle boots

Trenchcoat

A set of gold-plated rings
Make up tip?
Makeup is another way to express your creativity but I prefer going for a natural look. Keeping it simple, fresh and dewy is everything! Especially, if you have good skin, there's no reason to add another layer just because someone told you to.
Try to stay away from foundation if you can and opt for a concealer and good moisturiser mix if your skin is sensitive like mine. I slap on a bit of red tint Labello and a good winged eyeliner. I've had trouble with my skin before and am just growing to be confident in it, so I'd rather not cover it up. I do have the occasional makeover as I do enjoy fancy make up once in a while.
Being a hijabi routes us to modest fashion and it can be a little challenging sometimes. There are some items of clothing which I think don't really go together. Especially wearing short sleeves and a scarf on the head looks a little weird and incomplete, so try and wear an inner long sleeve t-shirt on the inside.
Once again, being a hijabi we layer a lot of clothes on. Such as wearing short dresses we add leggings and so on. So a lot of layers and different colours are involved. We need to be a little careful on getting the colour combinations right. Most of the time when wearing sleeveless tops we tend to wear an inner top of a different colour. I am personally not a big fan of that. If I wear a dark blue sleeveless dress with gold work on it, I would certainly opt for a dark blue inner top not a gold inner top because it causes such a separation, builds no flow to the outfit and looks odd at times. (Sometimes, it works on very few sets but mostly it looks a little strange). Then adding some accessories just finishes it.
·

If it is not a hijab kind of day for me I'll go for my loving beret. Tuck all that hair into a loose bun and put on the beret!
·

Carry your most important essentials, you never know where you'll end up going after work: Mini perfume tube, Liquid eyeliner, Concealer, Labello and Moisturiser.
·

After a night out and getting home do not immediately hang your clothes in the cupboard or fold them or put them to wash. Instead, hang them on a hanger and let it sit outside whether in your laundry room or balcony. This removes the sweaty smell and ventilates the clothing making it good to wear for a second or third time.
·

Do not wash your jeans too often! It completely loses the quality it has. After 3 or 4 times of usage then throwing it into the wash would be fine.