Nirudi Pussewela launched CocoSkin with four simple tried and tested homemade skin care blends. She strongly advocates going back to the most natural of ingredients to achieve healthy and beautiful skin and presents a strong case for adding an all natural homemade product to your face and body care regimen.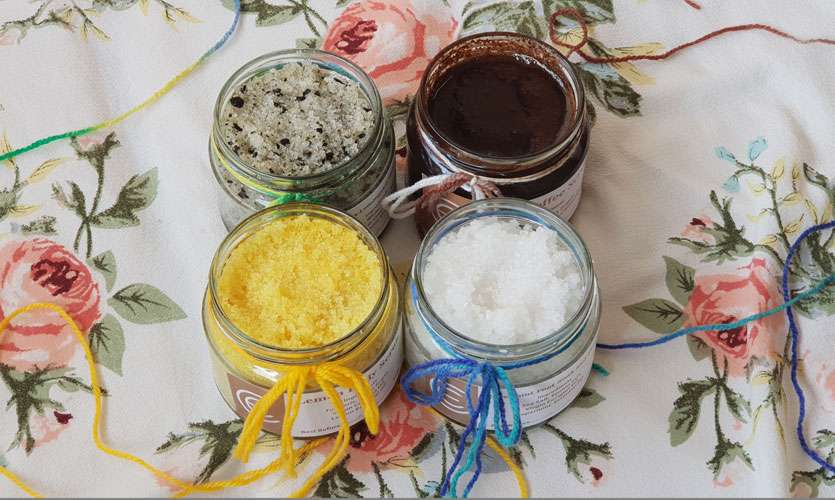 CocoSkin scrubs are made using some luscious base ingredients. What makes these ingredients so great for skin?
A homemade body scrub for me is a complete skin care treatment which one can complete within 15 minutes. Apart from exfoliation and rejuvenation it acts as a remedial pack that easily treats little imperfections in the skin. It is easy to get disillusioned in a typical retail cosmetic alley with all the glossy brands on offer today and more so with commercial brands which use natural ingredients. So that is when a simple but high quality homemade blend using natural ingredients would help. The good news is that natural body scrubs are results oriented, saves a lot of money and has no side effects, though a patch test is always recommended for extra sensitive skins.
At the moment under the brand name CocoSkin I have four scrubs. The Dark Coffee Body Scrub is great for addressing body pigmentation, toning down cellulite and the aroma of coffee is a stress buster. CocoSkin Lemon Scrub evens out skin tone and brightens skin. The Peppermint Foot Soak and Scrub is a therapeutic formulation that relives muscle tension, soothes dry skin and foot odour and the Lemongrass Green Tea Hand Scrub is a great antiseptic which encourages youthful appearance of skin.
The carrier oil in each product is Virgin Coconut Oil which has endless benefits for skin and hair equally. However each product is carefully mixed with different quantities of ingredients that we have mentioned in all our labels. In terms of the aroma the coffee is pure Sri Lankan dark coffee and it is my favorite. The rest of the ingredients are given strength through quality essential oils produced in Sri Lanka.

What is the most popular scrub in your range?
The most popular have been the Coffee Scrub and the Lemongrass Green Tea Hand Scrub. Coffee has been known for its stress reliving properties and
I use strong Sri Lankan dark coffee which most Sri Lankans absolutely love.

How does one create a scrub?
A scrub is created with three basic layers. Firstly it needs a carrier oil to carry the essential oil in a product. The carrier oil is also the biggest moisturizing agent of the scrub. As a second layer, the user can choose their own essential oil depending on the skin concern they need to address. As a third layer, they also need an exfoliating agent such as sugar or salt. Though you may see countless recipes on the internet I suggest that you should always pay attention when choosing what is best for you and refrain from using any food color or sprinkles as some information portals suggest.

How did you stumble upon the art of making homemade scrubs?
I have always believed in a balanced, healthy lifestyle and I choose natural products as much as possible. It is also not about beautiful skin but rather healthy skin that I believe in. This whole idea started when a friend and I came up with a great recipe for a face pack which we used for over a year or so. It was totally safe and gave clear results that we decided to create a few other products. None of these products have been tested on animals or have been mixed with any sort of chemical components. Ingredients are straight out of a typical pantry cupboard.
Is the interest in all natural homemade products at an all time high at the moment?
I do feel people are moving towards natural remedies faster than before. However with original home made products I feel that their confidence in them still needs to grow. This is why it is essential to pour all that care into each recipe in order to win the trust of the customer. I also believe that direct selling is best where the seller can communicate directly and explain what the product is all about. It is very different to reading the packaging of a commercial brand. That way the creator of the product can build a long term relationship with the customer and feel inspired to work further on great ideas.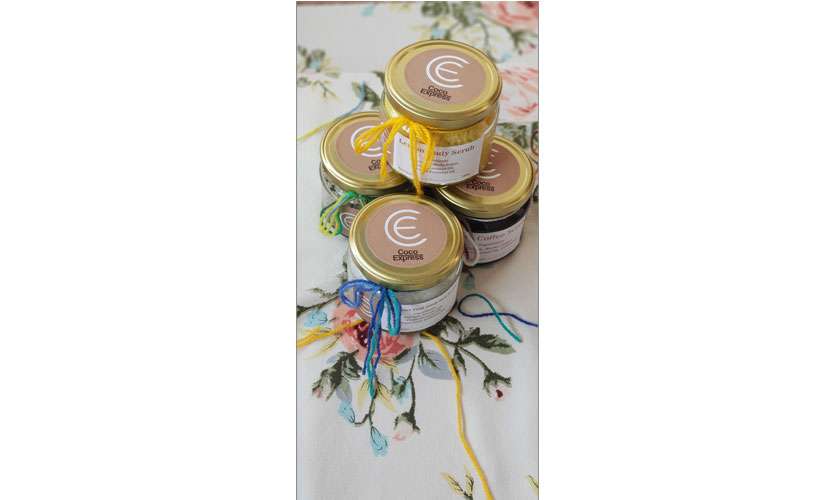 CocoSkin is a part of a marketing platform you hope to launch called CocoExpress. What is your broader vision for this?
My broader vision is to create a giftbay where customers can buy one of a kind natural, handmade gift items to suit any occasion. So CocoExpress would like to invite new start-ups to grow with us in creating these handmade gifts. I have plans for a Christmas Corner at the end of 2018 where I hope to showcase some new and unique gift offerings as well. However, CocoSkin is my core brand and I plan to develop more products in time. I prefer to take my own time to plan and produce a quality product with local ingredients. So these need some experimenting and growth before introducing them to the market.

With a great idea and product in place what do you find the most challenging in taking your brand forward?
The most challenging I find is gaining the trust of a new customer because until they have used the product they may not feel like purchasing it. At the moment I am active on Facebook and Instagram but I hope to embark on pop up sales whenever possible.
By: Surekha Jayasinghe