Beauty isn't only about looks and this was proven at the Facia Miss Universe Sri Lanka pageant which concluded last evening at the Hilton. As another attempt to celebrate the beauty of Sri Lankan women, Model Shop in association with Voice of Asia Networks made history as they produced two title holders a few hours apart. The 11 contestants who made it to the finals were from different backgrounds and each one of them had a unique story of their own.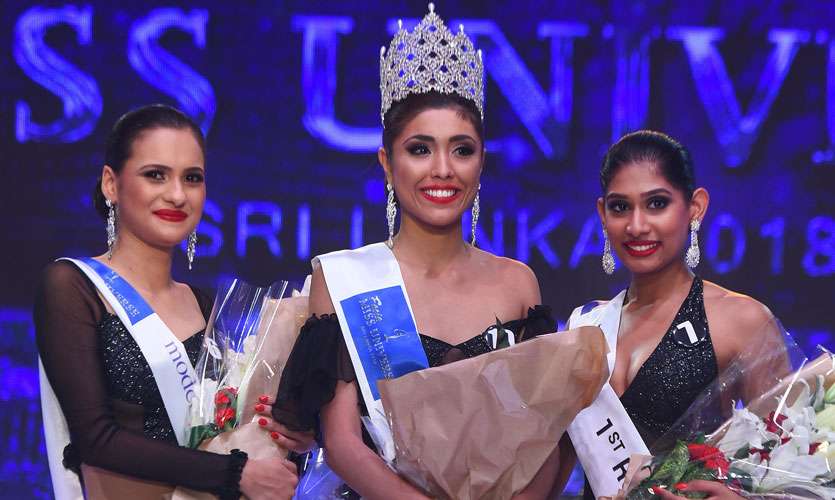 The evening began with the Channa-Upuli Dancers bringing in a cultural treat for all guests as they performed an act from a procession. Each contestant was beautifully clad with some mind-blowing attire designed by Lou Ching Wong himself. As the producer and the choreographer of the show, Wong had taken all efforts to maintain a high quality in terms of the production. During the finale, an expert panel of judges including renowned actress Veena Jayakody, creative director at Hilton Colombo Kay Ng, hair stylist and the first Sri Lankan male to climb Mt. Everest Johann Peiris and the ever-so-popular dancing sensation Upuli Panibharatha took their seats to adjudge the winners of the evening.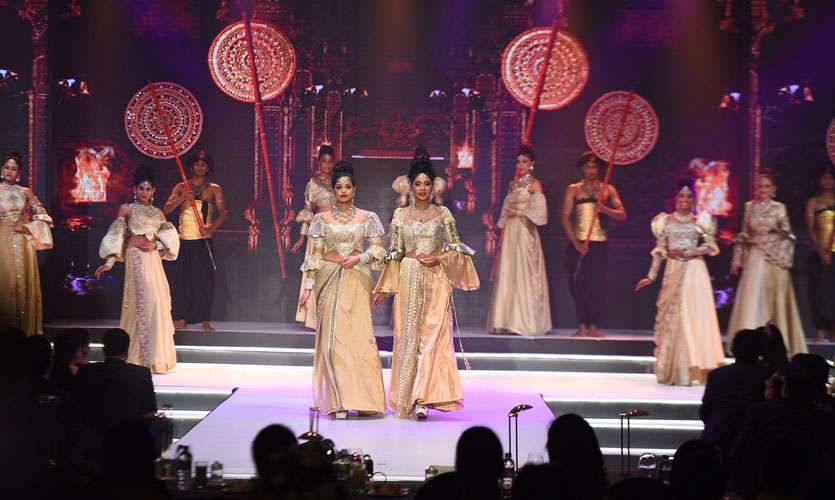 Amidst all the excitement, the winners of the mini pageants were sashed as follows :

Denta Most Beautiful Smile: Amandi Soysa
Aliya Resorts and Spa Dances of Sri Lanka: Marion Wettasinghe
Real Radio Miss Popular: Ornella Gunasekara
Offmarks Face of the Year: Natalee Fernando
Singer Miss Talent: Marion Wettasinghe
Fadna Miss BodyBeautiful: Marion Wettasinghe
LICC Model of the year: Ornella Gunasekara
Triumph Miss Confidence: Ornella Gunasekara
Facia Most Beautiful hair: Wasana Gunasekara
Facia MissCongeniality: Ornella Gunasekara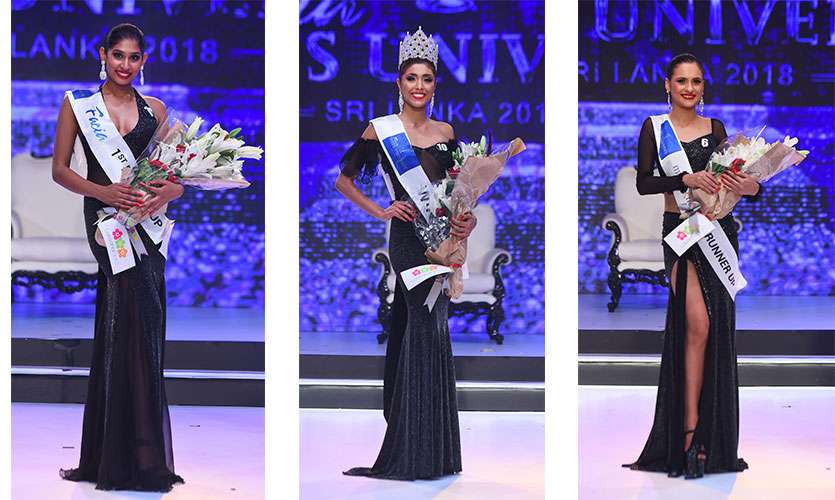 The contestants were clad in evening wear also designed by Lou Ching himself and eventually, the top five contestants were announced. It was quite interesting to note how all five of them faced the judges with absolute confidence. These are the results of the team of experts who worked tirelessly to groom them to be who they were at the grand finale.
As the evening drew to an end, Natalee Fernando and Marion Wettasinghe were sashed as the second and the first runner up respectively, while Ornella Gunasekara was crowned as Facia Miss Universe Sri Lanka 2018 and will represent Sri Lanka at the main pageant in Thailand.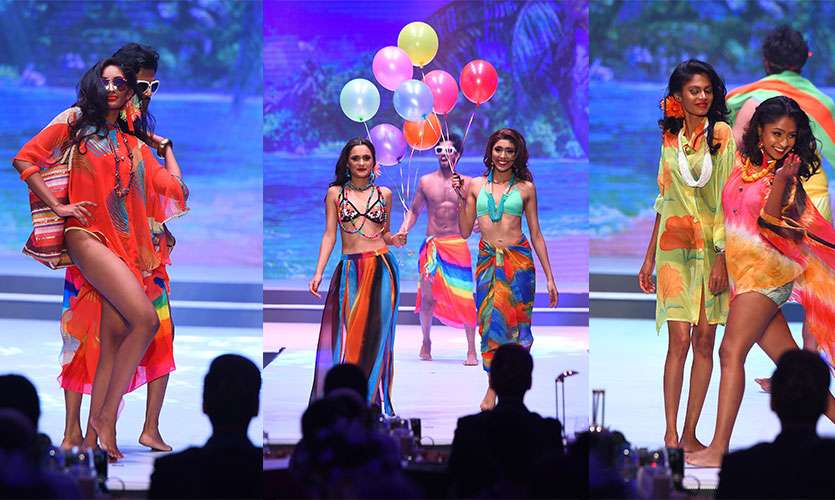 We also didn't forget to speak to a few faces behind the success of the show, the judges and a few guests:

Couture designer and choreographer of the show Lou Ching Wong said that a lot of hard work went into the show.
"But I'm fighting to do better every time. The girls performed very well and I was able to execute my idea well. They extended their fullest supported although I'm very strict when I get to business."

Model Shop directors

"It was an amazing journey and I'm so happy with the outcome. But forme all the girls are winners because they transformed themselves into individuals with a lot of self-confidence. I got good feedback from the audience in terms of the show and the judges' choice." – Sangeetha Weeraratne


"It has been six months since we started this journey withModel Shop and today was one of those much awaited days. We made history as we organised two grand pageants in one day. Although we had many obstacles to overcome we managed to succeed. During the next couple of years we aim to produce an international winner from our country." – Dhananjaya Bandara


"With Model Shop we try to give an opportunity for our girls to expose their talents and build up their confidence. As such it has been an amazing journey thus far and we hope to identify hidden talents from Sri Lanka and show the world what we can do." – Shereen Kumaranatunga

Winners

"I first tried out this pageant when I was 18. I'm 26 now and I'm so honoured and thrilled to have worked hard and persevered and finally I got the opportunity to represent Sri Lanka. I will work hard during the next two to three months to bring the Miss Universe crown to Sri Lanka." – Ornella Gunasekara, Winner – Facia Miss Universe Sri Lanka 2018


"I'm very happy to be the firstrunner up of this pageant. Even if I didn't win a place I'm a winner for my entire life because it was a great learning experience for me. I can say that I'm not the same person who joined this pageant a couple of months ago. I'm very happy to have had this opportunity and it was an amazing adventure with a beautiful bunch of ladies." – Marion Wettasinghe, First Runner Up


"I will continue the work that I have started. I'm so grateful for this opportunity and I'm glad that I was able to compete alongside some strong women." – Natalee Fernando, SecondRunner Up
Judges
"We had to consider many other criterias, not just beauty. So it was quite a challenging experience being a judge. Initially, they weren't very confident but with the training, they came out of their selves and faced the pageant well." – Veena Jayakody


"The standard of the competition has improved. Even the girls faced it with much confidence. Their personalities were quite impressive and it wasn't an easy selection." – Johann Peiris


"It was a great honour to be one of the judges for Miss Universe Sri Lanka 2018. This year was very tough because they were very intelligent apart from the fact that they were all beautiful. We need to choose the right person to compete with contestants from around the world because the competition outside Sri Lanka is huge." – Kay Ng

Guests

"After a very longtime the Miss Sri Lanka pageant has regained its quality in terms of entertainment, production and the quality of models. I think both pageants had a bunch of girls who could represent Sri Lanka internationally. I would like to wish Dhananjaya, Sangeetha and Shereen all the best for many more successful pageants in future." – Nelum


"It was a good pageant. I have worked with Lou Ching from back then and I know his ability to bring the best in a person." – Nilu


"The girls faced it well and the girl that deserves the title won. Ornella is someone who knows what she's doing." – Brian


"I would like to wish Ornella all the best and as afriend I'm happy to see her carrying the title and hope she will do well at the international pageant as well." – Jake

"I'm proud to see that so many youngsters from around the world have come to participate in this pageant. I hope they will move forward and make Sri Lanka proud in different other platforms." – Amritaa


"Sangeetha and the team worked very hard to achieve this success. It is not an easy task to come up with a show of this calibre. But in the end, they succeeded and I wish them all the best." - Sandy

Pics by Manoj Ratnayake, Damith Wickramasinghe and Waruna Wanniarachchi