At a friend's mehndi night earlier this year, amidst explosions of colour, delicious food and music, my attention was drawn to guests thronged around a young lady clad in rida, the traditional headwear of Bohra women Gripping a cone firmly, Insiya was immersed in adorning mehndi on a little girl's arm. It was electric yet exquisite leaving me marvelled. And, that was enough to initiate a meeting several months later, to unearth the life of this beautician/entrepreneur on track with her artistic flair, that demands more than sheer inclination.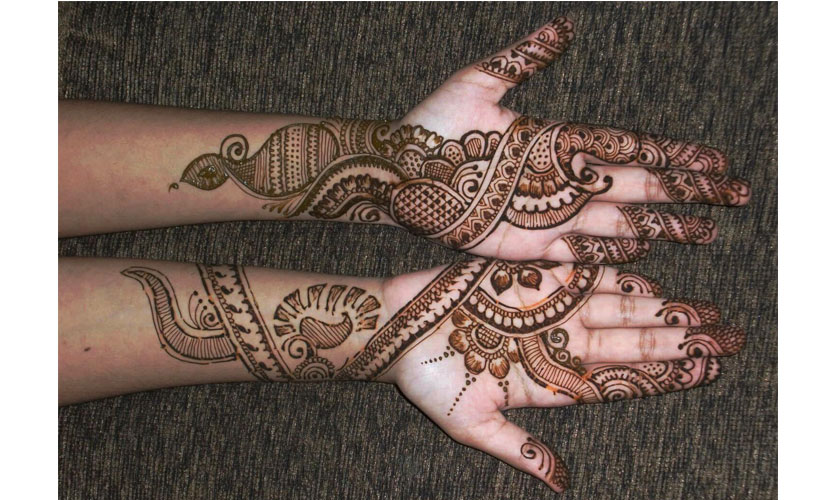 As I walk into her salon facing the Western Hospital in Borella on a drizzly morning, a sense of warmth and self assurance unfold; the kind dictated by female professionals shouldering an iron fist supervision of their careers in a way that suits them most fittingly. "This goes back to when I was very little," says Insiya, who has been running Salon In-C since 2011 without the presence of a single assistant.
Quite the observant child with an innate ability at Art subject in school, Insiya was raised attending the Bohra Masjid for Moala's (High Priest) birthday celebrated each year. It was at the mehndi functions which were held there--done for free by invited mehndi artists-- that Insiya stumbled into it and more importantly, where her fascination for mehndi arts began to bloom. Contrary to the common belief that mastery comes from attending certified classes, Insiya took to polishing her skills on her maids at home with the cones distributed at the function, whilst also entertaining friends and family alike.
Driven by an undying passion for the art form on skin, today her styles range from a rich mélange of Arabic and Indian with the latter far more superior in demand.
"Indian designs reflect a complex pattern of swirls and curls giving the reddish imprints a flamboyant accentuation,"
Insiya points out.
Where advice for aspiring mehndi artists is concerned,
"practice on a glass sheet"
she insists.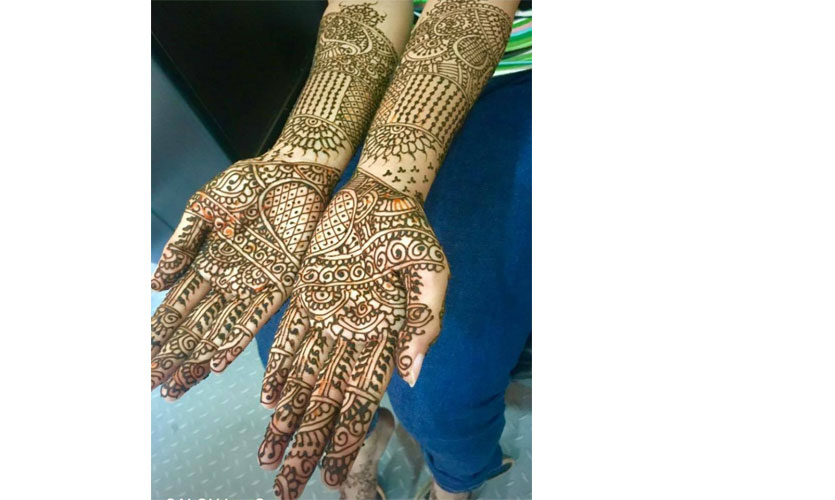 This way, erasing is possible and needless stains on someone's palm can be refrained, we gather.
When asked if fussy or fidgety brides for clients were encountered, her eyes gleam.
"The colour gets sketched on the skin thick and fast. Once it gets smudged, there is nothing you can do about it,"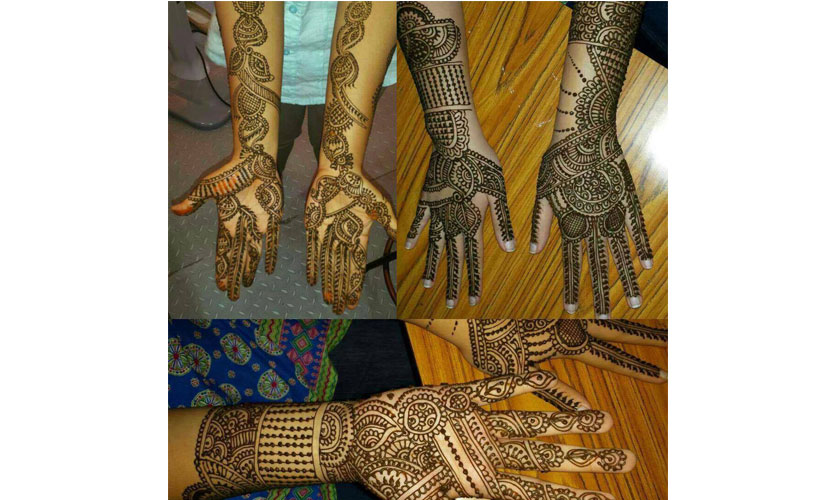 she says quite ruefully. But, having a knack to finish off within a quicker time span, simply because brides in particular detest sitting for long, Insiya's clients leave happy. This is where Insiya takes pride in, evident in her tireless efforts with regular practice which she admitted was the best teacher of knowledge, as a self taught mehndi artist.
Pics Insiya M.