Stigmata is back on the map (Not like they ever left, but you know what I mean), and they are back with a brand new, hair raising, exciting single, "Throw Glass in a House of Stone". This is the third release of their new and 5th still-untitled album of which the other two singles were released last year. What makes these singles more unique than the ones they've put out before is the fact that these were mixed and mastered by Grammy-nominated producer (and literally legend) Romesh Dodangoda. As if that wasn't impressive enough the song was released through the US record label Island Dream Records, marking a milestone not just for them but for the whole music scene in Sri Lanka!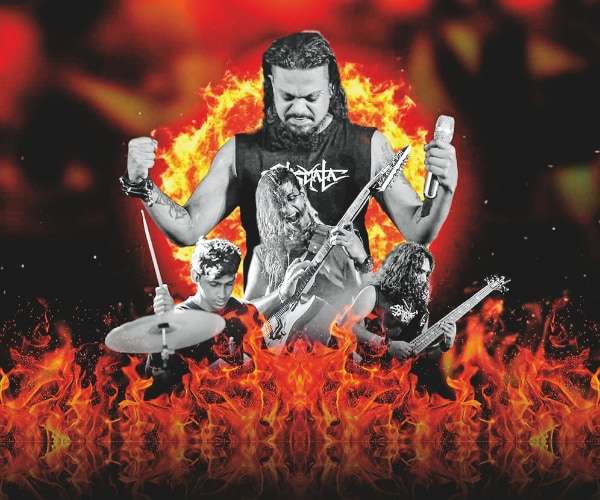 To commemorate their latest achievement we decided to take a walk down memory lane to reminisce on how far they've come as a band, and what the future holds for them!
I believe the band members need no introduction but for the sake of heavy metal noobs, much like myself, here's a small peek into who they are. Suresh de Silva and Tennyson Napoleon were the pioneers and have been an integral part since its inception in 2000. Thisara Dhananjaya and Hafzel Preena having joined much later make up the four-man band, Stigmata. Having introduced the original Heavy Metal genre to the Sri Lankan audience Stigmata has released 4 albums over the years, Hollow Dreams, Silent Chaos Serpentine, The Psalms of Conscious Martyrdom and The Ascetic Paradox and are currently working on their 5th album.
Tennyson Napoleon, the guitarist of the band, is a Father of two and a creative designer and musician by profession. Suresh is the frontman, lyricist and vocalist. He is a Creative Consultant by profession, a brand and business strategist and a disruptive marketer while also being a published Author, Creative Writer, Actor, Voice Actor, An Animal Welfare Enthusiast and Columnist.
Thisara Dhananjaya, having joined in 2017 is the bassist of the band. A graphic designer, animator and video editor by profession he is also the founder and the owner of 'EvilCat Lab'. With Hafzel Preena on the drums whose full-time job is that of an IT consultant and whose hobbies include Motorsports, gaming, football, photography and travelling, "Stigmata'' takes Sri Lankan heavy Metal to a whole other level!
Talking about the changes made to their lineup over the years Suresh said "We have been a 4 piece now for a few years and while having had numerous lineup changes in our 21-year journey, the nucleus of the band has remained intact – the current lineup with Thisara and Hafzel is one of the most creative, hard-working and best thus far and we are thrilled they are a part of the Stigmata story". Well, these new singles are definitely a testimony to that.
Having played their first performance in front of an audience of only 5 people, Stigmata credits their success over the years to sheer hard work and dedication. "We know what it's like to start and build up a scene from 0. It's a lot of sacrifices and hard work which has got us here, and we still love doing what we do and that's what keeps us going after 21 years" said Tennyson. " While there were brilliant bands like Rattlesnake and Venom (SL) who played amazing Hard Rock and Metal in the 80s and 90s, I would say that we were the ones who built a scene of originality and more abrasive, darker and expansive forms of music here. We worked relentlessly, shedding blood, sweat, tears and so much more to get where we are today" added Suresh.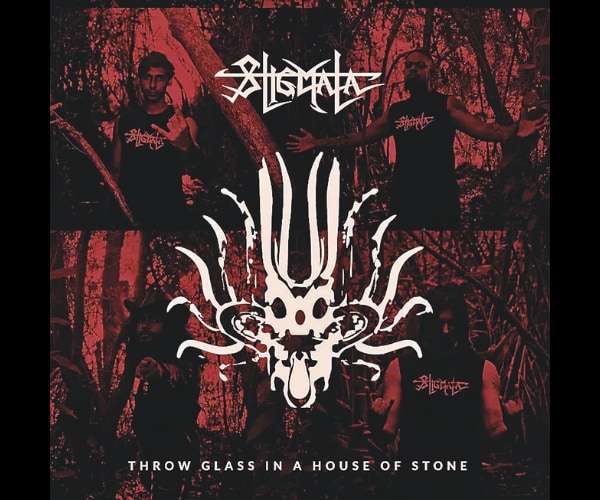 Talking about their experience working with Romesh Dodangoda whose works include the GRAMMY-nominated #1 album "Amo '' from Bring Me The Horizon which includes the singles "Mantra" and "Wonderful Life", they confirmed that it was an out of this world experience. "I mean this guy is a legend!!! He is a pro at what he does, and one of the many reasons this record has been our best work so far. He has captured the ideas of the songs really well and has given new meaning to the sound of the band entirely. We are blessed and lucky to work with Romesh." said Tennyson.
Further adding to their elation was the fact that they were able to release their music through Island Dreams Records. Adding his thoughts on achieving such a feat Thisara said "This is one of the biggest milestones in our music career. This gives us an opportunity to reach a wider audience on an international level and take Sri Lankan metal music into the global arena".
It certainly was a huge milestone for Sri Lanka and Stigmata hopes that it will pave the way for other upcoming bands to have this opportunity as well. They claim that this achievement was proof that one should never give up one's dreams.
With many new songs, music videos and live shows planned out for the future, Tennyson claims that Stigmata is on the verge of taking over the world!