Many institutions in Sri Lanka may claim to have a rich history attached to its name but perhaps none can boast of its legacy quite in the same way that the Colombo Club can. At a time when Sri Lanka was known as 'Ceylon' to the world, Colombo Club (originally The Assembly Rooms Company) was founded in 1871 by the then Governor of Ceylon, Sir Hercules Robinson alongside Governors Rt. Hon. Sir William Henry Gregory, Sir James Robert Longden, and Hon. Sir Arthur Hamilton Gordon as original members. First as a gentlemen's club and now as an inclusive, exclusive private-member institution open to both women and men, Colombo Club is one of Asia's oldest social clubs and Sri Lanka's oldest private member club that remains a luxurious and discreet oasis in the heart of Colombo.
In its 150-year journey, the Colombo Club has been attracting prominent persons of the day; from the era of British Ceylon such as President of Planters' Association J.A Bell, District Judge of Colombo T. Berwick, Municipal Councillor and Chief Justice of Ceylon Sir Richard Cayley, to later enrolling corporate luminaries who have helmed many of the nation's leading business houses and professional firms. The roll call of Chairmen of Colombo Club reads like a veritable who's who of Sri Lanka; R. Singleton-Salmon, Mallory Wijesinghe, Ranjan Canekeratne, Trevor Moy, Basil Jesudason, Deshabandu Reggie Candappa, Deshamanya Deva Rodrigo, Tissa K. Bandaranayake, Hemaka Amarasuriya, Richard Juriansz, Sega Nagendra, Manik Pereira, Nigel Austin to the current Kumar Jayasuriya – all captains of their industries who have upheld and maintained the aura and prestige of the institution.
In celebration of its 150-year journey, Colombo Club launched a limited-edition coffee table book, the 'Commemorative Edition' capturing the club's rich legacy and mileposts while reflecting on the club's perseverance through the transformation of British colonial Ceylon to the now Democratic Republic of Sri Lanka. The book was launched at an intimate, private event at the Taj Samudra in the presence of its members, past chairmen, and a few other representatives. Despite envisioning grand celebrations for this landmark anniversary, the club opted to celebrate humbly while contributing the funds to a cause worthy of its 150-year history by making donations to various health and hospital authorities for necessary medical equipment and costs. Colombo Club Chairman Kumar Jayasuriya in commemorating the Club's 150th anniversary shared that "transforming from early day exclusivity and elitism to modern-day inclusivity, the Colombo Club stands in good stead as it looks forward to the next 50 years. The Commemorative Edition not only narrates the journey of the club, but it is also a book that illustrates the many institutions and the calibre of the members in it, and I'm sure it will make for a compelling read."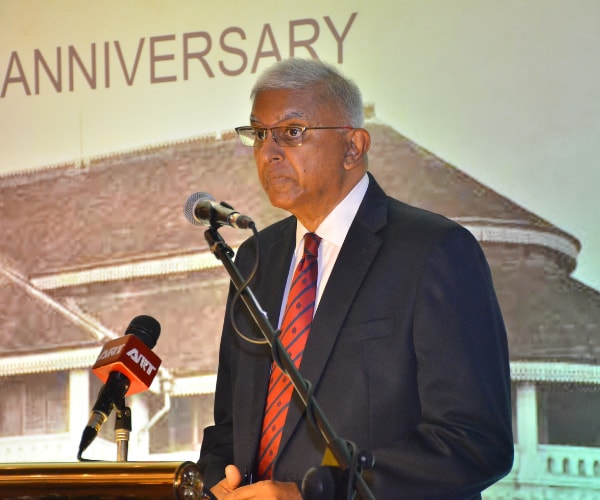 The 150th Anniversary Commemorative Edition captures the essence of a bygone era and brings to life the culture and current offerings of the club. The story of the club's journey over the years records its ups and downs, its place in each epoch of Sri Lankan history, and the emergence of a club for all seasons – one which is the exclusive domain of the nation's crème de la crème in social, professional and business circles. The book includes excerpts from life members such as Deshamanya Sohli Captain and Deshamanya Deva Rodrigo, fondly recounting stories of watching the club grow into the establishment it is today.
In his speech, the Chief Guest of the event, Mr. K.R Ravindran (CEO of Printcare PLC and former Global Head of Rotary International) stated that the Colombo Club is 'one of the greatest things the British left for us'. Congratulating the club on its 150th anniversary and the launch of the book which he declares as a 'must have in every member's private library', he concludes that "some books must be tasted, some must be swallowed, and some books must be chewed and digested; wholly with diligence and attention. This is a book that deserves that very attention and diligence."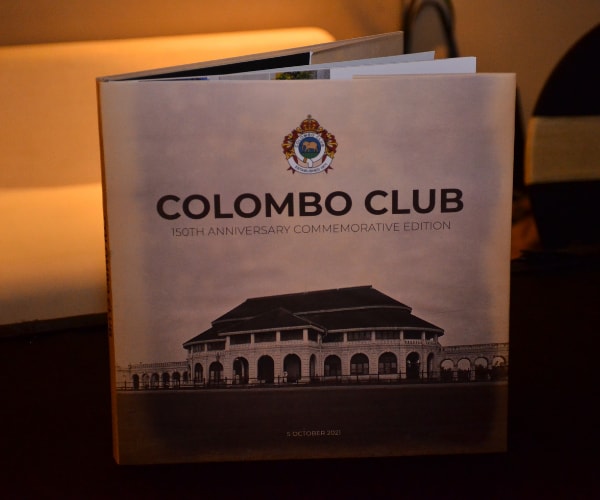 The special edition book was presented by Chairman Kumar Jayasuriya to Chief Guest Mr. K. R Ravindran, Deshamanya Sohli Captain -the club's longest-serving honorary life member, past chairmen, honorary life members such as Deshamanya Karu Jayasuriya and Deshamanya Ken Balendra, trustees as well as to several reputed corporates, associations, and clubs with a 100-year history such as the George Steuart Group of Companies, John Keells Holdings, Commercial Bank PLC, Julius and Creasy, Don Carolis and Sons, Ceylon Chamber of Commerce, Colombo Rowing Club, Hill Club Nuwara Eliya and more.
The event was wrapped up with a reading of an excerpt from the book by Renu Samarasinghe, the club's youngest member. She reads from a chapter titled 'From Exclusive Bastion to the Badge of Prestige' - "A club is more than a society of like-minded individuals or an organisation that majors in socialising. It's an idea, a dream and a vision turned into reality….add to this mix an element of exclusivity, a smidgen of elitism, and garnish with élan, éclat and esprit de corps – and voilà, a piéce de résistance of prestige, rejoicing in the elephantine badge of the Colombo Club. An iconic establishment in the upper echelons of Sri Lanka's cosmopolitan commercial capital…" Located at the Taj Samudra Hotel premises, Colombo Club offers state-of-the-art facilities for the use of members and their guests and positions itself as an exclusive venue to relax, conduct meetings, and wine and dine in company.
Pictures by Waruna Wanniarachchi