Being another successful venture by Heritage Hotel - Anuradhapura, Nom Nom Asia also happens to be the sister restaurant to the Thai Heritage Food Truck. Having opened its doors to the public in May last year it is situated quite conveniently down Maya Road in Havelock Town. Offering a wide range of cuisine from not only Thailand but also Vietnam, Malaysia, Singapore, Indonesia and China, this is the right place to visit to try out all things Asian.
Ambience
The interior decor which consisted of plastic vines, flowers and embellished globes were further combined with a number of different seating arrangements and had an overall oriental atmosphere, which made quite the pleasant dining experience.
They have two floors which have the capacity to seat over 50 people and you also have the option of dining outside. Aside from this they also have private rooms which can accommodate up to 12 to 30 people.
There was soothing music in the background, played to set the mood for the evening and with air conditioning to drive away the heat, there were no complaints about the ambience and we proceeded to focus all our attention on to the food.
Food
The food as a whole wasn't the best Asian cuisine I've tasted and although there were definitely plus points there was room for improvement as well. We were first served the traditional Thai hot and sour soup, Tom Yum. The soup itself had a lot of flavour and had quite a generous amount of vegetables, herbs and spices. It had a nice balance between being spicy and sour and came on very strongly on the palate. However, it lacked its share of seafood/meat ingredients. Aside from a few sad looking shrimps it didn't have much to boast in terms of seafood. Being ideally a seafood or even meat based soup, the lack of neither came as a bit of a disappointment.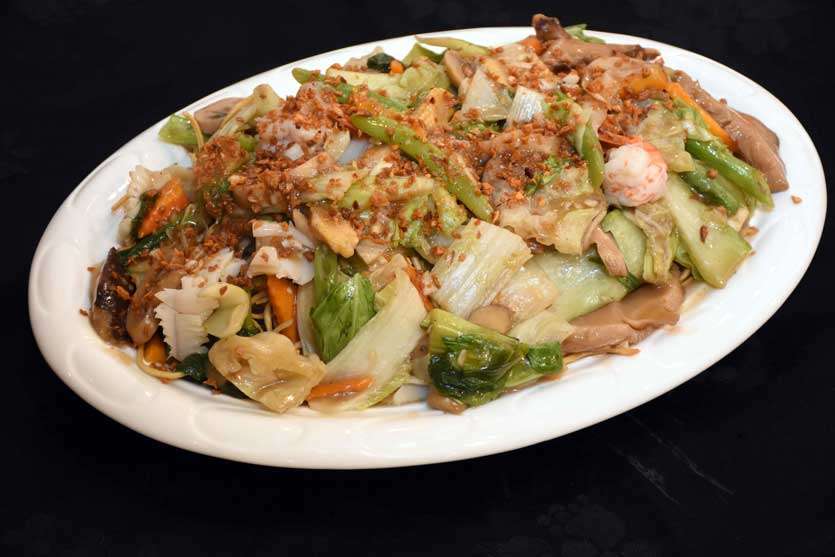 Next up, we had Chicken Satay with peanut sauce. The sauce was definitely the highlight of this dish. The chicken itself was a bit dry and although it was well done, I felt it hadn't been marinated properly. However the sauce is the one thing that pulled this dish through. It was mildly spicy, full of peanuts and tasted great. It was thick and had good consistency, almost like creamed butter.
The dish that we got after that was the Bok Choy. Juicy, yummy and brimming with flavour, the Bok Choy was a huge success. Served with sautéed black mushrooms in a moderately thick gravy, this proved to be the perfect accompaniment for the crispy seafood noodles which followed.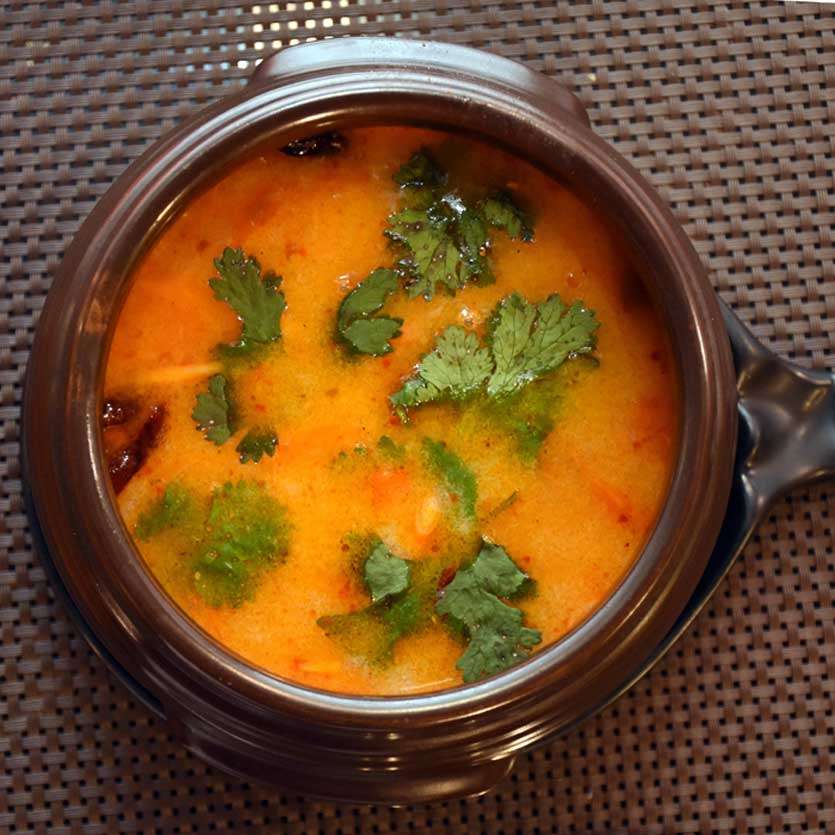 The noodles itself tasted very good. It was quite crispy and had a large amount of vegetables and spices, which was tasty and brimming with flavour. However it simply failed to satisfy the seafood aspect. Once again shrimp seemed to be their go to ingredient and aside from that there seemed to be little else.
Service
The spot on service and the friendly and helpful attitude of the staff made it quite a lovely experience to dine in. The food was out in less than 15 minutes of ordering as well and everything was done in an efficient and methodical manner which was commendable.
Maybe we just caught them on a bad day. However their menu was quite extensive and offered a wide variety of Asian cuisine. It's a chilled out place to go and have a party or gathering with your friends and family as they even offer buffet and package deals.
We definitely hope to visit them in the near future and fingers crossed they work on their shortcomings so that our next review will be a much better one.
Pics by Kushan Pathiraja