Located down Chitra Lane Colombo 05 "Mongolian Street" by Shevon is an innovative street food restaurant that allows you to experience the wonders of authentic Asian Fusion Cuisine. With a vast selection of Mongolian street food and a touch of magical Sri Lankan flavour, Mongolian Street is the ideal place to satisfy your fusion food cravings.
Having started as a home business in 2018 and expanding to do action stations and events, Shevon Perera and his Fiance Ronali Goonetileke (owner of the home bakery "Cake Commander") jointly launched their Restaurant "Mongolian Street".
Offering a variety of items ranging from Rice, Noodles, Chicken, Beef, Seafood and even veggie-based dishes, their menu is quite extensive. Since the variety was large, the restaurant new and the choices overwhelming I asked the owner, Shevon to give me his recommendations. All I said was that I need the best that Mongolian Street has to offer. The Result? My tastebuds were on vacation in Culinary Heaven! I mean I've had Mongolian food before, but Mongolian Street really exceeded my expectations.
I started off with the Lamb Mongolian Rice (Rs. 890). The rice itself was quite moist, had the right amount of veggies like onions and bell pepper, was seasoned with homemade sauces and was overloaded with bite-size chunks of lamb. It was on a mild level of spice which allowed me to enjoy the variety of flavours that popped up without burning my taste buds in the process.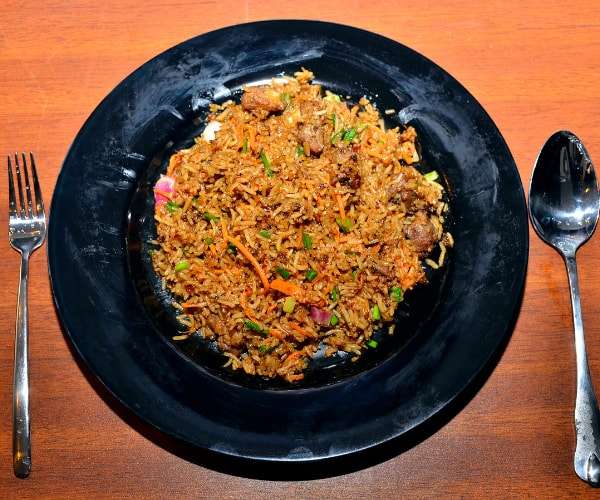 I also got a number of side dishes, The Hot Butter Cuttlefish (Rs. 1290/-) (this is one of their signature dishes), Chillie Prawns (Rs. 1290/-) and The Chef's Signature Chillie Beef (Rs. 1290/-). Individually they were all winners, but combine it all with the rice and you have yourself a feast fit for a King (or a Queen, whatever floats your boat)!
The Cuttlefish had a commendable texture. It was crispy on the outside and chewy on the inside. Just the right level of spice and a hint of sweetness to balance it out. In a matter of minutes, the only thing remaining in that dish was the capsicum and the assorted veggies.
The Chillie Prawns were quick to follow suit. The moment I laid eyes on it I knew I was in for a treat. A special chillie sauce had been infused with the prawns and every bite had a distinct spicy, chillie flavour which I thought was great!
The dish which followed, The Chef's Signature Chillie Beef was another noteworthy dish. The beef itself was soft, succulent and brimming with flavour. It was a great complement for Rice and would be the ideal dish to order if you decide to meet up for a drink! (Aside from the HBC of course). Maintaining an average spice level seems to be the norm at Mongolian Street and the Beef was no different. I preferred this because it really helped to enjoy the flavour without having my tastebuds go up in flames. However, if you are someone that enjoys the burning sensation of an insane amount of spice, all you have to do is ask, and they will be more than willing to turn the heat up for you.
Once all this was done I thought we were done for the night. But I was in for a surprise. The Noodle Mixed Fusion (Rs. 690/-) consisting of Fettuccine pasta Noodles stir-fried with an abundance of chicken and prawns was placed before me. Now by this time I was stuffed like a Thanksgiving Turkey and didn't think I could eat anymore. But that dish looked so inviting I just had to take a bite. Well, one bite turned into two and two turned into ten and in about 20 minutes I was done with the whole thing. The best thing is the consistency of the dish. Each bite had chunks of chicken and at least one prawn which goes to prove how generous they are when it comes to their portion sizes. I would highly recommend this to anyone that heads over to Mongolian Street.
Aside from all the Mains, they serve dessert and drinks as well. Tiramisu and The "Cake Commander's signature Chocolate Biscuit Pudding" are the desserts that are available at the moment but many more will be added to their menu soon. Having tried the CBP before I can certainly vouch for it and say it's one of the best in Colombo so don't hesitate to taste one yourself.
Drinks include Premium Iced Milo and Iced coffee along with Chilled Kurumba and Soft drinks. There are also some special offers available, courtesy EGB.
At the moment they are available for orders through Uber Eats and Eat Me Global. You can also place your order and takeaway from the restaurant itself. It will open up for dining in a matter of weeks as well. Equipped with a comfortable seating arrangement and decorated with creative dimly lit hanging lights it provides a very relaxed ambience that is ideal to be visited in the evening with your family or friends to have a great meal and a great experience.