Movenpick Colombo recently introduced its own delivery platform, offering a wide array of their delicious Gourmet lineup of meals to the comfort of your home via www.gourmet.movenpickcolombo.com.
Ordering
The process of ordering through their dedicated website is simple and straightforward. The interface is also user friendly and all dishes and drinks available clearly list product descriptions, any quantities and price based on that quantity. So you'll have no surprises when your food arrives. You could opt to filter your search results by Price or Category or simply view all of their offerings together. Your shopping cart will show up on the right side of your screen so you can keep track of what you've ordered, something I found super helpful because being able to see what you've ordered helps inform what else I can add to my cart. In addition, if you're sticking to a budget, you can see how much your order costs thus far and adjust it accordingly. Checking out was an equally simple process, and you have the option of paying cash on delivery or paying online. Once you've done so, you will be notified of every stage of your order via email. You could also track your order via the option provided on the site.
The Food
Gourmet by Movenpick has many categories to pick from, including Go Healthy, Sri Lankan & Asian, Noodles & Rice, Comfort Food, Vegetarian, Japanese, Movenpick Cakes & Desserts, and Kids Menu.
Thai Fish Cakes - Rs. 540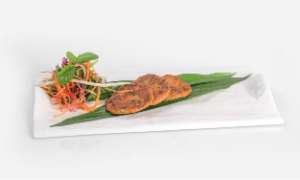 Comprising 3 grilled mixed fresh fish patties with hot Thai dipping sauce, was a great start to your tasting. The fish cakes were delicious and paired with the sweet and tangy flavours of the dipping sauce, came together beautifully. The crunch of the mixed vegetables that came with this starter added a textural element.
Mini Chicken Sliders - Rs. 1,190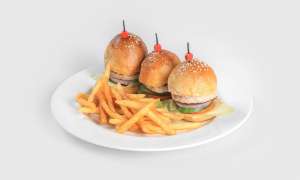 Comfort Food is a perennial favourite; no matter the mood or weather, it only brings joy to the soul. The Mini Chicken Sliders, which come with a side of french fries, certainly lived up to that. The chicken patty in itself was quite tasty and surprisingly flavourful. Simple, yet comfortingly delicious!

Chicken Kung Pao - Rs. 1,190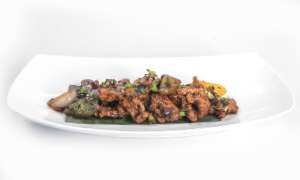 We ordered the Chicken Kung Pao off their Far Eastern menu and were glad we did! A generous serving of stir-fried chicken with bell peppers, cashews and rice on the side. The Kung Pao was deliciously sweet (without being overbearing) and spicy. Bound to be a crowd favourite, we would be happy to reorder this one multiple times!

Butter Chicken Curry - Rs. 1,280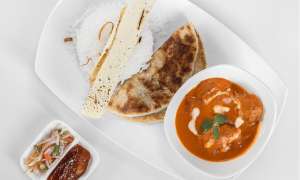 Us Sri Lankans have a soft spot for Indian cuisine, so we decided to try the Butter Chicken Curry. This came with rice, roti, pickles and chutney with papad on the side. Unlike the other dishes we'd tried so far, this didn't tickle our fancy as much. The butter chicken curry wasn't as rich and flavourful as we've come to expect of Indian dishes. The roti, however, we loved!

Swiss Hazelnut Cream Pie - Rs. 490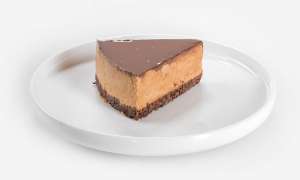 The Movenpick hosted a dessert promotion some months ago where they introduced a range of limited-edition desserts curated specifically for the purpose by the chain worldwide. Among those desserts was the Swiss Hazelnut Cream Pie, which, we're VERY glad to note the hotel decided to continue long after the promotion ended. If anyone wanted to know what heaven tastes like, this would be it. This luscious dessert with a biscuit base will appeal to anyone! It's a must-have when at the Movenpick or when ordering via Gourmet by Movenpick.

Overall
The delivery process was easy and seamless, and you will know the status of your order as and when a change occurs. The handoff too was perfect and the food didn't take long to arrive. The food was well packed and labelled, and ultimately very satisfactory and worth the price. Although we ordered a limited number of items, they have some amazing items on their Gourmet menu that you shouldn't miss such as the Seared Barramundi Fillet, Shrimp dumplings, Oven-roasted Baby Chicken, Signature Club Sandwich, Gourmet Beef Burger and so much more! Do check out their website as they also have many combo deals and are currently offer a dessert worth Rs. 1000 for free if you spend over Rs. 5000.
Orders can be placed via www.gourmet.movenpickcolombo.com and call the hotel for any further inquiries on 7 450 450. Delivery Charges Applicable.
Pic courtesy: Movenpick Colombo