How do our food experts cook and eat? This week, recipe developer, food stylist and photographer Ranji of @tootingmama takes our Q&A!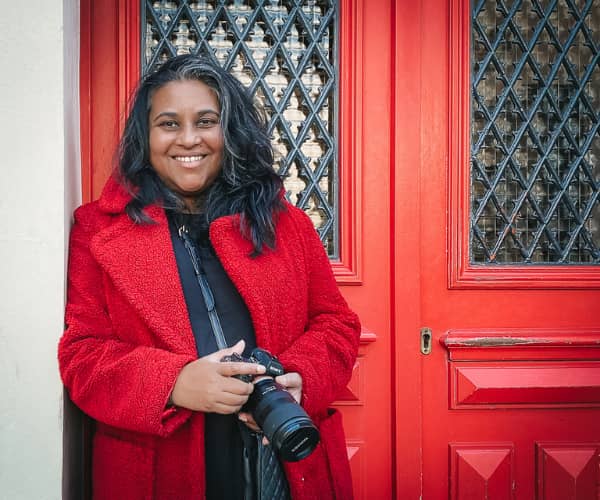 1. What's your first memory of cooking?
My earliest memories of cooking were watching my mum make her curries with her roasted and ground curry powders. Our house was always filled with the rich deep aromas of these spices. As soon as I open a jar of spice, I'm transported back to these early days.
2. What's the story with 'tootingmama'?
I started 'tootingmama' when I first had my children, essentially it was a mummy blog. I wrote about the ups and downs of being a new mum. As my children grew older, understandably, they didn't want to be featured on it. This was when I decided to write about food. In the early days, I wrote more general recipes. After I lost my Dad, I started to write up Sri Lankan recipes, sharing the fantastic Sri Lankan food I grew up with.
3. How did you get into food photography and styling?
Once I started my food blog, I realised I needed to take pictures that'd have people salivating over my recipes. I upgraded my iPhone camera to a mirrorless camera, invested in lenses, and a good sturdy tripod. I read up and watched endless YouTube videos, and invested in courses. I love food photography and food styling so I'm always learning and practising. Now I'm excited to launch my food photography website www.ranjithangiah.photography end of this month!
4. What was your favourite childhood meal?
My mum's recipe for dhal. Making this reminds me of home comforts. After much pleading, she talked me through the recipe, I took notes, memorised it and now I can recreate it whenever I like. It's a true gift.
5. The most exotic food you've eaten?
We were staying in Palermo, Sicily. On an evening walk, we found street food vendors cooking a variety of food. One of the most unexpected delights was freshly griddled goats' intestines filled with cheese. It was delicately crisp on the outside, filled with oozing gooey molten cheese. It was beautiful.
6. Your proudest recipe development?
I was trying to recreate my father's recipe for devilled prawns. I remember trying this recipe many times until I got the right hit of heat, sweetness and sourness.
7. Your favourite odd food pairing?
We lived in Paris for two years - it's a real foodie paradise. There's this amazing macaroon shop, Pierre Hemes which is renowned for flavour combinations. I remember trying liquorice and blackcurrant, foie gras (goose liver pate) and chocolate macaroons – divine!
8. What's your style when it comes to food styling and photography?
When I first started food photography my style was dark and moody. I was influenced by a technique called chiaroscuro, a dramatic style full of shadows that play on darkness and light. I'm now experimenting with a brighter, fresher look.
9. Light, colour, composition, set up – you can only have one in a shoot; which one would you pick? You have to start with light. Lighting will make or break your image. I always look at the light, its direction, its temperature if it's warm or cold, and then think of ways to manipulate it to get the look I'm going for. After that, it's composition and colour.
10. What's the trick to food styling done right?
There are so many components to food styling. I styled a savoury tart, based on Samantha Fore's roast tomato pie. The styling story was to show the different types of tomatoes in the recipe (cherry, plum and beefsteak), the freshly ground curry powder I used in the filling and the red onions scattered on top. A key element of styling is the colour and textures and the use of props.
11. What's a dish you'd love to relive for the first time?
I was about six years old. We were having dinner at my aunt's in Sri Lanka. She'd made a crab curry, and though it was packed with chillie, my brother and I refused to stop eating. We gulped loads of water to keep the heat at bay until we had sucked every morsel of crab from its shells. I'd love to taste this curry again!
12. What's a Sri Lankan recipe that has been handed down for generations that you still follow?
I make my mother's chicken curry the way she did, using her curry powder recipe which I make exactly the way she did, roasting and hand-grinding it. I've adapted the recipe for the slow cooker, so the meat just falls away from the bone. Teamed up with a bowl of yellow rice, dhal and stir-fried vegetables – it's perfect.
13. Your favourite food shot?
I love this shot, I took it after I'd made my father's devilled prawn recipe. It's probably not the traditional way it's made, but the taste was spot on - I was overjoyed and I wanted to capture the just-cooked ready-to-serve look!
14. What's the secret behind good Sri Lankan food?
For me, good Sri Lankan food is about balancing the flavours between hot, sweet and sour, and in some cases bitter, and having these flavours on your plate to give your tastebuds a culinary workout!
15. What's one thing missing in the Sri Lankan food scene?
Sri Lanka has a great tradition of cakes, we don't shout loud enough about this. I want to explore Sri Lanka's cakes beyond Love Cake, which I adore. The world needs to know about bibikkan, breudher, coco de bolo, bolo folhado, as well as butter cake, ribbon cake, and of course our Christmas cake.