How do our food experts cook and eat? This week, the duo behind Barcelona's first Sri Lankan Supper Club 'Kamu', Gimhani and JD, take our Q&A!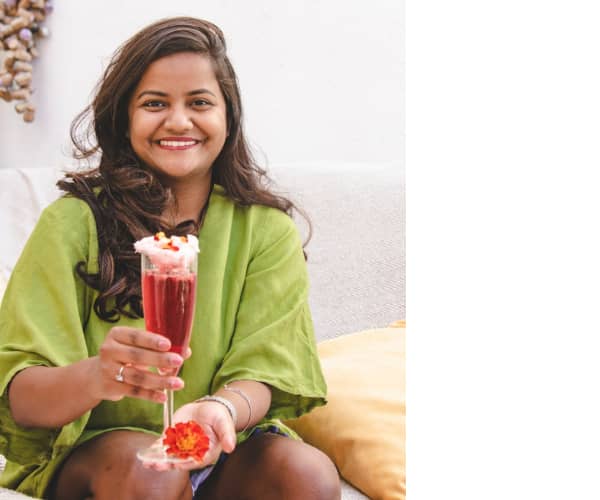 Easiest meal to impress someone?
My Vegan Salted Chocolate and Coconut cake
What's the story behind your journey as a chef?
I studied HR and Business Management and was a professional banker for 7 years. It was fun but I knew it wasn't my calling. I just had to keep believing. I was pushing for greater things and two years later, I own Barcelona's first Sri Lankan Supper Club and was lucky enough to join a leading Middle Eastern Bistro as a Chef!
What is the source behind your passion for food?
My Grandma is my inspiration and all that I have learnt is from her. My love for cooking and feeding people definitely comes from her.
If you had to serve only one dish in your restaurant forever?
Dhal. Everyone loves it, pairs with anything. It's quintessentially Sri Lankan. Oh! And Pol Sambol!
Are your tastes in food similar or opposite?
We love food! JD has travelled extensively and having grown up in South Africa he makes some really yummy dishes! My favourite is the Pho he makes which he learnt when he lived in Vietnam for 3 years and an amazing Cape Malay Chicken Curry! We're both massive foodies and once we've picked our next travel destination, we check out the food before looking at other "important" things like transport, lodging (who cares?!)
How did Kamu come about?
It's actually a long story! About two years ago when we moved to Barcelona, a girl from Prague, (Marie - now one of my closest friends!) wrote on an Expat group "Does anyone know where to find Sri Lankan food NOT Indian but Sri Lankan food in Barcelona? Those were her exact words. I replied saying "Hey, I just moved from Sri Lanka, I have the spices and I cook for people so maybe if there are more people interested, I can cook for you!". The post got a lot of comments and Marie wrote me a private message saying I should create an event and that's exactly how I started! I rented a loft and hosted my first event and word of mouth spread around Barcelona and it grew into the supper club it is today. I have some guests that have been coming since I started and some even come from quite far. They book an Airbnb for a night just to come for the dinners! It's truly amazing, I feel so lucky and blessed doing what I do and it's one of the best feelings in the world.
Your favourite re-take on a certain dish you have made your own?
So, my Greek and Roman Civilisation teacher at my school; Mrs Ranmalee Balasooriya (if you ever read this – Thank You!) made us the most amazing Chocolate Biscuit Pudding I had ever tasted! I've been making it ever since, adding my own twist to it - more adult-friendly with Cinnamon Rum and Brandy. It's a dessert guests ask for over and over again!
What's it like bringing Sri Lankan cuisine to Barcelona, Spain?
It's certainly an experience! I absolutely love it. For most of them, it's their first time and it's a whole explosion of flavours and colours of the rainbow on a plate! I use spices from Sri Lanka and what I can't find here, I make from scratch, so it's pretty authentic. And I don't make it "less spicy" but they love it. I just make sure there's plenty of wine and water! The Sri Lankan cooking workshops are also a hit! The friends I've made through my supper club, feeding and bringing people together, the connections I've made, they are all priceless and ones that will definitely last a lifetime. One day, I hope I can make it Spain's first Sri Lankan restaurant.
It's your last day on earth, where are you and what are you eating?
In Sapa, a small town in Northwest Vietnam, drinking rice wine with my feet in a stream or at Shore by O! eating Hot Butter Cuttlefish and watching the sunset, Or on top of Diyaluma falls. And I'd need to fit in a Koththu, maybe two. A Roast Chicken Cheese from Pilawoos and a Seafood Koththu from Roadhouse. Maybe an Iced Milo too. I'll stop now… String Hoppers, Kiri Hodi, and Pol Sambol. Ugh, this question is too hard!!!
Your favourite childhood meal?
The best trio- Rolls, Patties and Cutlets along with Banana Fritters! I helped my grandma make these when I was about 7 or 8 years old! It's one of my fondest and oldest memories, probably how I started out in the kitchen too!
Is the passion for food and cooking something you both share?
Oh yes. A 100%. We love cooking, eating, creating new recipes, and watching food-related documentaries. Anything and everything related to food and drinking basically!
Your favourite recipe that has been passed down to you from family?
My Grandma's Beef Curry and Dhal recipe
A crowd favourite dish?
Wambotu Moju and Pol Pani Pancakes! Always requested!