Founded by three sisters, this eclectic brand offers products that are beautifully crafted with attention to detail. Using raw materials which are ethically sourced or upcycled the brand's motive is to help create employment for men and women who are then able to support and empower their local communities. The brand also advocates a zero-waste policy and focus heavily on sustainability.
Name of brand: Mint Ceylon
What sparked your interest in fashion design?
Coming from a long line of artists and designers in our family and having parents that are also in the creative field, I think design has always been inbuilt in us. We have always had a creative eye for things. Fashion has always played a part in our lives. Ever since we were young we would get our clothes sewn because we each had our own styles and couldn't always find it in stores. This encouraged us to try new things and be more creative. In order to design an idea or concept we have to understand how things worked, so it's like a creative journey from idea to final product and this has always been something that we wanted to pursue.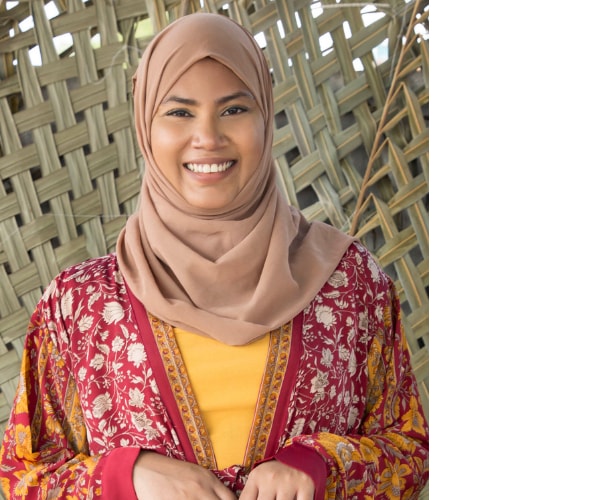 Pictured: Zainab
What made you take fashion more seriously and make a career out of it?
We observed a lot of fast fashion brands that were emerging in the market and what we realized was that there is a huge gap in the upcycled fashion industry. The three of us are not new to upcycling, we often visit thrift shops and figure out ways we can manipulate garments into something new and fresh which gave us the idea to start Mint Ceylon. During the first lockdown, the three of us got to talking about how we can take this first step in the upcycled community and from there it was all about working 24/7 on this dream of ours to make it a reality.
Are you self-taught or did you study fashion design?
So to give you a bit of a background about us, Zainab has a degree in Interior Design and owns her own jewellery line called Zirc Jewellery. Summaiya is a self-taught successful makeup artist and hairstylist under the name of Avoura Artistry and is also a self-taught Graphic Designer and Tasneem is a Fashion Designer, a graduate of AOD. We combined all of our strengths and make a great team.
How has your work evolved since you began your own label?
We are always looking out to improve ourselves with each collection that we launch. We often come up with new ideas and products to test out the market and we are glad that it has been doing well so far.
Are there any types of clothing that you avoid designing?
The great thing about a brand being run by three sisters is the fact that we all have three different styles and we tend to keep an open mind when designing our products and not limit ourselves to only one type of clothing or product.
Where do you look for creative inspiration?
Thanks to technology we have access to so much information at our fingertips at the comfort of our home. Each of us has a sketchbook where we write down our ideas or draw sketches. Our heads usually run with a million ideas when we look at all of the cut pieces and dead stock. I think it's the materials that usually speak to us and give us creative direction and help bring our sketches to life.
Describe your latest collection?
Since we are a fashion and lifestyle brand, our collections are a bit of everything from handloom to block print. Our current collection is a capsule collection with homage to handloom, an industry governed largely by women, the Sri Lankan heritage and traditional weaving patterns are kept alive in with a modern twist. This collection is colourful and vibrant and consists of soft handloom cotton handcrafted into effortless Kimonos, kimono tops and our signature painters shirts.
Who is your muse?
I think the everyday woman has to be our muse because we draw inspiration from and design for the everyday woman with different personalities and body types.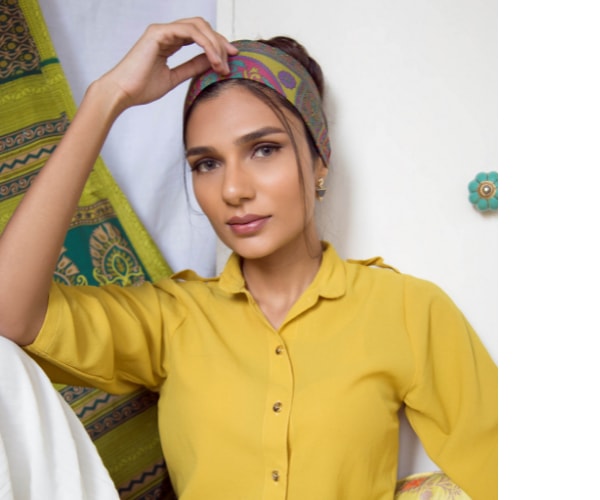 Pictured: Summaiya
What are your sustainability credentials?
Mint Ceylon is a homegrown fashion and lifestyle brand providing up-cycled products and clothing using zero waste techniques of production. We up-cycle fabric scraps from garment exporters and tailoring units in Sri Lanka and turn them into contemporary fashion products like clothing, shoes and bags. The fabric products designed are aimed at bringing handmade and high-quality sustainable alternatives to plastic or high intensive less ethical production. We are an all women-owned brand and our products are made by women from rural communities. All products are designed by us three sisters turning deadstock and discarded fabrics into vibrant products with the help of our highly talented and skilful artisans from around Sri Lanka.
What are you fascinated by at the moment and how does it feed into your work?
We are always inspired and fascinated by the upcycled fashion industry and we are looking for different and interesting ways to incorporate Sri Lankan handicrafts and our Sri Lankan heritage into our new collections.
What is the biggest lesson that you have learned since you started your company?
To go with the flow, sometimes things are not going to work out the way you have planned but you need to learn to adapt to all kinds of situations. It is important to keep being creative and innovative in this industry and to always be willing to keep yourself updated with all the latest advancements in the sustainable industry and find ways to incorporate them into our business.
How did you scale your business during COVID-19?
The COVID-19 pandemic has fundamentally changed the way we live, work, and do business. Going the extra mile to support our artisans, during the pandemic we kept our artisans busy with creating capsule collections and making sure the women we work with had steady fair wages. We also focused on the value we give to our customers, many people are watching their spending right now, made sure our products were upcycled and had a story which bought value to each piece and we upped our social media presence and post relevant, educational and engaging content.
What's your motto?
Buy less, choose well, make it last.
Which international or local designers are you inspired by?
Female powerhouse Indi Yapa Abeywardana. She has worked hard from the get-go and supports local artisans and designers alike. Her dedication, never-give-up attitude and passion, willpower is something we aspire to be someday.
Few other local designers that inspire us are Nayani, her brand is known for its simplicity, elegance, fine fabrics and contemporary silhouettes with unique design elements.
Lonali upcycles pre-consumer fabric discards and transforms them into original clothes and lifestyle products.
As for international designers, Patagonia has been paving the way forward in the ethical fashion space since 1973. The outdoor wear brand started using recycled plastic bottles to make their garments back in 1993. Antiform is an English brand based in Bristol. The brand takes reclaimed materials and mix them with traditional heritage crafts.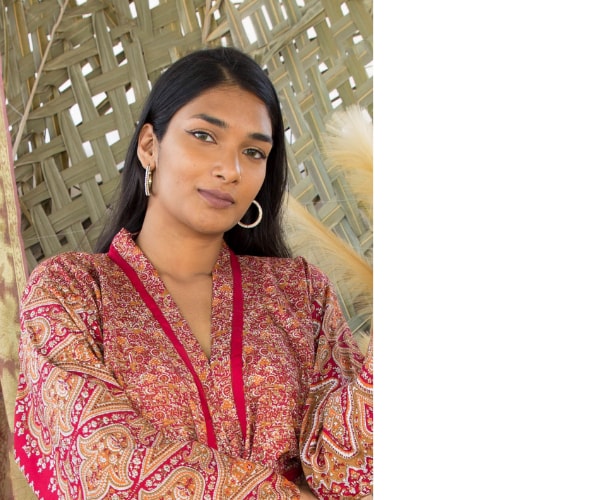 Pictured: Tasneem
What role do you think social media plays in fashion today?
Social media has made a huge impact on brands especially since the start of the pandemic more brands have focused on their online presence in social media as it is their main source of interaction with consumers and as a means of networking with others in the industry. In the fashion world, social media has brought connectedness, innovation, and diversity to the industry. Even the world's largest news agencies have had to transform the way their readers digest the news, adding social media platforms to the forefront of their news deliveries. Social media has done a number of incredible things for the fashion industry, including creating fashion icons, fashion movements and also heavily influencing fashion trends. We as brands need to utilize social media to be more responsible and create more awareness of everything that happens around us.
What is your favourite part about being a designer?
Coming up with concepts for new collections and digging through all of the scrap materials, preparing them for new collections, putting a smile on our customer's faces knowing that we have contributed in some way towards making the world a better place.
How do you want women to feel when wearing your clothes?
We want women to feel empowered and take on the world when wearing our pieces. I think empowerment is all about confidence and fashion is an amazing tool to reflect that. We want women to realize that what they wear makes a huge difference not just on how they're perceived by others... but more importantly, on how they feel about themselves. Feeling confident and happy impacts our wellbeing.