When did you launch your brand?
July 2020
What sparked your interest in creating artisanal homeware?
Sri Lanka has a diverse and talented artisan community with 60,000 artisans who specialize in their area of handicrafts. These artisans are from the 56 sectors considered as traditional crafts. Most of the products that they made were souvenir items catered to the tourism industry and when Covid-19 struck that meant that they had no customer base. We thought of using their skillset to make homeware products that can be used daily by the local market. Currently, we have launched homeware in batik, clay pottery, ceramic, beeralu, palmyra and talipot.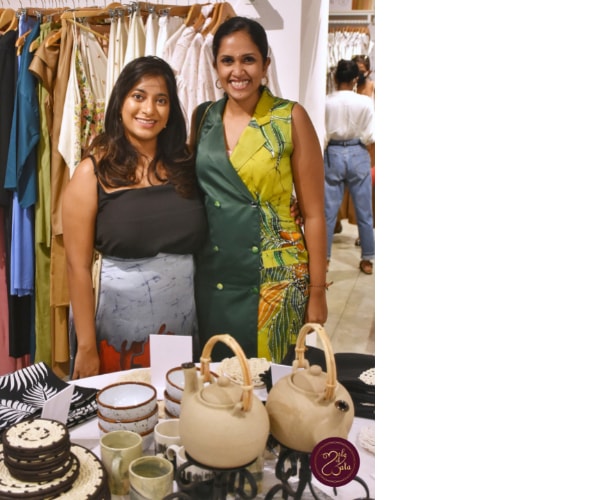 What made you take artisanal homeware more seriously and make a career out of it?
We saw a huge gap in the market, especially at the time of launch. Few places offered local made homeware, and most products are priced high hence making it unaffordable to a greater customer base. With our pricing strategy and online marketing tools, we made Sri Lankan made homeware affordable and with the enthusiasm and the interest from the initial customer base, we realized this could be turned into a proper business model.
Are you self taught or did you study any artisanal craftsmanship?
We work with the artisanal community. Some of our artisans are self-taught, some are mentored by other artisans and some of them have been born into families that have been doing that particular handicraft for generations and passing down the knowledge and skillset to their next generation. Our individual experiences while working with the artisan community through various development projects we worked on previously in the public and private sector has given us a lot of knowledge of different crafts sectors. Just like our artisans we too learn daily.
How has your work evolved since you began your own label?
When we began the brand, we had a very structured course of plan. We wanted to stick to online marketing and focus on one sector a month. However, in the practical sense, work took us on a very different course. We have worked on multiple sectors at once, tied up The Design Collective to have a much-needed retail space and are currently working on different development projects.
Are there any types of artisanal techniques you avoid using?
While we bring a modern twist on traditional crafts, we try to use only traditional artisan techniques. For example, in batik, some countries use a block print system and this makes products more cost-efficient. However, Sri Lanka is one of the few countries still using the traditional free flow hand drawing (wax pouring) and we use only this technique in all our batik to give our customers authentic handmade products.
Where do you look for creative inspiration?
'Isle of Rataa' means Island of Patterns. So that's what we use as our inspiration. We are inspired by our tropical island country. Mostly we are inspired by the natural beauty that Sri Lanka has to offer, the designs and colours are all inspired by the trees and flowers around us.
Describe your latest collection.
Our latest collection that we launched at The Design Collective is the Kalu Collection. We curated tableware, mugs, teapots, laundry baskets and bins in black and white for this collection.
What/who inspired you to create this collection?
Isle of Rataa is all about giving a modern twist to traditional handicrafts. And that is what inspired the Kalu Collection too. Traditionally, Sri Lankan handicrafts are vibrant, colourful and barely use black. Even in ancient paintings, you see people painted in blue (instead of black) when depicting people with darker skin. With this collection, we wanted a modern and minimalist approach and hence that brought about the Kalu Collection that is at The Design Collective.
What are your sustainability credentials?
Our first goal was to bring Sri Lankan made products for Sri Lankan use, hoping to make us as a nation become sustainable. Our business model is such that the major share of the retail goes directly to the artisan producing it reducing the gap in between the retail price and cost of production. We barely use plastics in our production, packaging and promotional activities making our products environmentally friendly. 50 % of our product lines are made using natural raw materials.
What are you fascinated by at the moment and how does it feed into your work?
We want to tell the story behind every product. All our products are handmade by individuals who have worked hard to master their skill set and their crafts. Their stories are what we aim to share with everyone so that they know who is making the product they purchase and can see the love and hard work that goes into making it.
What is the biggest lesson that you have learned since you started your company?
Planning is important but having a contingency plan is also equally important. Starting up a business in the middle of a lockdown was not easy and we had to continuously alter plans to find ways to achieve the end goal.
What's your motto?
The Isle of Rataa motto is to ensure that the artisans get the recognition that they deserve. We ensure that the majority of our proceeds go to the artisan and that our customers are aware of who made their products.
What role do you think social media plays in homeware today?
Social media plays a very important role. Isle of Rataa was launched on social media amid lockdowns and during a global pandemic. We wanted it to be accessible and affordable to everyone on the island. One of the main ways we could do that was by having an online shop. They can see the products we have online, DM us for more inquiries and that makes it easier for us to have a conversation with our customers and to see their preferences.
What is your favourite part about being a homeware brand?
Getting our creative juices going and brainstorming about new designs and how to incorporate handicrafts into new products. We are the happiest when our customers share pictures of how they have brightened up their homes with our products.
How do you want people to feel using your products?
We want people to find our products useful, of good quality and know the story behind what they use. Whichever product they get, it will be handmade by a local artisan in Sri Lanka.