Sustainability is a much-vaunted word in the fashion world with almost every designer promoting their sustainability credentials. Joanne Stoker the Founder of Nåd launched in 2020 uses deadstock to create her collections.
Deadstock fabrics are the leftover fabrics of other fashion houses that overestimated their needs. Traditionally, brands would hold on to their excess fabrics for a few seasons and then send them to the landfills. Pamunuwa and Pettah are places where some of the deadstock end up if they escape the journey to landfill sites.
As Joanne uses deadstock, she rarely finds large quantities of any one fabric and colour. Small rolls mean small production runs. This ensures production is limited to only 1 or 2 dresses in a specific fabric or print. A perfect solution for the brand as they rescue beautiful fabrics and create one of a kind dresses.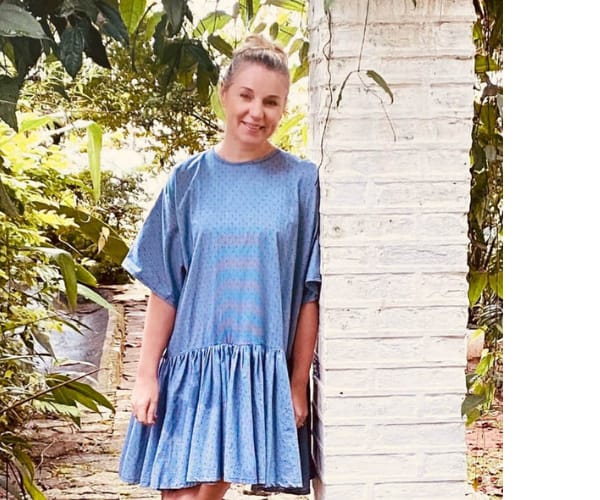 How has your work evolved since you began your own label?
Trying to be as sustainable as possible has an impact on your designs and how you create your styles. This really is reflecting more and more in some of my designs.
Are there any types of clothing that you avoid designing?
I'm not into polyester or synthetic fabric, as I want my clothes to be breathable, light and airy. This rules out the more fitted, body-con styles. I tend to focus on more oversized and voluminous silhouettes.
Where do you look for creative inspiration?
At the moment I am focusing on materials, I'm trying to create more woven fabrics with local artisans. I would love to start working more with Beralu lace and I suppose finding unique and unusual fabrics when hunting through warehouse factory dead stock has an influence on how I create the next collection.
Describe your latest collection?
The latest collection is for The Design Collective Sustainable Edit. It comprises my favourite style, the 4 colour-block Iris Dress, which is zero waste. Each dress is unique and comes in one of a kind colour-way, handmade from the last remaining fabric, I have from the mainline collection.

Who is your muse?
I don't have a muse, but I love street style! There are some super cool bloggers who experiment a lot with colour combinations, Leonie Hanne from Germany is a particular favourite.
What are your sustainability credentials?
I like to focus on dead-stock fabrics, organic materials and I am in the process of weaving some plant dyed fabrics with Amma, in Nuwara Eliya.
What are you fascinated by at the moment and how does it feed into your work?
Living in Sri Lanka and not leaving for 2 years due to Covid, the main fascination and influence is nature. I have also been watching a lot of documentaries on Netflix. The David Attenborough, 'A Life On Our Planet' is amazing.
What is the biggest lesson that you have learned since you started your company?
Be patient, we are going through a pandemic.
What's your motto?
Every little step counts, keep going forward organically and slowly.
Which international or local designers are you inspired by?
Watching the recent fashion shows there is so much changing globally with designers! It's not so much about fashion but making social and political statements. The Balenciaga SS 2022 show was very cool. Along with the use of plus-size, transgender and models with disabilities, the catwalk and how clothes are presented is changing rapidly. I also love the influence of space travel, which can be seen in so many shows this season.
The local designers I feel are really looking more at craft and sustainability, which is great for the Sri Lanka fashion industry, as it creates a different kind of style, which sets us apart from the rest of the world. Both the Design Collective and PR have a great selection of local designers with unique styles.
What role do you think social media plays in fashion today?
It's definitely an important part of life for Gen Z and great to get your brand out there and find interesting and unique inspirations and reads, however, I still prefer a magazine! Great fashion editorials and a good article is much more enjoyable than quickly flicking through posts!
What is your favourite part about being a designer?
Creating new styles and seeing the collection come to life! Plus wearing your own clothing is always great, although there has not been a huge amount of opportunity this year.
How do you want women to feel when wearing your clothes?
Cool, light and free!

Model - Zainu Hussian
Photographer - Mustaq Thasleem
HMU - Joanne Stoker
Creative Direction - Joanne Stoker of Nåd
Location - May