Responding positively to the challenge of how designers define luxury in Sri Lanka using the crafts that are available and upgrading the design and skills quotients, the designers have created stunning collections which are set to enthral Colombo's fashion aficionados at the CFW Luxury Edit to be held on 17th November at Galle Face Hotel. The CFW fashion runway is a red letter day in the Sri Lankan fashion calendar as it provides a much-needed platform for Sri Lankan designers to showcase their latest collections highlighting artisanal crafts of Sri Lanka.
The Luxury Edition will feature designers Darshi Keertisena of Buddhi Batiks, Charini Suriyage, Sonali Dharmawardena, Fouzul Hameed, Aslam Hussein, Lovi Ceylon, Dinushi Pamanuwa, Harinda Gunawardene, Kamil Hewavitharana, Ayesh Wickramarathne and Kingsman.
Questions:
1. Name of collection
2. How many items will you be showing?
3. What is your predominant colour palette?
4. How would you describe your silhouettes?
5. What has inspired this collection?
6. How challenging has it been to put this collection together for the show?
7. What does luxury mean to you?
8. In this economic climate how do marry creativity with economics?
9. What are the sustainability credentials of this collection?
Kamil Hewavitharana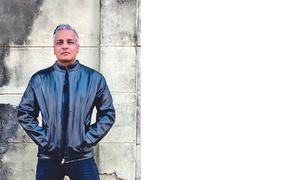 The eclipse, people just see it as that, but if you look at it closer, you can see the beautiful colours caused by it.
My collection will be 15 or 18, due to time constraints, 2 of which would be bridals.
I am using black as my base colour, themed with red, green, and orange.
Luxurious, showing a strong, empowered look, making a woman feel, confident of herself in every way.
As I said before, the beauty of the eclipse and what it means, it takes 3 bodies to create this beautiful phenomenon.
the biggest challenge is time, but I took it and will create an amazing collection. Also for this collection, I am using different fabrics which I have never used before. Colombo Fashion Week reaches an International market and we have to show them what we are capable of doing, as a Sri Lankan how much we can contribute to international markets. I want to give my best, as always.
Luxury to me means high-end, looking expensive and classy...
What I believe is if you really want to do something exclusive, there is no price for it.
I have used some leftover fabric, from my previous collections, together with the new, to create totally different silhouettes.
Harinda Gunawardena Penumbra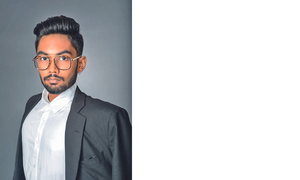 I have put together 12 looks of luxury occasional wear for my segment.
I have tried to bring out colours which stand out. My colour palette for this collection has been inspired by jewel tones with saturated colours, through which the designs have turned out to be dynamic and eye-catching.
The silhouettes are voluminous and flowing, making the collection more dynamic and fluid. Most of the silhouettes are free-sized and designed to be unstructured and flexible. The luxury silk fabrications further enhance the silhouettes.
Inspired by the space between illumination and perfect shadows, Penumbra focuses on bringing out the depth of the shadows through contemporary local batik craft working on voluminous and fluid silhouettes to craft luxury design by incorporating contemporary local batik craft.
Operating under volatile conditions is quite challenging and it has been quite the battle putting this collection together as there are many factors to consider. However, it has been a great learning curve for me and I really enjoyed overcoming the challenges and putting together this collection. I believe as designers we need to communicate resilience and positivity and this is a perfect example of how everything falls together.
Luxury for me is comfort, simplicity and elegance. I have portrayed these attributes through my designs putting together a collection of crafted luxury.
However, as a creative person, I personally believe that we need to be creative in terms of our thinking. We need to embrace the situation with positivity and adopt a creative approach not only when it comes to our designs but also to practical scenarios on how we overcome challenges. So by thinking and operating this way, I was able to overcome the challenges and put together a collection inspired by creativity in all forms.
HARID by HARINDA GUNAWARDENA is a brand that believes in and fosters self-love and confidence whilst promoting the value of being comfortable with oneself, is inspired by everything that revolves around us concentrating on one's emotions and feelings. The designs which come to life through HARID communicate these values in their intricate forms whilst giving top priority to promoting local heritage craft practices by working hand in hand with home-based artisans to uplift whilst incorporating it into the brand. This collection utilizes fully natural and biodegradable materials to a great extent. This collection has helped give back to society as I have concentrated on a locally sourced and produced model, ensuring ethical sourcing. production and business practices.
Sonali Dharmawardene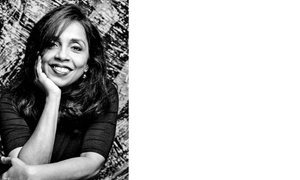 Q1: Tropical sundown.
Q2: 15 silhouettes.
Q3: Jewel colours of a sundown sky.
Q6: It has been highly challenging, due to the non-availability of many requirements. Hence using fabric from a prior project and working them together.
Q7: In the context of fashion: luxury means fabulous, comfortable yet elegant fabrics. Unique. Singled-out pieces. Boutique or atelier styled ….
Q8: I think the only way to handle the economic climate is to get creative. Hence using either different mediums, forms, and working colour stories together. Re-use re-invent.
Q9: It's a challenge to meet all 3 aspects all the time. However, it's a must to make every effort.
Aslam Hussain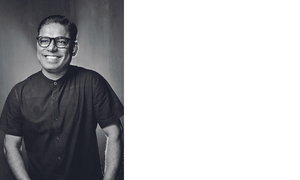 Opening the LUXURY edition at the Colombo Fashion Week with a theatrical flair is Aslam Hussein who will be presenting two statuesque statement pieces of sheer grace. She is spirited and confident treasuring our handcrafted heritage in a contemporary outlook. Conformed to her legacy, carried by our artistry, concurred by the now, she's an Aslam Hussein bride drawn to the old world, romanticized in modern influences.
Fouzul Hameed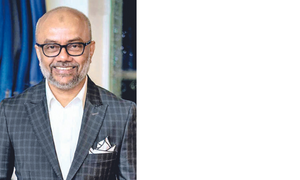 FH collection for Hameedia.
15 looks.
Mainly dark colours for evening functions and to give a luxurious look. It's more of power dressing.
Very elegant, rich and luxurious.
Italian Ceremonial wear.
It has been a really tough last few years and specially in Sri Lanka when most imports are banned and as a Desinger getting the best fabrics, accessories and raw material down has been difficult.
For me, luxury means creating power, craftsmanship in each detail using the best of everything to manufacture a top class product.
It's challenging but our experience and ability to create a great product that our customers appreciate has made them remain loyal even in difficult times. You can't simply compromise any single detail. We always use natural fabrics from wool, silk wool, and linen silk and using sustainable and ethical way has been a key pillar of our brand value.
Dinushi Pamunuwa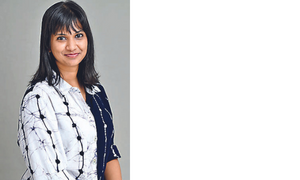 Touched by an Angel.
15 pieces
Black, beige and white with some reds and navy blues
Feminine, figure-hugging and flowy
The night light in the city infused with a starry night sky
We did the collection in a short period of time so that was the biggest challenge. To make sure we found the balance not to overpower the Batik was exciting and brought out a fresh new side of La Pard.
Elegant and timeless but infused with simplicity.
We sought to find a balance between the ever-rising cost of products, and the rising cost of living and bringing out a timeless piece that a customer can cherish for years to come.
The Batik artisans and their time-consuming work are what our brand revolves around but, this time we have also used some leftover fabrics from our "fabric box" that we accumulated over the years.
Ayesh Wickramaratne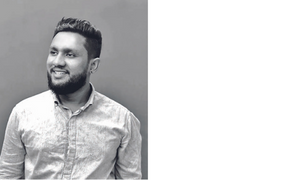 I will be showcasing 15 outfits which will be in black, dull gold, powder blue and safari colours. I have drawn my inspiration from the human /elephant conflict. My inspiration is a very sensitive topic and I have depicted that story in my collection. My definition of luxury is confidence. No one's definition of luxury is the same. My collection contains zero waste fabrics and I have used hand embroidery, and embellishments.
Dharshi Keerthisena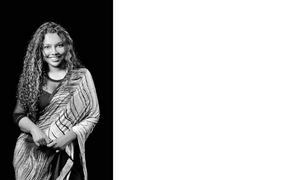 Rebirth
Capsule collection of 15 looks
There are a few colour stories such as black and greys, red, orange sari and hot pink, olive, aqua and purple.
Mostly tailored outfits.
Trusting the light and venturing into the darkness. Fearless and learning not to apologise for our wild. Inspiration came from a couple of things. Post-pandemic survival inward self-journey, love for the local, a poem by Nikita Gill.
Time has been a big challenge and also securing raw materials such as fabric, dyes and chemicals, unregulated raw material prices and of course the weather when doing batik.
Unique, high quality and comfortable.
This has been a challenge but our team has been working consciously with this in mind; We are blessed with a resilient and loyal team, and this has been our key to survival.
Working with local artisans has been our biggest strength. Using biodegradable dyes and chemicals to create batik, always trying to create a circular economy within Buddhi Batiks. Sustainability and the practises having been a journey we are on and not a destination.
LOVI Ceylon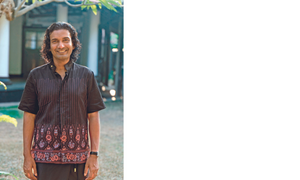 I feel like there is a tenderness in our interactions today. The ongoing challenges we face are softening us. Gone is the brut and bravado. Instead, we are yearning. Eager. Ready to build our new and prosperous Sri Lanka. From this quiet place, we are preparing to shine, That's why we chose to call the collection Shine.
We have nearly 25 brand-new looks in this collection. Nearly 70 pieces of clothing.
This is a collection of joyful celebration—Gold, crimson, pastels, and of course white and black.
We're inventing a modern Sri Lankan clothing identity by celebrating Hindu, Muslim, Christian and Buddhist cultural influences in our outfits in this collection.
Our people—the maturity, resilience and hope of our people.
It took more than 50 hours of hand embroidery on one of the green jackets in the collection. We custom-dyed it to get a particular shade of green. And our senior suitmaker took 3 days to complete the new fit of the jacket—and it looks divine. In fact, we have used one or more Sri Lankan crafts in every one of the 70 pieces in the collection. This has been the most labour-intensive collection we have crafted.
It's a lightness, like the glow in your heart you feel when you see your kid smile. The joyous smell of a jasmine flower. These are luxury to me. We try to create this lightness for you when you wear LOVI.
Buy local. I urge everyone reading this to buy from your local shops and local designers as much as possible. Not only because you get exclusive, designer pieces for much less than imports, but also because the majority of the money stays in your own neighbourhood and in the country. Collectively we spend billions of rupees on imported clothes, even today. So let's buy local.
While there are some beads and sequins that will need to be recycled or up-cycled, this collection is primarily made of biodegradable fabrics like cotton, silk, linen, handlooms and even beads.
Kingsman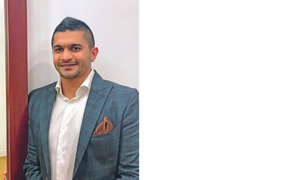 Luxury Black Tie Reimagined Collection
Two looks-Groom's suit and Bridal suit
Lilac
Clean and well-structured silhouettes
Inspired by a different vision of Black tie to redefine stereotypes and present not just another ordinary Groom & Bride. Lilac was chosen as it represents spirituality and tranquillity. The goal was to add an exclusive colour to the Groom & Bride's outfit that will set them apart from traditional couples.
It has been increasingly challenging, as given the current economic conditions and import restrictions there is a shortage of raw materials so we had to fly down the fabrics and RM required for our collection for the show.
Luxury to me means a sense of accomplishment and increases self-esteem. The focus on handcraft, impeccable quality and attention to detail create a high-value luxury design product in my opinion.
We serve a very niche clientele who are after luxury and we do not want to compromise the quality of our custom-made products at any point, even though there is significant inflation in the imported raw materials we use. However wherever possible we try to come up with alternative cost-effective ways in both stitching and for raw materials while keeping the design and client requirements at the core.
The fabrics we have used for both ensembles are 100% natural eco-friendly Italian wool that can be ethically traced. Having slow fashion at the core like all our custom-made suits, each garment is made by an individual highly skilled tailor who spends considerable time and effort to craft the high-quality suit. Furthermore, a good custom-made suit is an investment which can be worn multiple times for multiple occasions over the garment's life. It is this notion that we actively promote and has been our brand mantra. Furthermore, a groom always reuses his suit after the wedding and we encourage the client to have his future purpose in mind when deciding on his wedding suit to get multiple uses out of it and at the same time we ensure he stands out on his big day.
Charini Suriyage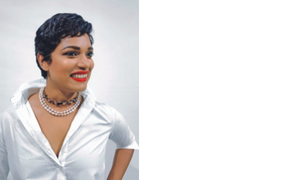 All that glitters
27 items
Using shimmer metallics this season. From pastel shimmery fabrics to deeper metallic silvers and khakis and golds
They are sexy, constructed silhouettes... I want to add more fitted silhouettes this time to the collection. We have added corset tops which are super styling items for anyone's wardrobe for the season.. and drapes that are figure-hugging rather than loose and flowy
We deserve a bit of extra excitement this season. Especially after a few years of gloom and doom, it's nice to have a bit of luxury and sophistication in our lives. Wanted to go for a very uncomplicated fun inspiration, keeping circularity in mind. We want every piece to be still practical and versatile.
Other than the day-to-day challenges the biggest challenge has been sourcing fabric. the prices of fabrics have shot up significantly and with import restrictions, we have to be extra creative on how to work with what's available in Sri Lanka.
The attention to detail and good craftsmanship is luxury to me. The effort that goes into creating pieces that are not mass-produced is luxury. Being eco-conscious while doing the above is a luxury for me.
We have to be super creative and innovative. when there are limits on raw material imports on a plus side we would eventually have more locally manufactured materials, but until then, the immediate challenges have to be sorted. needless to say, the cost of manufacturing has gone up, but at CHARINI we still try to keep things affordable by having a variety of price points.
From a design point of view, we believe our silhouettes to be timeless. where the customers can wear them without discarding fast fashion items. and we try our best to keep them versatile so that their usage is maximised.