The ugly duckling among swans, the Burnt Basque Cheesecake is a far cry from its delicate and visually appealing counterpart. A beautiful mess with no aesthetic appeal, this cheesecake is characterised by its iconic charred and irregular edges with a soft, creamy core devoid of the bottom layer crust. To add to its allure, a recent New York Times article included it among the food trends of the year defining it "the birthday cake par excellence of 2021," and indicating its flavour as "the taste of the year". The Burnt Basque Cheesecake, the newest darling of the food world to be catapulted to international stardom and make its way into the hearts of Sri Lankan foodies, had its origins almost 30 years ago in San Sebastian, Spain. Since then, it's been steadily making it into menus of restaurants around the world, leading it to its current status as a sought after treat.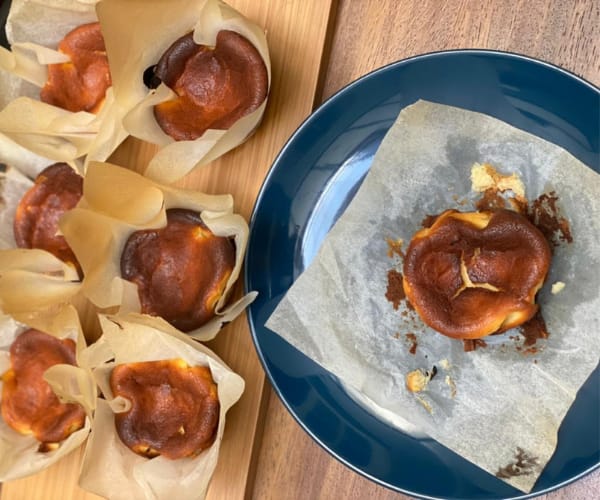 For Radhinka Peiris of Burnt Basque by Rads, it was more than just hopping on the newest food trend when she recently decided to start her own venture. She had always loved Burnt Basque Cheesecakes, and when she initiated her own home baking business, it was almost a no brainer to make something she loved so much. "I always preferred the baked cheesecake and this had the most classic, yet sophisticated flavour. The creamy jiggle centre along with the caramelised burnt top just bring the entire dessert together".
Nevertheless, penetrating the oversaturated home cook sphere meant she would have to carve out her niche, and Radhinka wanted to find something for herself that wasn't excessively overdone. "I initially started baking the burnt basque during the first lockdown as it is one of my favourite desserts. I'm not very artistic - like, I can't make my baked goods look nice so this was perfect for me. It was also a dessert that is not a regular menu item here so I thought it was the perfect product for me to finally get into. We have been sold out every weekend since we have started and the response has been overwhelming thus far. Our minis are the best seller and it's the perfect treat for celebrating anything".
"Usually, I try and bake something on the weekend because I find baking is something that keeps me calm ( I stress bake) and it's something I really enjoy. I love to eat and I'm always the go-to person amongst my friends whenever they need food recommendations", Radhinka shared, adding that it was inevitable that she would one day pursue her passion. "I'm a business teacher by profession but have always had an interest in baking and experimenting with new recipes. So it was time to practise all the theories I teach and finally take the plunge and start my own business. It's been something I wanted to do and this last year with the pandemic, it's taught us to not put anything on hold and that is exactly what I did. I just went for it. We got this set up and running in a week. It was tough to be set up amidst a lockdown".
Asked why she's sticking to only Burnt Basque Cheesecakes, Radhinka explained that she "wanted to do one product and get that perfect so that is why I am completely focused on this. Personally, I like the burnt basque on its own". Nevertheless, she shared that she will be adding the option of toppings that you can add on if you prefer. "We will also be launching our mini cakes which is an ideal gift".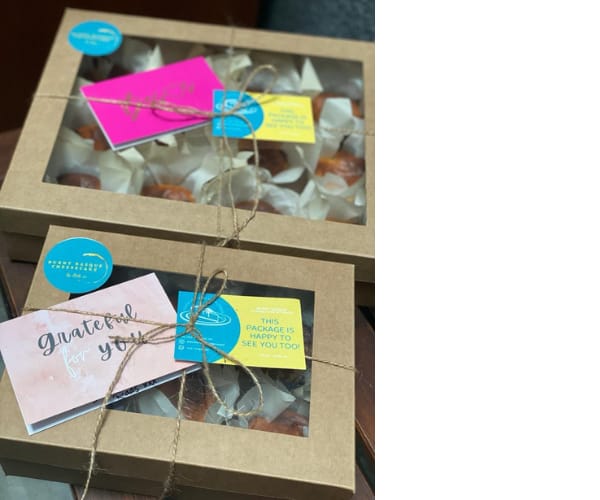 At the moment, she offers Burnt Basque Minis which sell in a pack of 6 or 12, as well as whole cakes "8 inch" which serves 10-12. "We generally bake on Thursday and Saturday. If it's any other day the minimum order is 12 minis or we even do the whole cake whenever it is requested as that is most often ordered for birthdays and other special occasions".
While American Cheesecakes are baked low and slow, Burnt Basque Cheesecakes are baked high and fast. It is this baking style that ultimately results in its caramelised exterior and complex flavour profile. Radhinka's Burnt Basque Cheesecakes also managed to successfully emulate the rich flavour that's expected of this variety of cheesecakes. Personally, I would have preferred the heart of the cheesecake to be a little creamier, but otherwise, the cheesecakes were yummy! The packaging was also convenient, ensuring the cheesecakes stay in place during delivery. She also adds a little note on how to store the cheesecakes if you're not eating them immediately.
To place your orders, check out @burntbasquebyrads on Instagram.
Photo courtesy: Burnt Basque by Rads