Catering to our perennial love for chicken is Burning Bird, the newest entrant into Sri Lanka's burgeoning food culture. A cloud kitchen - meaning that they only operate via deliveries and have no sit-down service - BB has wings, starters, sides, and even family platters for you to pick from!
"Burning Bird was based on the concept idea of 'Simple but not basic'", shared Chavan Mendis, Co-Founder of BB. "We wanted to create a menu with a lot of flavour with a simple cooking technique. Almost Everyone loves chicken. Burning Bird is a brand we wanted to create to be serious about Chicken. We wanted to create a brand that was hip and trendsetting".
The Food
Wings come in 3 wings (Rs. 380), 6 wings (Rs. 690) and 12 wings (Rs 1260) portions, and there's a good variety to pick from. I was given Rock Salt Garlic and Red Chili Wings, Atomic Jalapeno and Sriracha Wings, and Sticky and Spicy Mango Wings to sample. The Rock Salt Garlic & Red Chili comprised 'crispy wings tossed in a blend of roasted garlic, dry red chilli and rock salt'. I love anything with garlic in it, and unsurprisingly, found myself partial to this one. But with good reason; true to its name, the wings were crispy, and the combination of the garlic and chili made it taste deliciously local. The Atomic Jalapeno & Sriracha Wings, 'tossed with blended chillies, sriracha and jalapenos' was spicy, and to some extent, this factor overwhelmed the flavour quite a bit. The crispy wings were tossed in the sauce, and considering the addition of the fiery Sriracha, I wouldn't recommend these wings to those who can't handle heat. Last but not least - of the wings, at least - I tried the Sticky and Spicy Mango Wings, 'tossed in homemade mango chutney'. Despite it being tipped as spicy, these wings are definitely more appealing to more palates (because the spice level for this is something a lot of people could handle) and will not leave your mouth on fire. Equal parts sweet, sour and spicy, I quite enjoyed this one too.
The next two items I was given were the Traditional Dry Rub 1/4 Chicken and the 1/2 Hickory BBQ from the Just Chicken section of the menu. A full roast chicken will cost you Rs 2700, while a half costs Rs 1360 and a quarter, Rs 690. BB claim that their chicken is brined for over 8 hours and then cooked on a rotisserie grill, bringing you flavourful, succulent chicken. Rotisserie chicken is especially popular in the United States, where it is easily available everywhere from Whole Foods to even your regular Costco.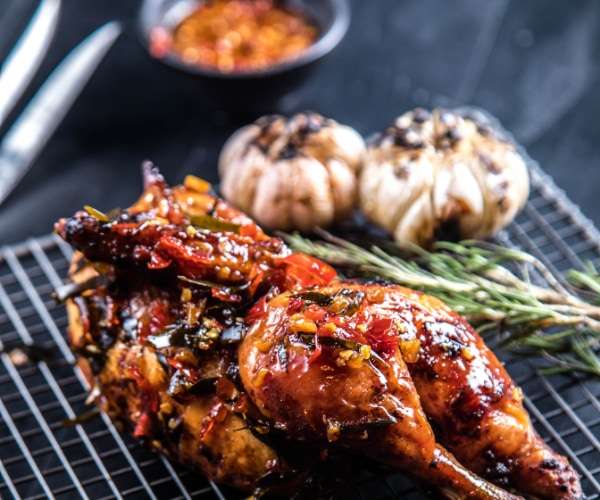 Ideal comfort food for one of those lazy days, rotisserie chicken is incredibly versatile, with plenty of options for reuse should you have leftovers. The Traditional Dry Rub - onion, garlic, rock salt and paprika - chicken, I found to be a little dry, and the flavour didn't extend beyond the outer layer of the chicken. Although the ingredients in the dry rub have the potential to result in flavourful meat, this one sadly fell short. The Hickory BBQ - housemade ketchup, paprika, hickory smoke seasoning, brown sugar and maple - fared comparatively better, although I felt it didn't live up to its mark, tastewise. I also tried the Roasted Chicken and Egg Fried Rice which comprised a generous amount of chicken and had just enough of the garlic-y flavour to be delicious! Would definitely have this again!
While I sampled the wings and the chicken, they have a lot of appealing items on their menu like the Garlic Butter & Mozzarella Bread Rolls (had tried this on a previous occasion and they were FANTASTIC!), Cream Cheese and Cheddar Potato Spuds, Cream Cheese and Jalapeno Chicken Poppers and Onion Rings. Their Family Platters are also pretty sweet deals.
Overall
While I liked the wings and the rice, the chicken itself had room for improvement. However, since I tried their food during the teething period, I look forward to giving them another chance because their food certainly is promising.
Place your orders via Uber Eats and Eat Me Global. You can also contact them at 0741337727 for more information.
Pic courtesy: Burning Bird