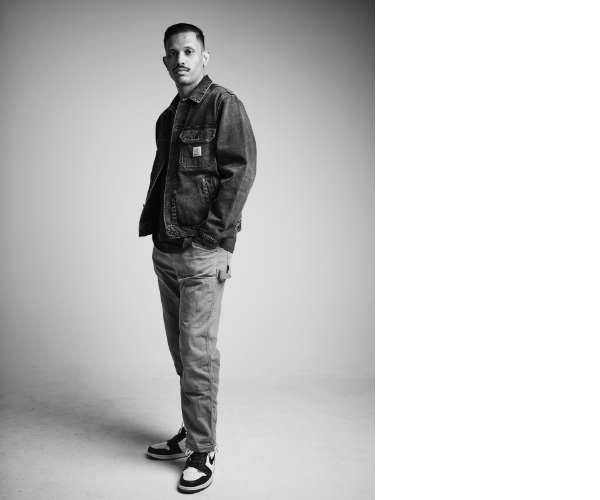 Quoted as "one of the region's finest DJs" in Dubai's THE MAG magazine, Shefan Lantra aka 'Mr Shef Codes' is already successful as a well-recognized DJ based in Dubai. He plays in some of the biggest clubs in Dubai that are mostly filled with star-studded celebrities, such as Armani Price, Movida and Sanctuary. Shefan has had the privilege of sharing the stage with international artists such as Nicky Minaj, Lloyd, Shaggy, Kardinal Offishal, Cassidy, Robin S and Karl Wolf as well as DJs Whoo Kid, Young Guru, Tony Touch, Jazzy Jeff, Green Lantern, Clinton Sparks, Cutee B and Sake among others. We caught up with Shefan, who took time off his busy schedule to speak to us on how he brings people from around the world to the party central Dubai and plays his epic builds and intense beat drops.
When did you start DJing - and what or who were your early passions and influences?
It was around the latter years in high school that DJing and turntablism sparked my interest. I was very inquisitive about music when I was younger because my parents would always play music at home – my earliest memories of music were Engelbert Humperdinck, Tom Jones, Bryan Adams and funny enough Shaggy. Pop music had its time but my love for urban music grew after being exposed to it in Dubai.
What is about music or sound that drew you into this field?
It was an extension of my creativity; I loved to draw and paint as a kid. The fascination grew when I went down this rabbit hole of turntablism, I couldn't think of anything I've wanted to do more in my life than be a DJ.
Have you produced your own music? Is it anything we've heard of?
Not produced anything yet, but it is the natural progression.
What have you achieved in the music field?
I was awarded Runner's up PALME DJ during the Year 2007. This event is when the region's top and amateur DJ's battle it out for weeks for this championship.
During the year 2017 and 2019 I was awarded as the highly commended Timeout DJ for both years. Timeout Dubai music and nightlife awards is a legendary awards ceremony and a staple in the Dubai nightlife calendar.
I was also nominated for What's On Dubai DJ of the Year 2017. This is the entertainment industry's most glamorous night where individuals hope to win the coveted trophy. Added to this is nominations for Hype Magazine DJ of the Year 2017 and Time Out DJ of the Year 2017, 2019, 2020.
How do you prepare before a set?
Always check if I'm playing before or after another DJ, always ask what kind of vibe the venue is going for if they haven't already mentioned it, make a "folder" with the hits along with songs I think that could be a guide for me and lastly a can of Redbull or espresso.
Let's say the set you prepared isn't going well with the audience, how would you rectify this situation?
One of the skills as a DJ is the ability to read the crowd if the set isn't working. I always try and implement songs that I think they would like, never I have I ever stuck to my playlist. DJs should always improvise.
Tell us your experience in the Dubai nightlife, for someone who hasn't been before?
Dubai has been known for the "biggest", "greatest" and "most amazing" in everything – that is no lie. They know how to party here, having played at the biggest clubs, I've witnessed everything from champagne wars, mini superman delivering your bottle, acrobats and stunts inside the club to sports, movie and tv celebrities just having the time of their life.
Where does the stage name "Mr Shef Codes" come from?
When I first started DJing and trying to pay off equipment that I got on my mum's credit card, I was doing all sorts of parties – Indian weddings, Iranian birthday parties, American proms. It almost felt like I had my own language or code, so I initially wanted to call myself DJ Code but with the help of the internet and thinking ahead (for marketing) I put my name Shef before the Codes, that way I can have "Coded" parties, "Coded" Records and so on. The "Mr" in the beginning was a salute to Linkin Park's DJ Mr Hahn and also to focus on the fact that I didn't just want to be a DJ.
In what ways has this pandemic affected your work?
With 8 months of no work and no income, it initially demotivated me but also helped me learn to appreciate more what I have. Dubai's opening up slowly so work's been great, it's definitely not going to be crowded clubs and concerts any time soon but it's amazing to see the precautions and measures the city is taking to get back.
Tell us something that people will be surprised to learn about you.
I've always wanted to be a chef.
Is there any artiste you would like to collaborate with but haven't had the opportunity yet?
I haven't collaborated with anyone, firstly with some of the local artistes in Dubai – Moh Flow, Tac and Freek. If you're asking me about international artistes then I'd say Troyboi, Jael, Travis Scott and Drake.
Care to tell us about your shoe collection?
There's always been a fascination with sneakers and the history behind it, not having the chance to buy them before I think I bought a lot more than I thought I would ever have. I have 200 pairs and counting, mostly thanks to the good people at all the sports brands that I adore.
Future aspirations?
I can go on and on about what I want to achieve and own but I've learnt that it's best to be kept a secret.