Located inside Taj Samudra, The Ports of Call is not an unfamiliar name to Foodies in Sri Lanka. The restaurant itself is very cosy and it has a view of the pool to give off a relaxed ambience. The highlight, however, is the food. We've heard a lot about their buffets and having reviewed them once before we knew we were going in for a treat. Their latest all you can eat Dosa buffet is truly every dosa lovers…...wait let me rephrase that…..every foodie's dream come true! Rs. 1999/- is all it takes!
Yes, friends, you heard it right! 2000 rupees and unlimited dosa. Now some of you might be wondering why you just don't head over to a "Saivar Kade" and have dosa for just Rs. 200/-. Same dosa is just less clean, right? WRONG!
You should know by now that Ports of Call offers nothing short of extraordinary when it comes to their cuisines. These dosa were no exception! Offering an astounding 18 different flavours, they certainly redefined everything that we knew about the traditional dosa.
For those that prefer the traditional, they do offer the Crispy Plain Dosa, but we definitely weren't there for that. Instead, we opted to go for the "Spring Roll Dosa", "Chicken Tikka Dosa". "Kheema Dosa", "Chocolate Dosa", "Banana Split" and my favourite, the "Mixed Berries".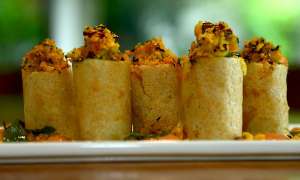 The Spring Roll Dosa had a creamy veggie filling and a crispy dosa wrapping. Even without the sambal and chutney, this tasted really good! The wrapping was super crispy and with 5 rolls on the dish, it was also super filling.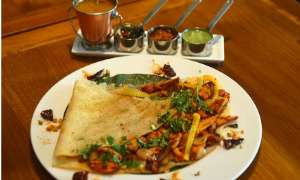 The best spicy dish was Chicken Tikka. This was stuffed with a generous filling of tandoori chicken, bell pepper, chickpeas and onions. Combined with a crispy dosa wrapping the flavours blended in great together, they had added a bit of lime on to the chicken which left a slightly tangy aftertaste as well. I would highly recommend you trying out this dish.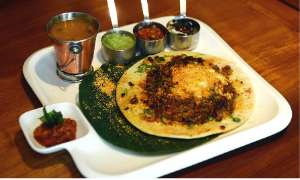 The Kheema Dosa was a flat crispy Dosa which had a mouthwatering spread of mutton and a sunny side up egg. The mutton was a tad spicy and a bit dry but was balanced out perfectly with the runny yolk of the egg. A bit messy, but definitely worth it!
The Chocolate Dosa was quite a unique dish. It was a sweet crispy dosa with touches of chocolate sauce and chocolate ice cream. The warmth of the dosa paired up with iced cream was a lovely combination. My only suggestion here would be to include a bit more chocolate sauce to elevate the taste. Other than that it was a good dish.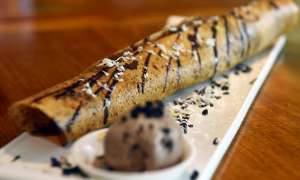 The Banana split was quite a heavy dish! Filled with about 3 flavours of ice cream, a whole load of sliced bananas and crispy dosa this was certainly a dessert lover's dream. By this time however I was stuffed like a duck so sadly I couldn't really finish the whole thing. Aside from the main ingredients however, there were sprinkles, nuts and other condiments to elevate the flavour, and the portion size was huge.
Last but definitely not least was my favourite dish of all, the Mixed Berries. This mouthwatering delight has been acclaimed over the years as a simple yet culinary masterpiece. It's none other than pancakes, strawberries, blueberries and whipped cream. The pancakes were a form of sweet dosa as well, but it tastes just as sweet, fluffy and light like a normal pancake. It was wonderful!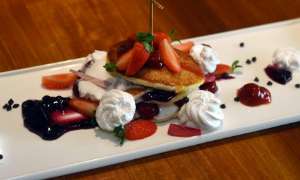 Pics by Nisal Baduge