Biriyani, koththu, yellow rice, lamprais, kokis. These are few of the most popular dishes in Sri Lanka, and you will be hard pressed to find someone who has no idea what they are. Saying this, what about those dishes that not many have heard of? We look at a few dishes that you may or may not have heard of, but certainly deserve the fame as the previously mentioned favourites!
Kiri Roti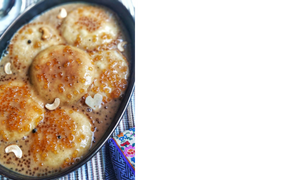 When we first came across this picture posted by Janitha (insta handle -jani_s_digitalcookbook) we honestly had hearts in our eyes. The first step in making this sweet treat is to make the 'roti' with regular hopper batter in a roti pan, only the centerwithout the crust.Then make the porridge with jaggery, coconut milk, sago, cardamom, ginger, crushed pepper, and salt to taste. After that the 'roti' is dunked in the porridge so it can soak up the gooey sweet goodness.Jani explains that while this is sweet there is a spicy twist to it owing to the ginger and pepper added, she furtheradds that this is typically eaten during hot days to cool the body down or sent to Mother's who are pregnant.

Egg Coffee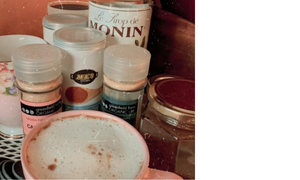 Nuzrath( insta handle - my_lankan_food_journal) suggested this hot beverage, egg coffee is a popular drink in the Moor community. Nuzrath says that each family has their own unique recipe and she makes hers as taught by her sister.This drink is made by slowly mixing in whisked (till frothy)eggs to a warm mixture of spiced milk and coffee (sweetened with Kithul jaggery) that is almost boiling. When this is done you will notice the consistency is thick and creamy, the perfect pick me up you need anytime of the day.

Savory semolina Cake/France aappa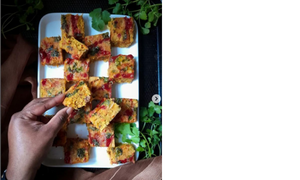 Suggested by Hafsa (insta handle - my_baking_journal),This is an unleavened 'cake' made using semolina and a beef filling as the main ingredients which is mixed together and made into a batter using coconut milk and eggs.it is then topped with ghee and baked to perfection. Hafsa mentions that her mum makes this whenever someone is pregnant in their friends and family circle.
This dish is said to have been created by the Muslims of the Southern province of Sri-Lanka and is more popularly known as 'France aapa' or 'French hoppers' although there's nothing French about this dish.We do wonder, how it got this name.

Watti Soru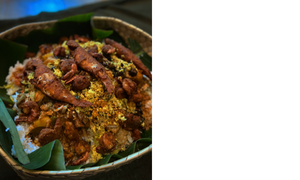 This delightful dish was suggested by Shafra (insta handlesoulfoodbyshaf) ,Wattisoru (a basket of rice) is derived from the southern parts of Sri Lanka andis made by topping a fragrant rice with fish curry, fried fish and various other seafood (so a seafood lover's dream) plus few vegetables like fried eggplant curry / Erial (Erial is sliced onions slow cooked with malumiris, maldive fish and etc) and most importantly the yellow coconut sundal is a must.

String hopper Aasmi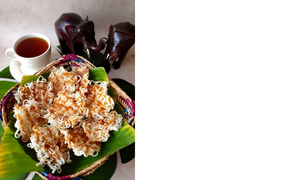 We all know aasmi, but has you had string hopper aasmi? This was suggested byRoshini( Insta handle roshini.karunatilleke), This sweet treat is made by drying leftover string hoppers and then deep frying it in hot oil. It is then topped off with honey,kithul or even caramalised sugar, it is a lovely alternative to aasmi and best part is you do not have to wait till the Sinhala and Tamil new year to enjoy this.

Cow brain cutlet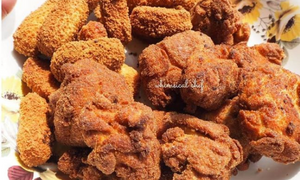 A suggestion by Surani, (insta handle - thewhimsicalchef) this is quiet the interesting dish. It is made by poaching the cow brain in salt, turmeric, pepper and lime/vinegar. Cut into cutlet size pieces after it cools down, crumb coat with breadcrumbs and egg wash and deep fry it and enjoy!
(insert cow brain cutlet pic)