Situated only a few blocks away from the cool breezy streets of the Marine Drive, Chola Authentic Indian Restaurant is the latest addition to the array of Indian restaurants in Colombo.
Ambience
Chola Authentic Indian Restaurant is a restaurant with a space that can accommodate 80 people. It has a very homely touch to it and the interior is very calming with soothing music playing and colourful paintings that has been drawn on the wall itself. There are four private rooms and functions can be hosted using the whole area as well. Chola Authentic Indian Restaurant also has takeaway and delivery facilities.
Celebrating their one-year anniversary, Chola Authentic Indian Restaurant has brought an authentic South Indian delicacy to commemorate this occasion. This dish is called Vaalai Ilai Virunthu which means a feast that comes on banana leaf and that is exactly why this is served on a banana leaf.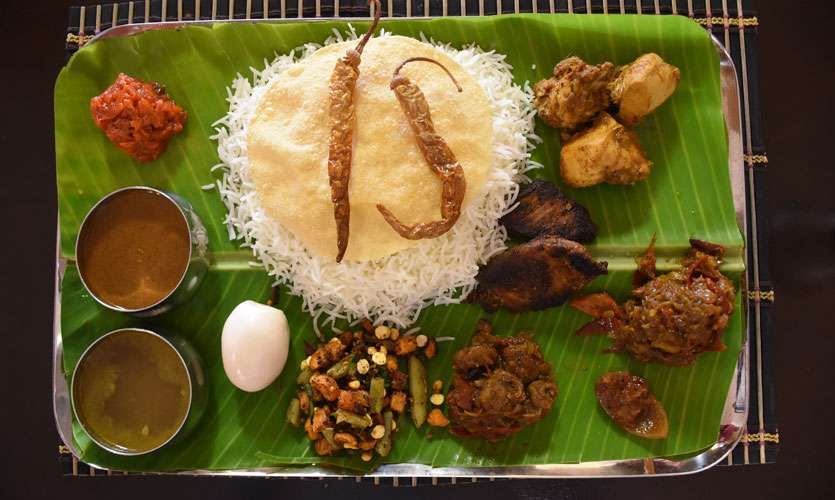 This dish is prepared by South Indian chefs and one of the owners mentioned that Vaalai Ilai Virunthu is one of their favourite dishes to have in India and they wanted to give that unique experience to Sri Lankans as well and as of now, Chola Colombo is the only restaurant serving this dish.
Vaalai Ilai Virunthu comes with 13 components which are Plain Rice, Chicken Kulambu, Mutton Varuval, Fish Tawa, Fry Prawn Chetinad, Boiled Egg, Vegetable Kootu, Rasam Appalam (Papad), Moor Milaga (Butter Chilli), Oorugai (Pickle), Kesari (Sweet) and Neer Mor (Butter Milk). All of these curries are cooked in South Indian styles and you can savour this feast for Rs. 1250 /= per person but in my opinion this is sharable between two people.

Service: 5/5 They are extremely friendly and helpful
Parking Facilities: 5/5
Toilets: 5/5
Tips: There is a small service charge added at the end and don't be afraid to ask for clarifications about the curries. As they are all authentic Indian dishes, there are some we haven't heard much about.
Photographer: Kushan Pathiraja