The Reefs Edge Hotel is a luxury hotel nestled on the shores of Uswetakeiyawa, boasting an almost panoramic view of the Indian Ocean. Just a small 30-40 minutes' drive away from Colombo, it serves as a model location for a weekend getaway.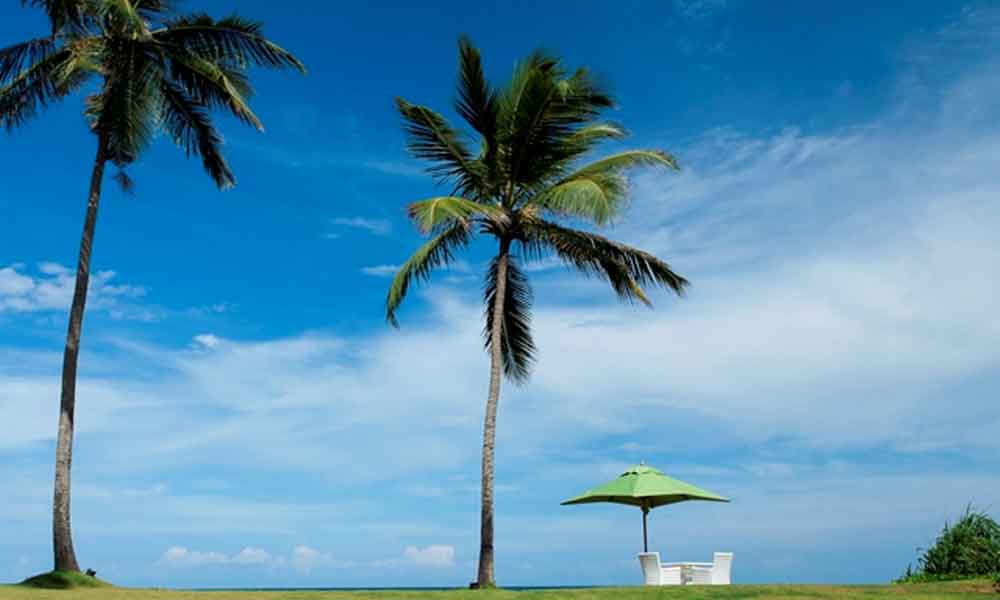 Under the management of Lahrc, the hotel offers its visitors privacy and quiet solitude with great hospitality. Visitors have the option of just relaxing or being adventurous by enjoying activities such as boating, kayaking, canoeing and fishing at the private lagoon off the Hamilton Canal.
Endorsed by Trip Advisor with a Certificate of Excellence, the Reefs Edge Hotel is a place just waiting to be discovered.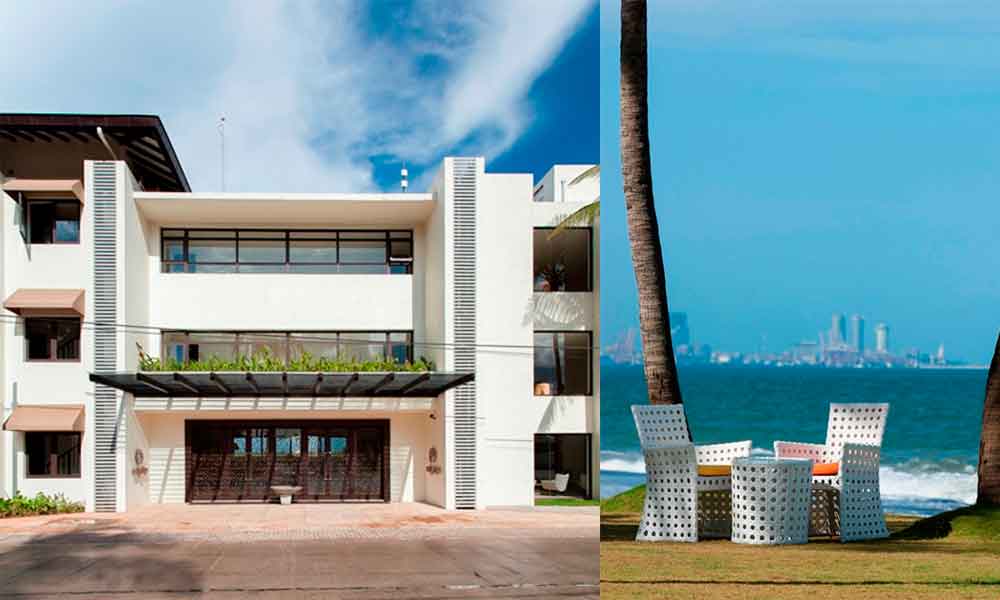 ACCOMMODATION

A 3 floored hotel, it offers 23 rooms with 4 standard, 9 superior, 6 deluxe rooms, 3 lofts and 1 private suite.
We stayed in a superior bedroom (Rs.22, 000 for a double on a B&B basis) with a balcony furnished with swivel wicker chairs overlooking the beautiful Indian Ocean. The view alone from the bedroom was absolutely stunning; the calming sounds of the ocean had me spending half my time on the balcony, just watching the rough waves crash onto the reef.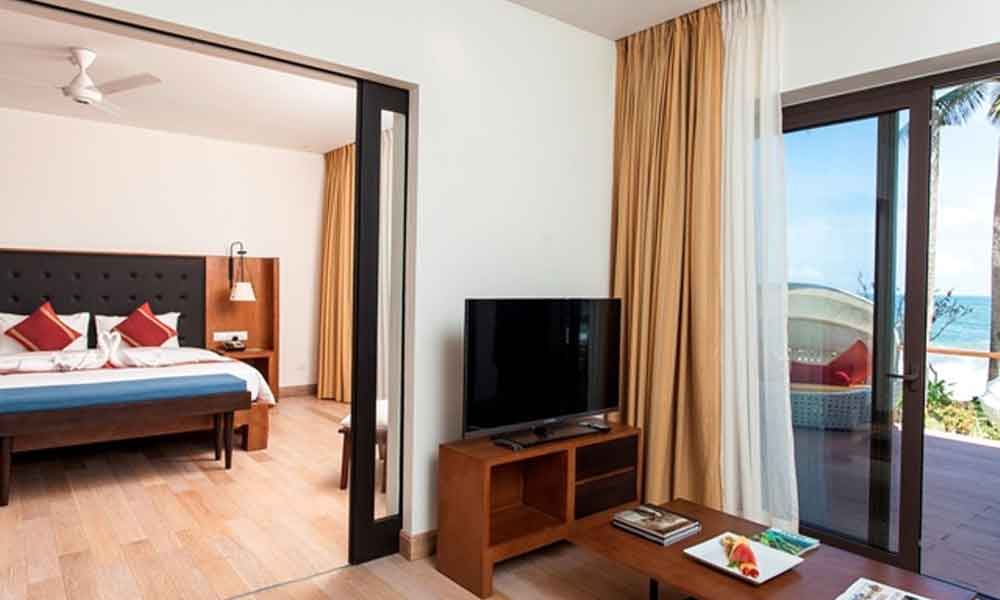 The room ambience was spot on with a green and blue colour theme running consistently throughout the room. The bathrooms had a semi – open concept with fogged glass windows acting as the separator between the room and the bathroom. Well furnished with lounging chairs, a writing desk and comfortable bedding; the room included amenities such as a mini bar, an in-room safe, an iron, comfy bathrobes and slippers and bathroom products such as shampoo, body lotion and soap courtesy of Spa Ceylon.
They unfortunately don't provide toothpaste and toothbrushes so do make sure to pack them from your end!
A special feature that impressed me was their interactive television system that, aside from the usual satellite channels, allows the guest to view the latest movies (for a small fee), play games such as Candy Crush, check weather details, figure out in-room dining choices as well as view their billing details from the comfort of your own room.

FACILITIES

The hotel has a variety of facilities to its name.
For starters, they have a well equipped gym that is free of charge to all its guests.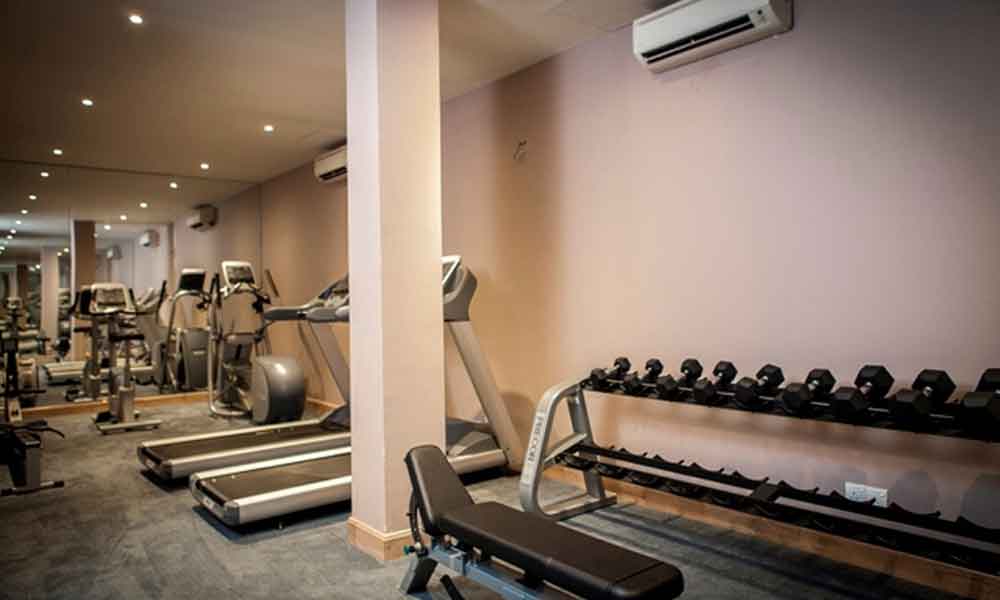 Spa Ceylon has also set up shop there, offering individual and couples massages as well as a steam room for use.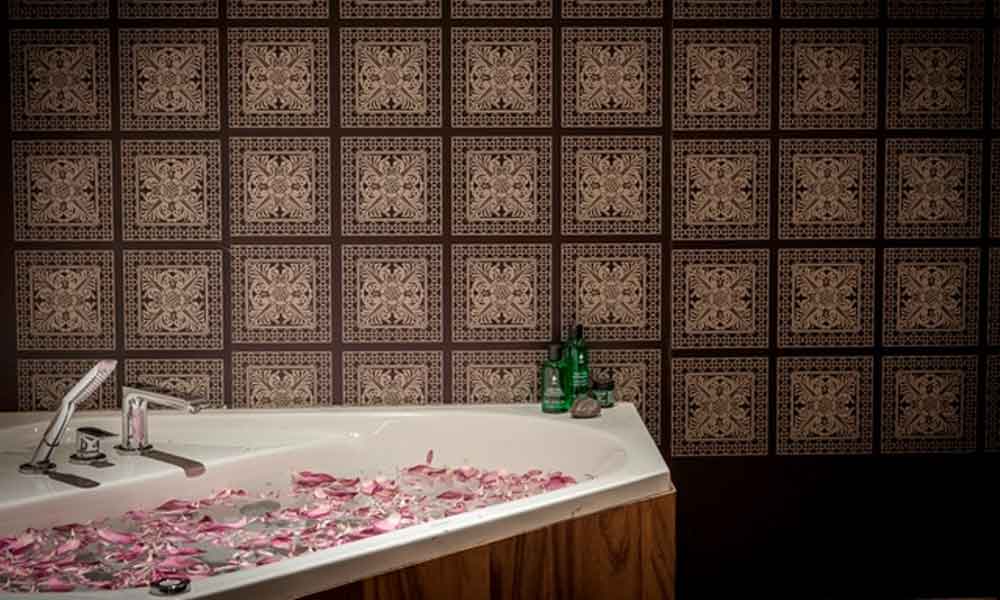 They also have a conference room, The Storm that can accommodate up to 20 individuals.
The Pool Deck consists of sun tanning beds, a Jacuzzi, an infinity pool that opens to the ocean view and a bar within the pool area known as the Plunge Bar. The pool looked inviting and though I didn't get the chance to take a dive, I did take a minute or two to dip my feet in and relax in the quietness of the area.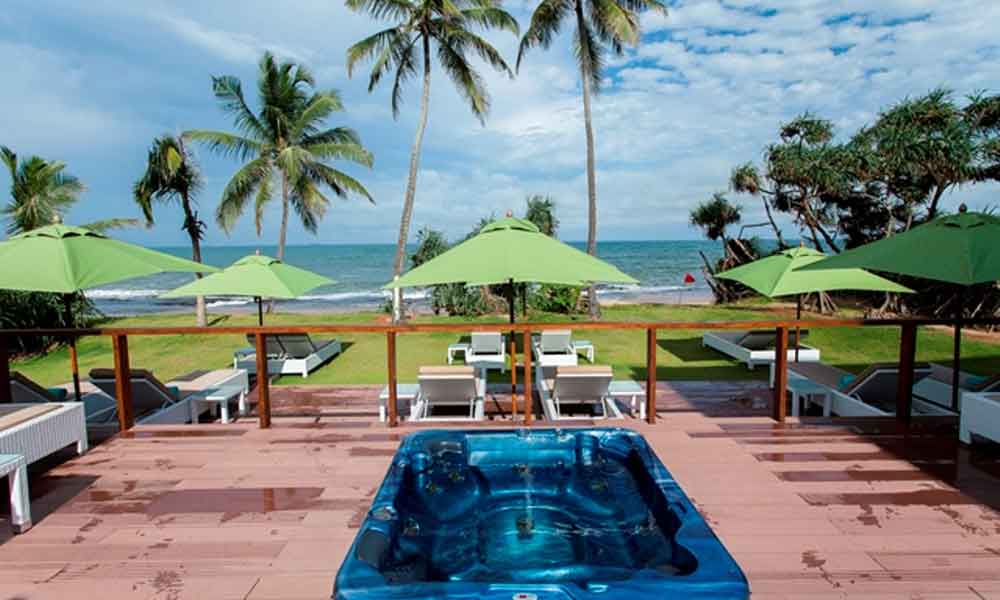 The pool bar sounds like a great idea because who doesn't get hungry or thirsty after a dip in the pool? So instead of having to deal with the inconvenience of dress up and scrounging for food and drinks, the Reefs Edge brings all of that to you.
Across the hotel, stands The Grand Ark, a banquet hall that is commonly used for weddings and conferences with accommodation for 250. Behind the hall is the Hamilton deck which is a massive lawn area with pool facilities and other games that also doubles as a stunning location for an intimate outdoor wedding.

FOOD

The food is served at The Snapper restaurant that specialises in seafood. The Executive Chef Rizvi Ameer is tremendously passionate about cooking and takes great pride in his specialised dishes. He tells us that the menu for the restaurant is changed every year and that most of their ingredients are locally sourced.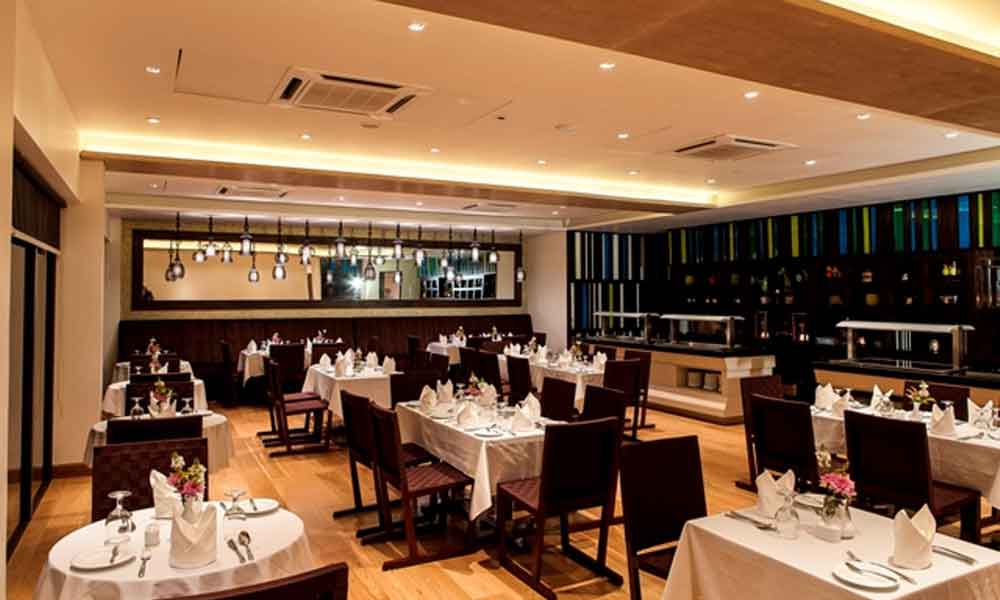 Breakfast is buffet style with a variety to choose from, with both Sri Lankan and western food options made available.
Lunch and Dinner is A la carte and they do have a beautifully varied menu to choose from. A lot of the food is Sri Lankan with a bit of a fusion touch to it. One of my all-time favourites was their 'Negambo Jumbo Prawns' that was served on a bed of creamy risotto. They are definitely not stingy with their portions because this dish had 6 absolutely massive jumbo prawns of which I could only finish 4! Taste wise, that dish definitely hit the spot.
The only bump in the dining experience was the service. When we ordered from the A la carte menu the food took ages to arrive! We ended up having dinner for nearly two and a half hours in which most of it was spent waiting for the food. Apparently the kitchen had a bit of a hitch but unfortunately we weren't informed of it until the next day so we spent a majority of the dinner in a very 'hangry' state. The dining room staff was not as inviting as the others we encountered, we had to repeat our order several times but in all, aside from the little service hitch the food was good.
The High Tide Bar is a nice experience. They have a diverse menu and the bar area is spacious and inviting. I tried a Long Island and a passion fruit mocktail and both were equally satisfying.

SERVICE

The overall service was lovely! We met the Front Office Manager, Mr. Manjula Fernando, who was all smiles as he greeted us at the lobby. He took us through a tour of the hotel and patiently answered our questions and was helpful and cheerful throughout our entire stay.
That said, all the staff we encountered were very hospitable; from the pool attendee to the passing bellhop. They constantly engaged us in small talk and made our stay pleasant and enjoyable.

WHO FOR?

Well, we saw a mix of people at the hotel. There were groups of friends who had come to have lunch and then there were families who had come for a small stay. But mostly, Reefs Edge is popular with a lot of couples who are looking for a nice, private getaway. It's not too far from Colombo and the hotel does offer plenty of solitude so it serves as a very good location for those couples that need a weekend off.

EXPERIENCE

Overall, for me, the accommodation is what really sold the hotel to me. I've been told that when people come for a day package, though the package includes allowing the guest a choice of facilities to make use of, many who enter the room tend to never come out!
I definitely can relate because I found myself running back to my room at every occasion. The beds were utterly comfortable to lounge around in and the ambience of the room was calming and relaxing. It's definitely a place for when you need some down time and a relaxing weekend!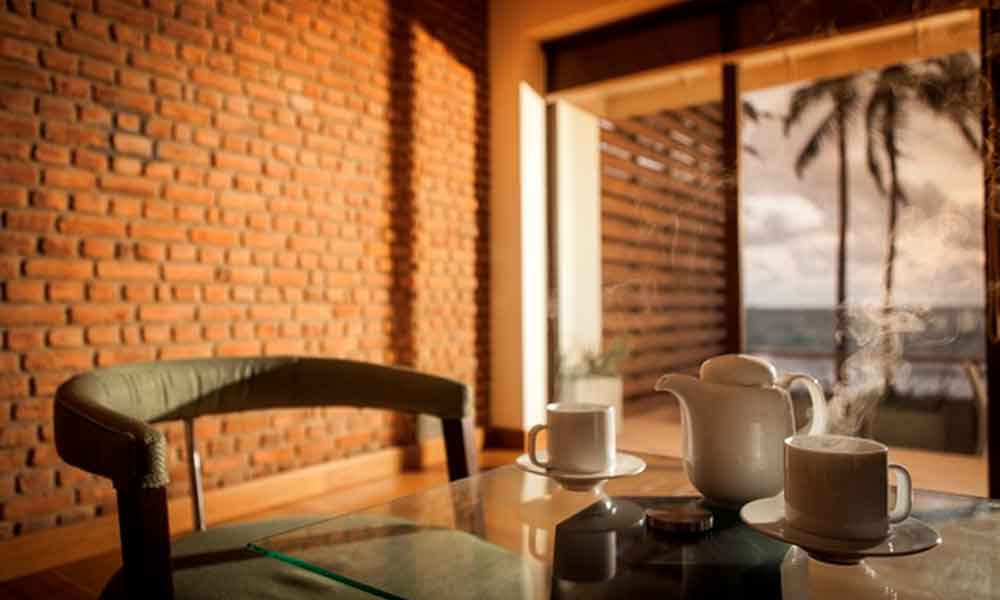 All in all, my stay at the Reefs Edge hotel was a good experience. It felt nice to get away from the hustle bustle of Colombo but also not be too far away from it. The hotel stay gave me what I wanted; a peaceful relaxing weekend getaway.
WIFI
Yes.
ROOM RATES
On a B&B basis for a double room;
Standard: LKR 20,000.00
Superior: LKR 22,000.00
Deluxe: LKR 24,000.00
Loft: LKR 27,000.00
Suite: LKR 32,000.00
CONTACT
No 300, Old Colombo Road, Uswetakeiyawa,
Sri Lanka.
+94 117 89 11 11
res.reef@edgeleisure.com