Ambience
Located in Nawinna, Lounge 171 is the only café in the proximity. Offering a range of good food and beverages, it also provides free Wi-Fi and even free Netflix, depending on their requirements. This was basically designed to give the people around the area, a taste of the trendy food from around the world and also provide a workspace for whoever is looking to spend long hours on the computer, sipping over a cup of coffee. They can accommodate around 30 people and there is a separate smoking area outside as well. Lounge 171 has takeaway options available and they are working on facilitating delivery which will be up and running very soon.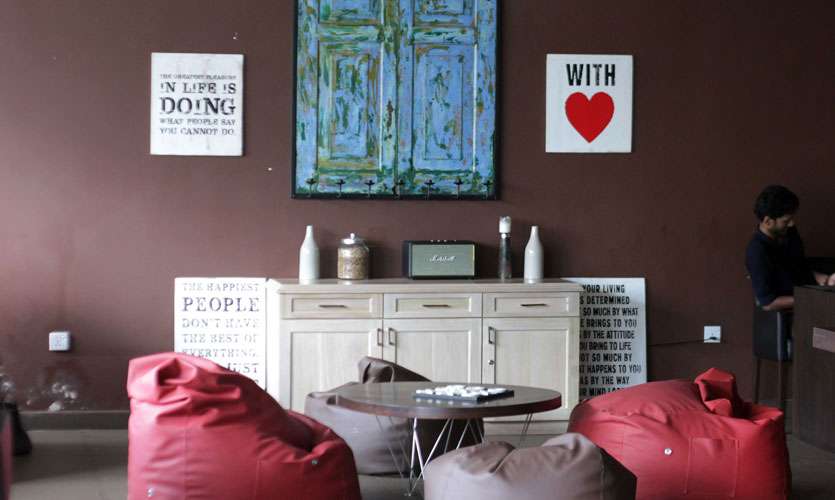 Drinks- 5/5
Hot Beverages
Lounge 171 serves a nice array of hot beverages, of which most are coffee based beverages. They have an Italian coffee machine in place and they use Lavazza and Costa coffee, to give the customers the finest of tastes. We decided to try out their hot chocolate for a difference.
Hot Chocolate
The Hot Chocolate (Rs. 320) served by Lounge 171 is one of the best we've had. For the price, one would think, it'll be an average one, but it most certainly was not! The dense flavour of chocolate running through the bitterness of coffee, infused with the creaminess of milk and the sweetness of sugar, was indeed a delight. And they did not forget to leave a little art on top as well.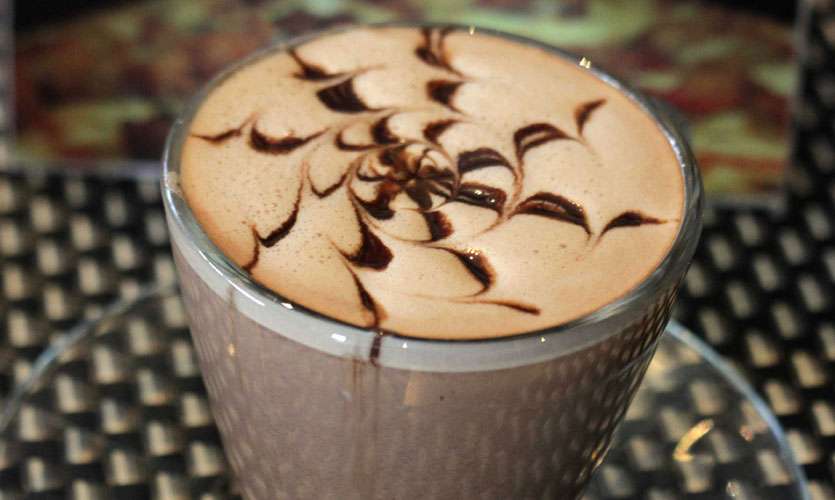 Cold Beverages
Brownie Blast
The Lounge 171 has a range of milkshakes where they have gone all in and the Brownie Blast (Rs.450) is one of them. This has chunks of blended brownies, chocolate ice cream and fresh milk topped with a gorgeous piece of brownie, whipped cream and chocolate syrup. The milkshake itself is thick and has a good taste of chocolate. The whipped cream on top is just the cherry on top. If you're a person who can't eat much, this will you right up and most probably you won't be able to finish it. For 450 bucks they have not constricted the volume.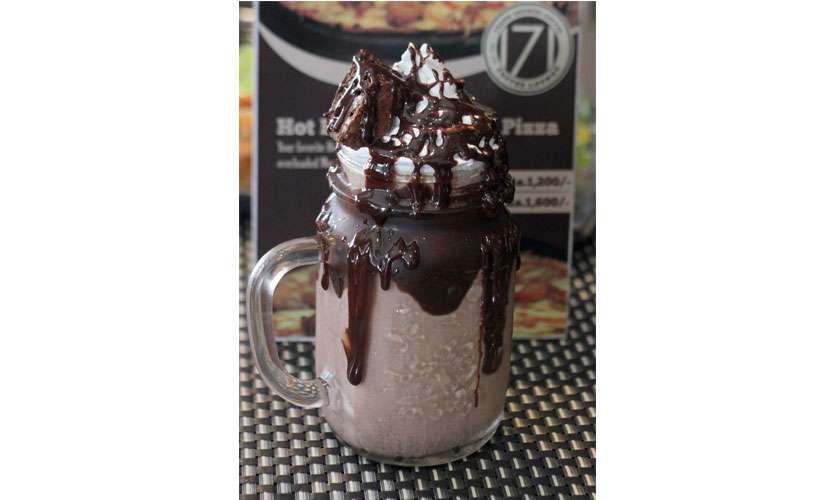 Red Velvet Shake
The Red Velvet Shake (Rs. 450) is one of the new items on the menu and it is also one such shake where they have gone all in. This consists of red velvet cake blended with cream cheese, vanilla ice cream and fresh milk, topped with pieces of red velvet cake on whipped cream. With cake shakes gaining popularity, they have nicely incorporated this shake to the menu, to bein par with the trends. Even though the shake doesn't give much of a taste of cream cheese, this ticked all the points for a killer shake for me. It was creamy and the blended in red velvet pieces danced on my taste buds. This felt literally like how a birthday party would be in my mouth!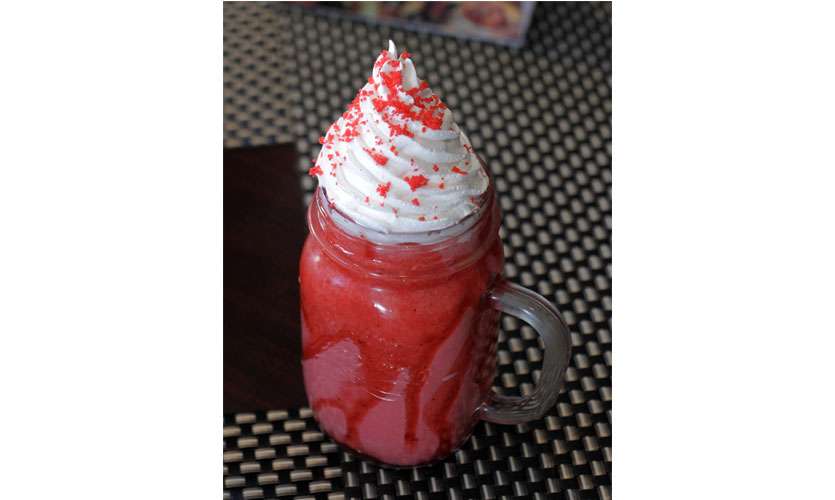 Coffee Frappe
In the attempt to not go crazy on their amazing shakes, we decided to order a coffee-based beverage to level the playfield. The Coffee Frappe (Rs, 350), was also one hefty jar filled with coffee, fresh milk and a hint of caramel and again topped with whipped cream. And this was only 350 bucks a pop! Like what? If you're looking to fill your tummy, with something coffee, I would definitely suggest this! It's delicious and incredibly filling!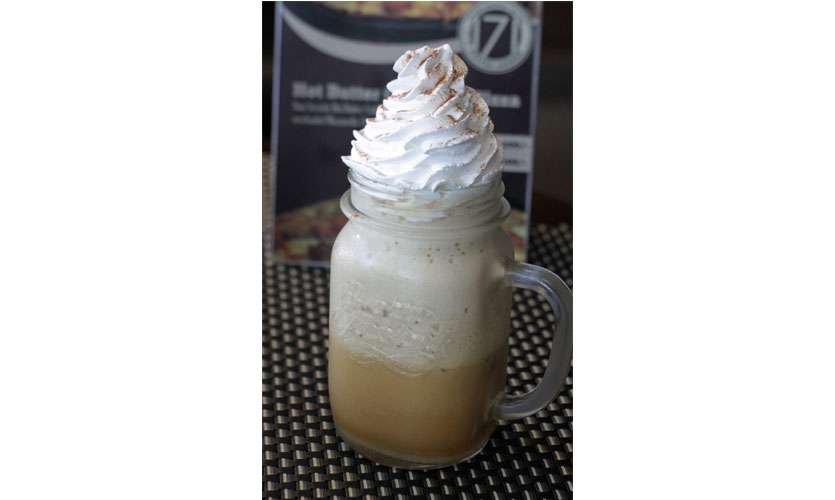 Food – 5/5
Everything in theirsavoury menu is mind blowing!! I am a regular visitor there and have tried almost everything and I can attest that their food is the bomb!
Prawn Tempura Stuffed Submarine
All of their seafood dishes aremind blowing and this is a testament to that. The Prawn Tempura Stuffed Submarine (Rs. 850) is made with crispy tempura prawns stuffed in a home-made brown or white bread accompanied with a side of vegetables of chef's choice and a side of potato wedges. Generally, in a dish, the sides are there to give it a look of more quantity and doesn't taste that good. But in this, even the vegetables taste incredible. The wedges are sublime. They were by far the best potato wedges we've had. We know they are just wedges, but until you have a bite of their potato wedges, you won't understand what we're talking about. Finally coming to the main element, the tempura prawns, Oh! My! God! It was so so so good! Even most seafood restaurants make them this good! Fresh soft prawns coated with a crispy and even batter, was amazing. The only thing I would say is, they can add some mayonnaise or a bit of tartar sauce, to combine the veggies inside the bun with the prawns. But still, this was absolutely delectable!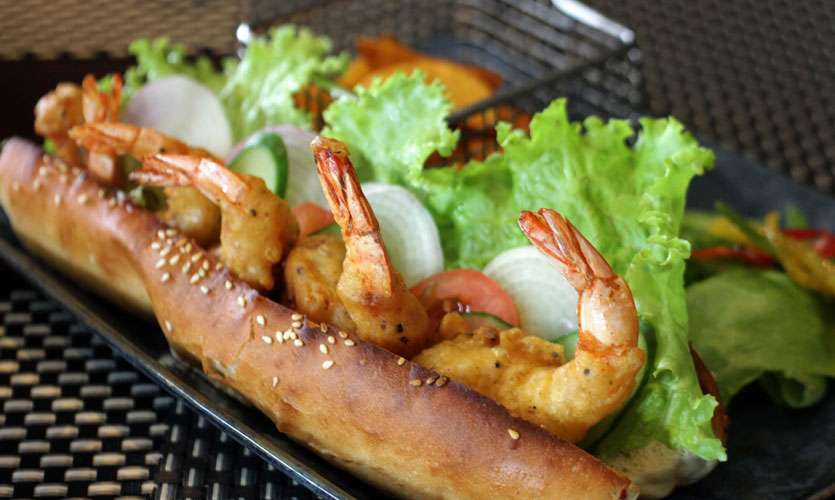 Cock-a-doodle-doo (Burger)
Cock-a-doodle-doo (Rs. 650) is a burger with crispy coated fried chicken in a home-made brown or white burger served with a side of potato wedges and vegetables. They serve a side of potato wedges and veggies withmost their dishes by the way. Lounge 171 has an array of sides and add-ons and we decided to add some chicken ham (Rs.80) to our burger as well. The chicken was succulent in the middle and had a nice crispy coating on the outside which was a bit spicy, like we like it over here. The chicken together with the chicken ham and the crunchiness of the gherkin, onions, tomatoes and lettuce, was so refreshing and incredibly tasty.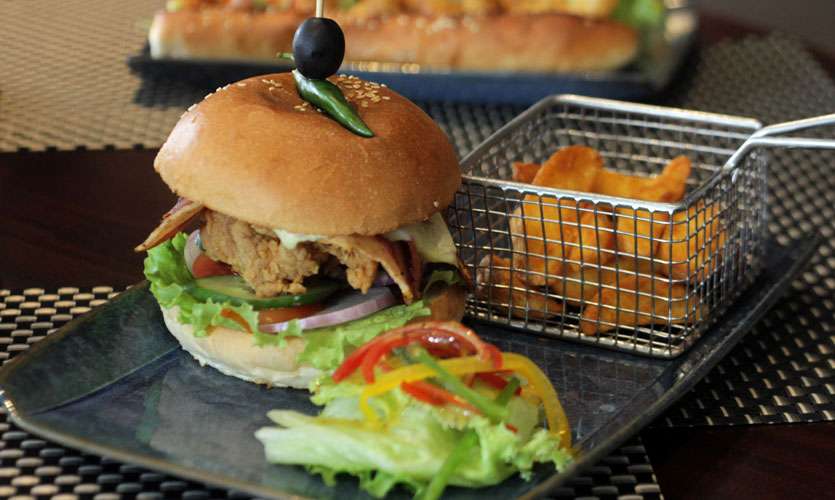 We ordered a half and half large pizza and we'll take you through it, one pizza at a time.
BBQ Shrimps Pizza
Lounge 171 has a vast range of pizzas offered at medium and large sizes and BBQ Shrimps Pizza (Medium - Rs. 1300, Large - Rs. 1800) is one of the newly introduced items on the menu. The pizza has bourbon BBQ glazed shrimps and shitake mushrooms, with loads of mozzarella, cheese on pineapple, black olives. The shrimp was cooked to perfection with the BBQ glaze making it spicy and a bit sweet at the same time. Even though I do not like pineapple on pizza, this was one hell of a pizza and if you do like pineapple on pizza, this would be wonderful for you!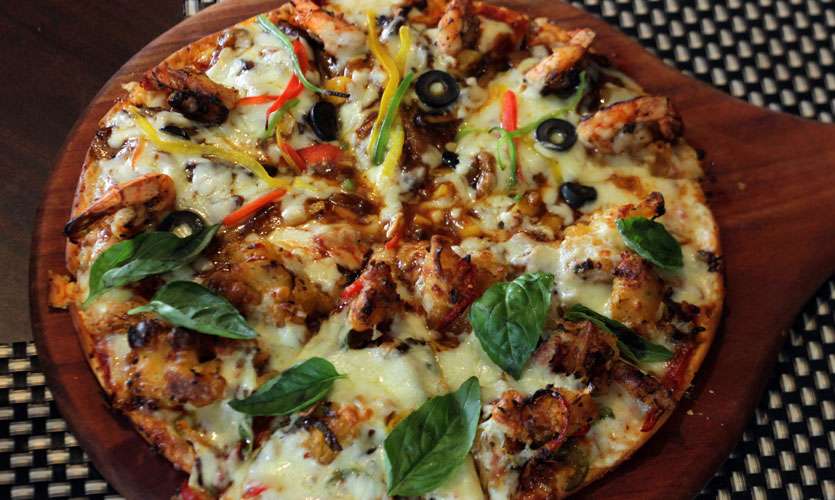 Hot Butter Cuttlefish Pizza
Hot Butter Cuttlefish Pizza (Medium - Rs.1200, Large - Rs. 1600) is the other pizza newly added to their menu and it has hot butter cuttlefish on mozzarella cheese, chili oil, bell pepper, dry chili, onionand garlic. This was literally the best pizza I have ever had. Nothing else can even compare. Hot butter cuttlefish is a Sri Lankan favourite and is a personal favourite as well. The crispy coated fresh cuttlefish, together with the cheesy, garlicy and spicy thin crust pizza, creates wonders in your mouth. It is better than you expect it to be. This is a must to try out if and when you go there!
Crème Brule with Paradise Wild Berries
We would say, they have a bit to improve in their dessert department, but overall they were pretty good. The crème brûlée (Rs. 350) did not have a caramelized layer on top.Generally the fun part of a crème brûlée is to crack that and digging into the custard. The custard was light and fluffy and the contrasting combination of the acidity of the berries and the creaminess of the custard, was quite nice.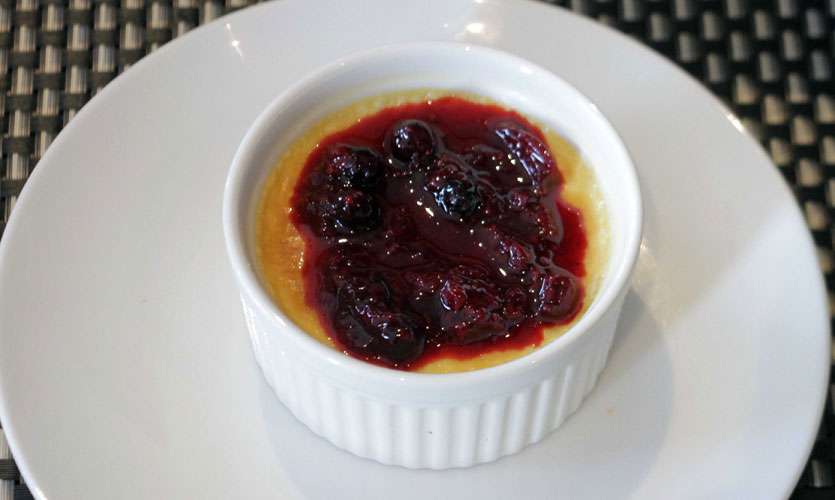 Double Chocolate Cheesecake
The Double Chocolate Cheesecake (Rs.300) was not as good as I expected it to be. The cream cheese layer could have a little more flavour of cream cheese and the chocolate layer also could have been richer. But for 300 rupees, this is a good deal.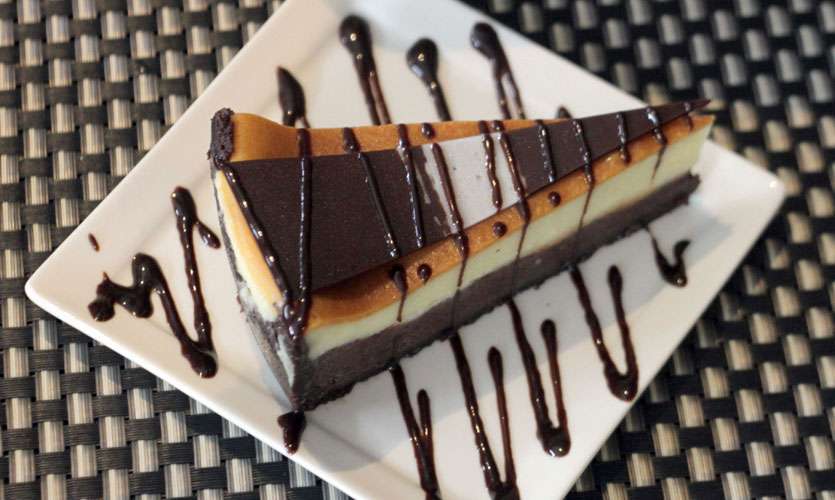 What we recommend: Our favourites were the Prawn Tempura Stuffed Submarine, Cock-a-doodle-do, Hot Butter Cuttlefish Pizza and the Red Velvet Shake.
Service: 5/5 They are extremely friendly and helpful
Parking facilities: 5/5 They have parking in the front as well as a parking area in the back
Toilets: 4/5
Lounge 171 is literally a gem hidden in Nawinna and they offer food and drinks of fine quality at incredibly reasonable prices. This is a place you should definitely check out!
Would we go again?
We would definitely go again!
Tips/notes by the author– There is no service charge of tax, just the price on the menu. Don't be hesitant to ask them if you want to watch Netflix, orsetup the wifi for your pc. They also let you pick the music you want played in the background.
Photographer: Pradeep Dilruckshana