Harpo's Pizza opened its brand-new pizza parlor in Ethul Kotte in November. Situated at the Ethul Kotte intersection, next to the Spa Ceylon store, the new pizza parlor opens to the main road and has ample parking for guests.
"I am pleased of the expansion to these new locations to bring Harpo's Pizza brand to all lovers of our product"
states Managing Director, Harpo Gooneratne.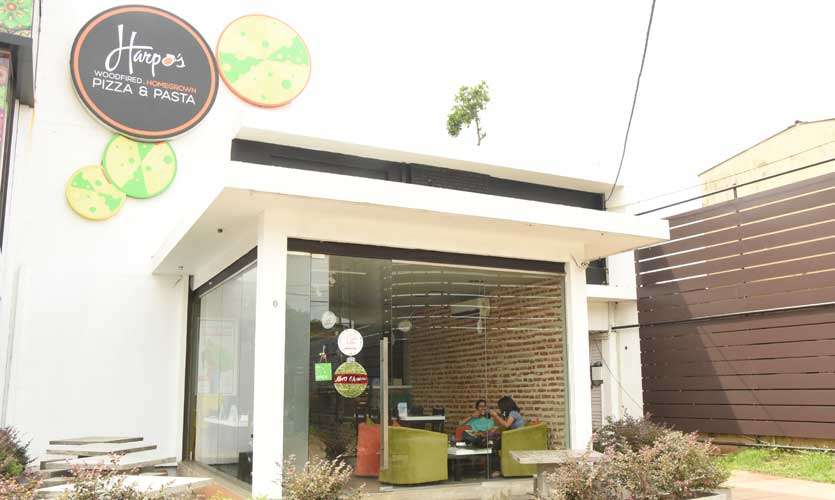 Drinks
The Harpo's menu has a simple range of beverages such as their homemade selection of juices and ginger beer, their peach or strawberry iced tea and their king coconut and lime drink.
We tried their Limeade (Rs. 370), their homemade Ginger Beer (Rs. 350) and their Mint Passion Cooler (Rs. 430). Their Mint Passion Cooler was a personal favourite as the combination of mint and passion worked so well together. Cold and fizzy, the beverages were refreshing.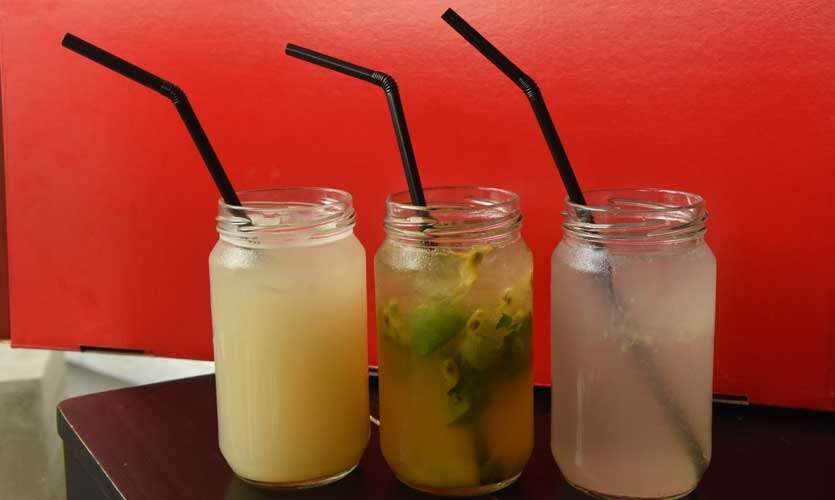 Food
The Harpo's menu is simple; with a range of pizza, pasta and sides.
We started off with their sides and ordered their Spiced Pork Riblets (Rs. 620), Greek Salad (Rs. 620) and their Crispy Calamari (Rs. 650).
The Spiced Pork Riblets were an absolutely delicious appetizer. Glazed with a homemade barbeque sauce that was sweet but spicy, the meat was tender and juicy, falling right off the bone. The portion was quite large as well and can be easily shared.
Even though it is a side dish the Crispy Calamari was served with a side of salad. Golden batter fried ringlets of Calamari is served with tartar sauce and a wedge of lime. The Calamari was cooked well; soft and not too chewy.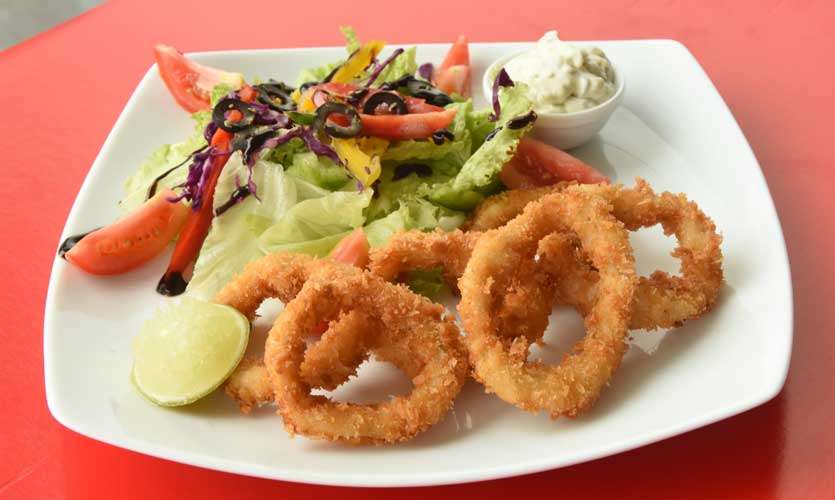 The Greek Salad was a fresh garden salad with mixed greens, tomatoes, cucumbers, onions, bell peppers, olives and oregano and topped with feta cheese.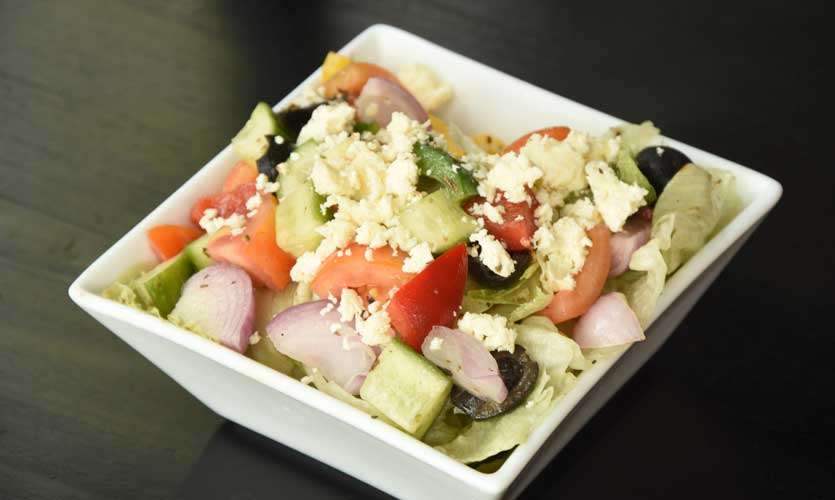 For mains, Harpo's offers a range of pizzas and pasta. There are nearly 20 varieties of pasta and 30 varieties of pizza so diners are spoilt for choice! Diners can opt to have their pizza in four sizes; Regular 9 inch (serves 6 pieces), Large 12 inch (serves 8 pieces), Gigantic 19 inch (serves 16 pieces) or the Square 22 inch (serves 36 pieces).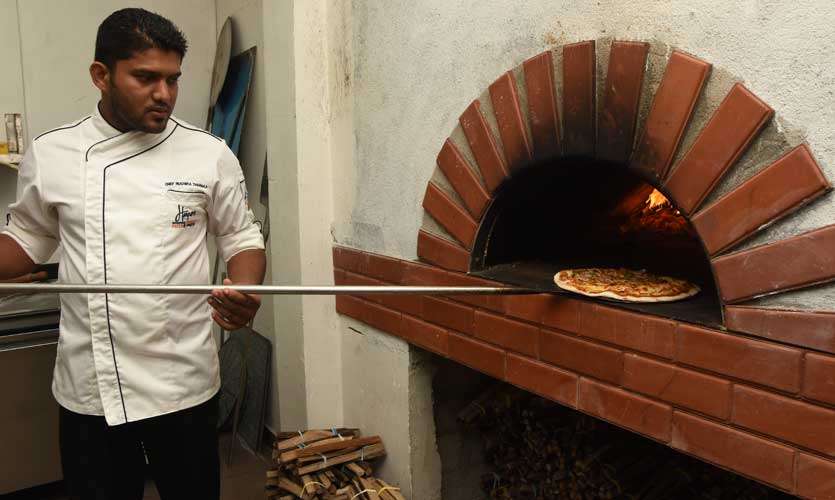 Their pizza is thin crust and made in a wood fired oven. We chose a half and half pizza with one half Margarita and the other Cajun Crisp. Harpo's executed a classic Margarita with plenty of tomato sauce, mozzarella, parmesan and oregano. Their Cajun Crisp is on the spicier side and is one of the best pizza toppings we've tried in a while. Tomato, jalapeno peppers, red chili, onions, mozzarella with their curried minced chicken was hot and delicious.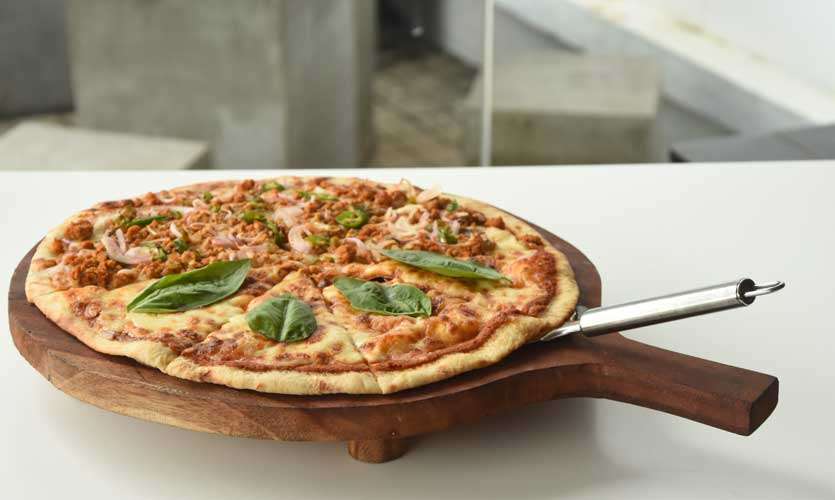 Harpo's also has a large range of pastas that are largely homemade. We tried their Spaghetti Carbonara (Rs. 980) and Fettuccine Con Gamberetti (Rs. 1030). The Carbonara was creamy and smooth but it was the Fettuccine Con Gamberetti that blew us away.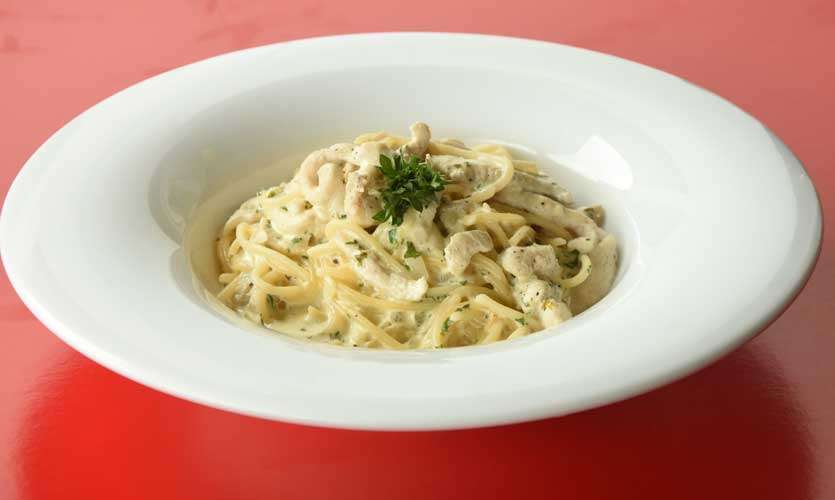 Made using their own homemade fettuccine, this dish was a delicious combination of garlic, tomato sauce and chili prawns (and they are very generous with their prawns!).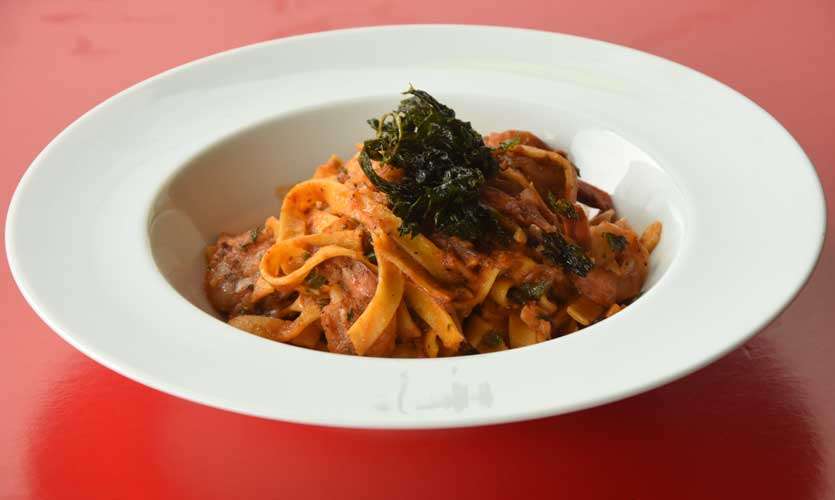 Harpo's also sells their homemade pasta in packs of 200g at the pizza parlor and selected supermarkets that can last for 3 months and are of different flavours like the beetroot, onion, garlic, spinach tagliatelle or tagliolini. They even have homemade bottled sauces such as a pesto sauce or arrabbiata sauce that can accompany the pasta.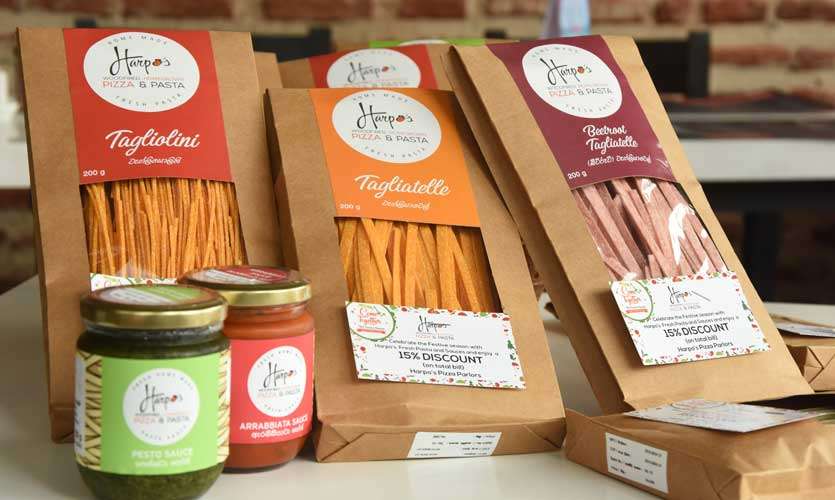 If you don't feel like a pasta or a pizza Harpo's also has a special menu with risotto, chicken cordon bleu or grilled fish.
For dessert, diners can enjoy chocolate mousse, tiramisu, brownies, cheesecake or a range of Nutella inspired deserts (which we couldn't try because we were too stuffed!).

Service
Wherever you go, the service at Harpo's is always consistent. Polite, well mannered and helpful, the staff at Harpo's always ensure that you have a smooth dining experience and is more than ready to belt out a few recommendations when you can't decide!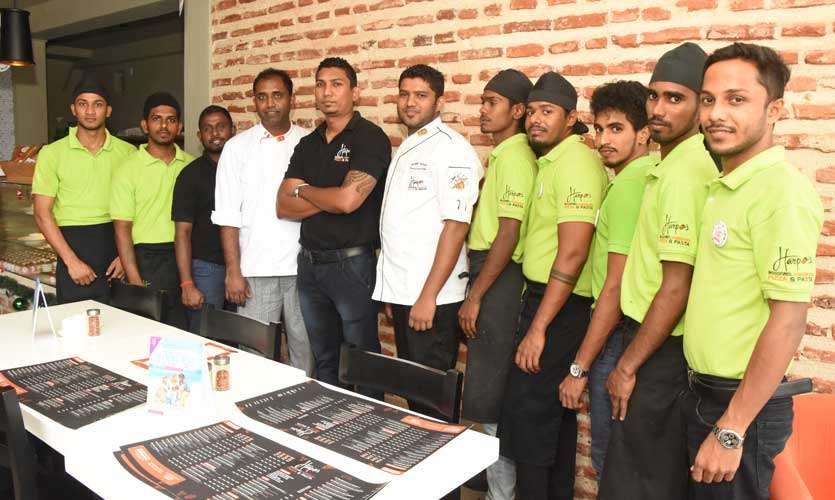 Overall
Overall, Harpo's pizza is consistent wherever you go. With Rajagiriya becoming a food hub, it's great that Harpo's pizza is now available in the area. Moreover, we love the dining space of the new location because they have a really great outdoor dining area as well. Harpo's pizza has never really disappointed us, its always fresh out of the oven and the toppings are very generous!

Too lazy to go out to eat? Harpo's pizza is available on delivery through Hot Wheels Delivery service on 011 486 9000 and also through Uber Eats and Eats delivery service.
Parking Facilities – Available
Toilets – Available. Clean and Sanitary.
Would we go again? Most definitely!
Pictures by: Nimalsiri Edirisinghe