Eat right is a great place for all those healthy eaters and even for any ordinary person looking for some good light food. It's been running for over a year now and wasn't a big hit when they first started, but I believe it's one of those places that is catching up fast. They have quite a wide variety of healthy foods which honestly taste good and aren't just plain boring salads.

The Drinks

I was given 2 drinks. I'm not much of a health nut but to be honest these drinks tasted great! First was the Antioxidant (Rs.500). This consisted of Blueberries, Strawberries, and Mango. It was packed with flavour! So yum! It wasn't too heavy either. The next was the Meal Replacement (Rs.500), this had Bananas, Blueberry, chunks of Peanut butter and yoghurt. This truly is a meal replacement, have one of these and you are good to go. It's great even after a workout. I love the chunks of peanut butter because it adds a little crunch to it while the blueberries give a nice sourness to the sweet.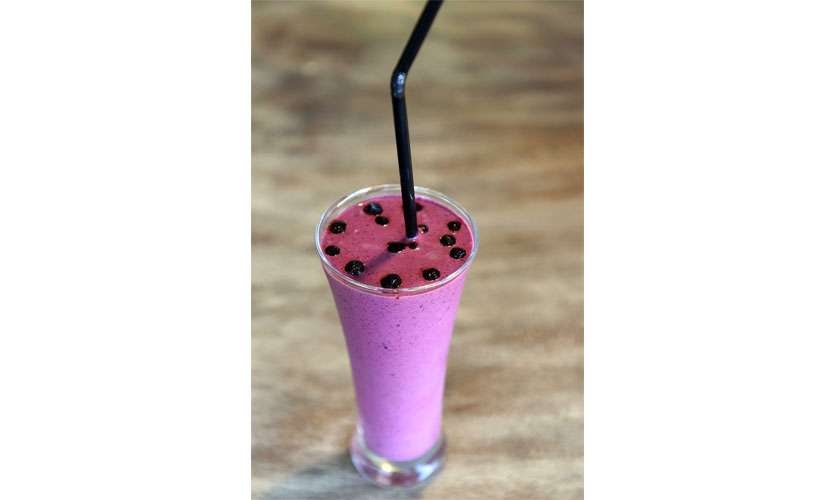 The Food

To start I had the Crack wheat rice with salad (Rs.800), this was a tomato based dish with a yoghurt based salad. The crack wheat was made in such a way that I almost thought it was rice. It has a Mediterranean flavor and would go well with a meat dish to accompany or even alone is just fine. Next was the Cauliflower rice with a Thai red curry Chicken (Rs.1000). The cauliflower rice was prepared with turmeric and butter, it's not bad and actually almost feels like you're eating couscous. The Thai Red curry chicken is what gives this dish all the flavor and taste. Personally I would have preferred if the cauliflower had more flavor of its own.
The Green Gram Humus with homemade roti (Rs.500) was served next. The roti was made out of atta and kurakkan, the humus is quite self-explanatory. The humus had an interesting flavor but personally I didn't care much for this dish.
Grilled Chicken with Sweet Potato Mash (Rs.650). This was my favorite dish! The chicken was so soft and moist and had a great flavor, the sweet potato mash added some lovely sweetness to the whole dish, and to top it off the mushroom sauce actually had pieces of mushroom, which I thought was great!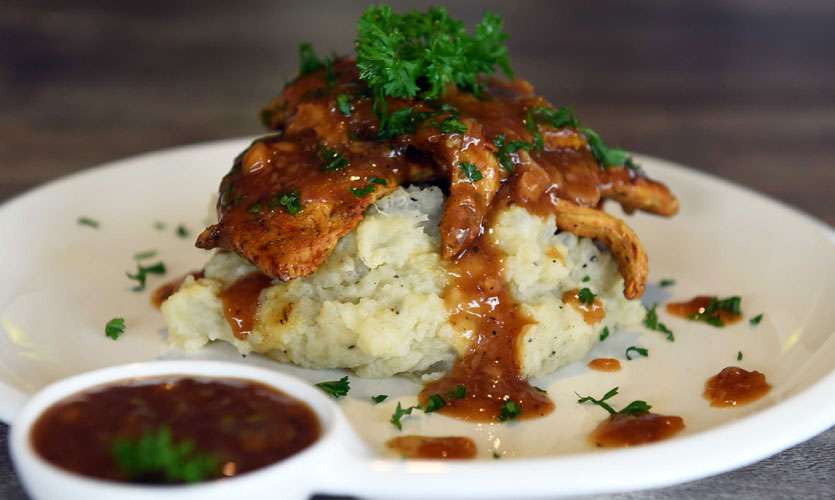 Teriyaki Chicken Burger (Rs.750). This was an interesting burger, because it had coleslaw inside, the patty to be honest had no Teriyaki flavor, but the home made spicy mayo did all the magic. This is served with some air-fried french-fries and can be served with or without the brown bread buns.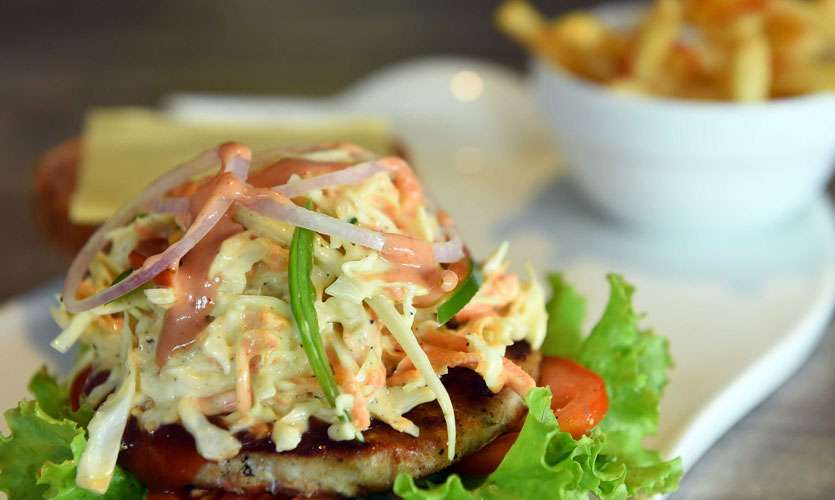 The Chef's Special Wrap (Rs.800) is another one of my favorites. The Tortilla is very thin, light and not crumbly! The meat was moist and juicy, the air fried french-fries added a nice crunch to it, and of course it had a lot of tomatoes, cabbage and other salad stuff, but the home made sauce is what really takes this wrap from healthy to tasty!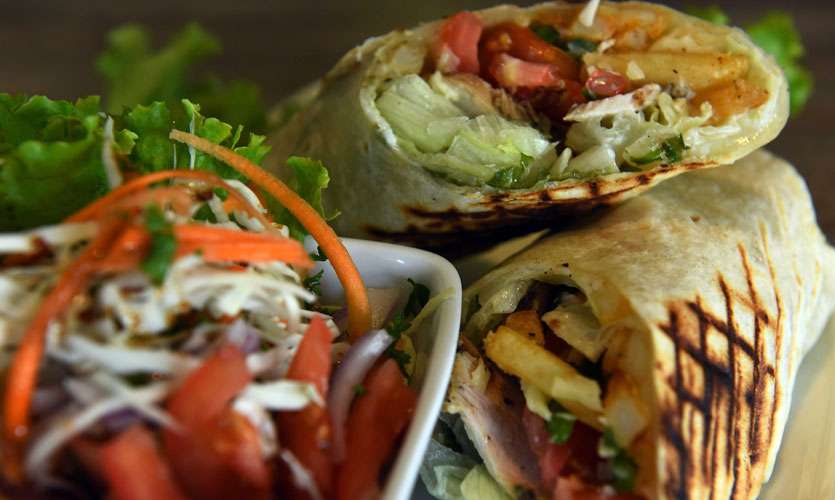 Last but certainly not the least was the Smoothie Bowl (Rs.550). This has a range of customizable options from 4 different base smoothies to a variety of toppings such as nuts, strawberries, banana etc. I had the chocolate smoothie which has peanut butter and a hint of orange zest. I personally didn't enjoy the orange too much, would have preferred to have more peanut butter. Interesting fact about the smoothie bowl is that it was actually added on to the menu as a result of their monthly competition, where customers can send in a recipe for a new dish they'd like to have along with a picture and can stand a chance to win a Rs.10,000 voucher, not only this but also their dish will be featured for that month and also may become a regular item.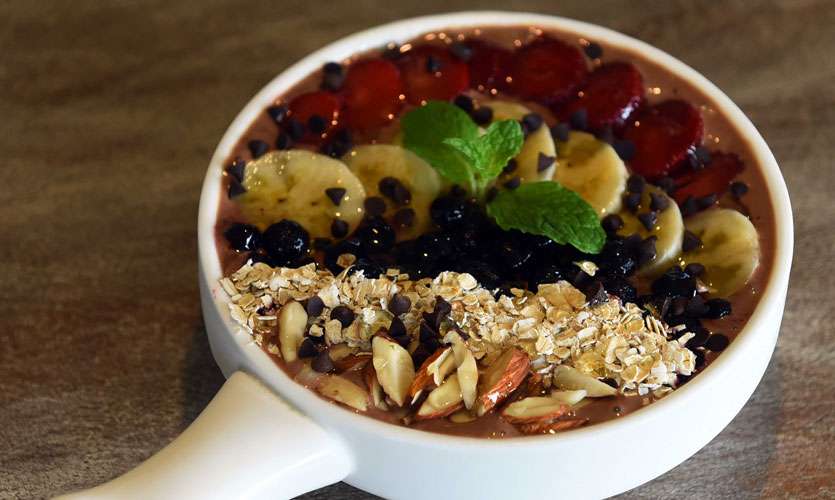 Recommendations:
I personally really liked the roast chicken and sweet potato mash. For breakfast the smoothie bowl or the meal replacement is a great, quick, easy and healthy treat.

Delivery service:
Eat Right is mainly focusing on their delivery service at the moment. They are partnered with Okie Dokie, Uber Eats and PickMe. Honestly if you are looking for a healthy meal from the comfort of your home all you have to do is call 011 4247247.

Eat Right is definitely a spot for the health freaks in Colombo, not saying that any other person can't enjoy a meal here. The food has certainly improved but definitely has room for further improvement.

Author – Aaron Bulathsinghala
Photographer – Nisal Baduge