The t-Column by Dilmah was introduced with the idea of making the whole process of brewing tea not just convenient but also cool. The sleek design saves space while it also keeps your tea warm for longer owing to the double-walled glass design of the t-Column.
Ambience
We experienced the t-Column for the first time at the Dilmah t-Lounge at Independence Arcade. Since our last visit the layout has changed offering a more open set up. The comfortable and cosy feel of the tea lounge is still very much there while the super efficient and friendly staff make your experience a fantastic one.

Food
Drinks and Food – 5 stars
Seeing as this week we paired the teas brewed in the t-Column with food in order to enhance the whole experience we broke it down to two teas which paired beautifully with savoury items and two with sweet items.
Our first experience with the funky t-Column was when we tried out Dilmah's Meda Watte Black Tea (Rs 450) along with a Vegetable Pot Pie (Rs 600). It is recommended that this tea is indulged with no sugar or milk as it a light tea which has to brew for three minutes. The pie was home to carrots, broccoli and peas in a creamy sauce while freshly ground black pepper gave this mellow dish a sharp edge. The light 'Watte' tea paired well with this delightful pie.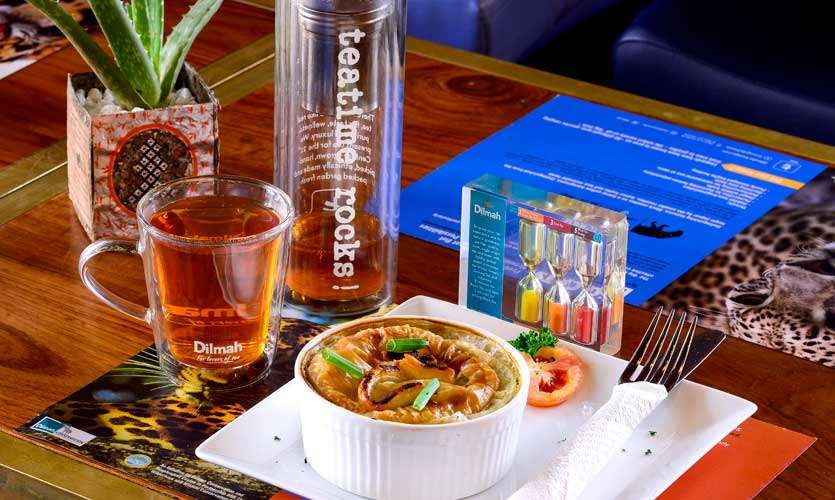 We also had their Brilliant Breakfast Tea (Rs 350) with a Spicy Chicken Crepe (Rs 600). This strong black tea which is best enjoyed with a cube of sugar and milk is ideal with the soft chunks of spicy chicken, melted cheese and green bell peppers that come stuffed into the light crepe.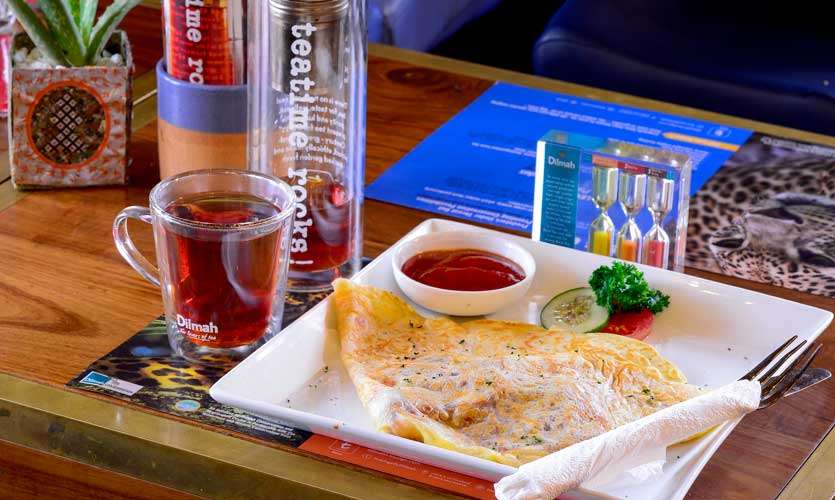 We next had Dilmah's famous Moroccan Mint Green Tea (Rs 350) with a slice of Chocolate Cake (Rs 450) – after all mint and chocolate are a match made in culinary heaven. The extremely soft, gooey and sinfully dark chocolate cake along with the sharp Moroccan Mint tea was just the perfect pair.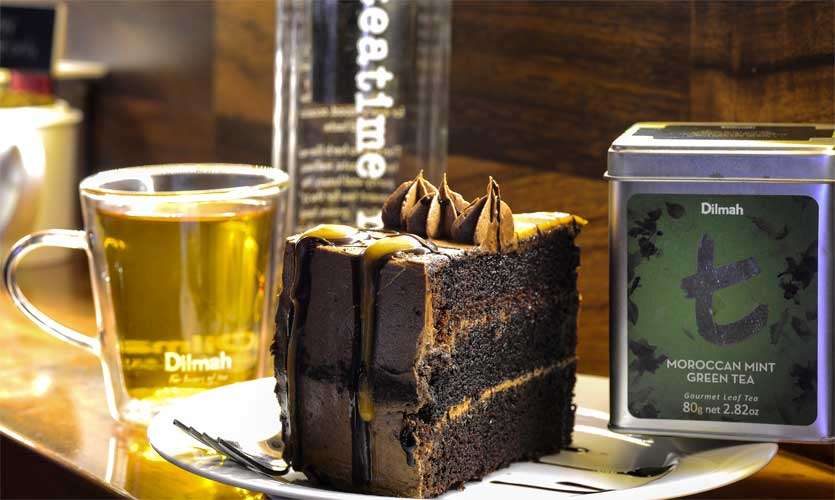 Our final experience of the t-Column was with the Pure Chamomile Flower Tea (Rs 350) which was paired with their creamy Avocado Ice Cream (Rs 550). The fresh ice cream was made using real avocados and was topped with a sweet and zesty blueberry sauce.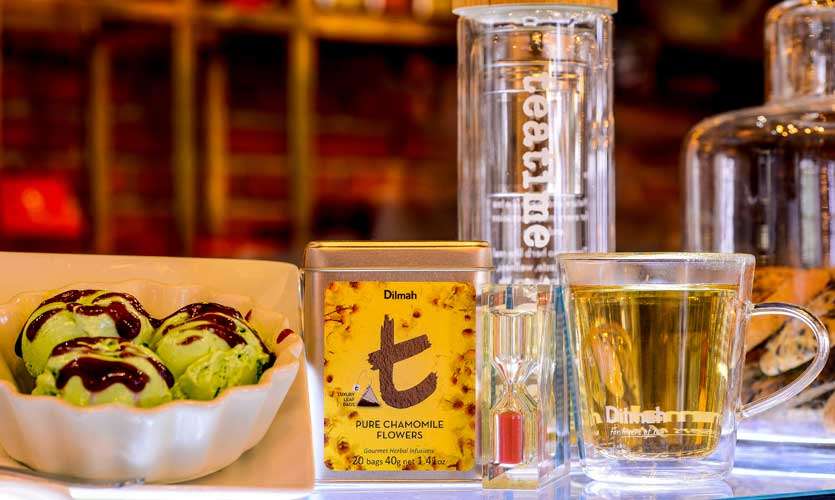 What we recommend: Brilliant Breakfast Tea and Spicy Chicken Crepe as well as the Pure Chamomile Flower Tea and Avocado Ice Cream
Service: 5 stars
Parking facilities: 5 stars
Toilets: 3 stars
Would we go again? Yes.

Tips/notes by author – Brewing tea is an art and one that is best enjoyed in three dimensions namely on the eyes, nose and palate. The t-Column is ideal to brew teas of all colour, shape and size while the aroma and taste are in full clarity so you can essentially brew what you see and see what you brew. Using a t-Column is actually quite simple. You have to place the required amount of loose leaf tea into the brewer of the t-Column, add hot water, turn upside down as per the brewing instructions, shake, remove brewer and serve.
Pix by: Kanishke Ganewatte