Veteran fashion designer and choreographer Senaka De Silva has ventured into decorating interiors with provincial flags of Sri Lanka. At his house in Kohuwala, De Silva was busy perfecting a newly designed Hansaya Flag to be given away to a client. "I want to study about the different provincial flags and give more meaning to the interiors. Every flag could therefore tell a story," he added while concentrating on the artwork.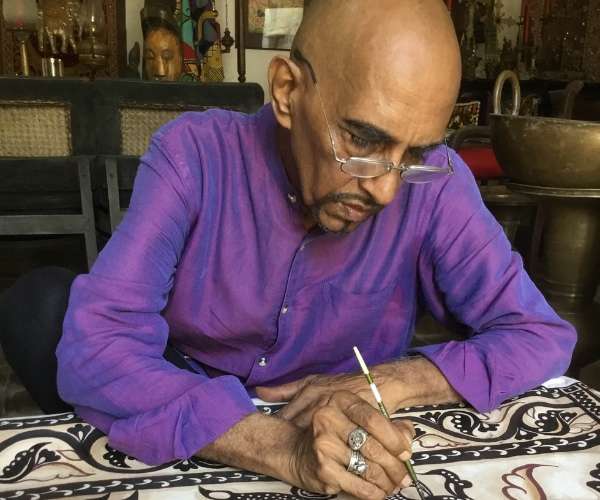 The Hansaya Flag for example was the provincial flag of Uva Dissawa. According to Flags and Flag Traditions of Sri Lanka, an insightful book penned by Prof. Nimal De Silva the Uva district is crowned with the Namunukula mountain range. The King or the chieftain who ruled Uva from Namunukula – Indaka Deviyo at the time of Buddha's visit had a swan as a chariot assigned to him. This tradition may have influenced the assigning of the swan symbol to the Uva District flag.
The swan is one of the animal motifs widely used in Sinhalese art. The swan is believed to be the chariot of Brahma. Flags have played an important role in both the administrative and cultural history of Sri Lanka. According to the book, there has been a keen and growing interest in flags over the years so much so that flag societies have been formed in many countries and the name 'Vexillalogy' has been coined to describe the study of flags and their history of modern development. Prof. De Silva at one point served as the inaugural president of the Sri Lanka Vexillalogy Association and the Flag Research Centre.
It further states that in the process of human evolution, leadership, power, social order and beliefs have played key roles in helping cultures to compose and create leadership, art and architecture. Inside this process, the vexillum and the flag were created to communicate dignity, identity, power and presence. This practice continued for more than three thousand years resulting in producing creative arts.
Bringing in creativity and innovation, Senaka has always had a passion to highlight the Sri Lankan identity in his masterpieces. This is why his outfits highlight local design elements ranging from batiks to beeralu, handloom textiles and other garments with a modern twist to suit the ever-changing fashion industry. By introducing provincial flags as interior décor Senaka hopes to bring a lesser-known aspect of Sri Lankan history to life.