Muthurajawela, a wetland that plays a key role in maintaining the ecological balance in Colombo and Gampaha Districts is now under threat. From its literal translation to 'Swamp of Royal Treasures' the wetland is now a haven for racketeers who have already started abusing its unique biodiversity in many ways possible. Illegal encroachments, ad hoc settlements, mushrooming factories, fires and sand filling have resulted in the land area to diminish. Environmentalists believe that it has already lost 1/3rd of the total area mentioned in the Muthurajawela Master Plan drafted back in 1992.
Biodiversity
Spanning over 7500 acres of land, the Wetland is home to many species of flora and fauna, apart from being a biodiversity hotspot. According to an IUCN report on Muthurajawela, a total of 209 vertebrate fauna from 96 families were recorded. These include 35 out of the total 78 fish species, 14 out of 54 amphibians, 31 out of 155 reptiles, 83 out of 226 bird species and 22 out of 90 mammals could be found here. Apart from that it has over 194 species of Flora on varying vegetation types. It is also home to many lakes and canals including the Dandugam Oya, Hamilton Canal and the Negombo Lagoon and is known as the largest saline coastal peat bog.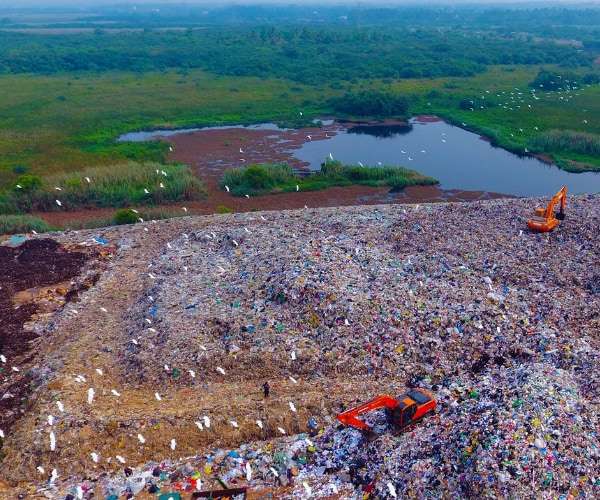 Image: Heaps of CMC waste accumulated at Muthurajawela
Threats
However, over time this wetland has become a haven for many illegal activities even though there are many Acts and Ordinances to protect it. Some of these activities include :
Sand filling and land clearances for commercial projects
Illegal encroachments and declaring private lands
Operating dry fish stalls and pig stys next to the waterway
Illegal moonshine operations
Ad hoc resettlement schemes – areas get flooded during the rainy season and people are affected
Settlements shifting towards the lagoon thereby imposing a threat to the sensitive ecosystem near the lagoon
Deliberate setting of fire for poaching activities
Freshwater fish poisoned due to toxic waste dumped from factories
Wells cannot be used as water has become polluted
Illegal sand mining to obtain silica
Waste dumped into the Hamilton Canal and has posed a threat to aquatic species
Urgent need for protection
According to Hemantha Withanage, Executive Director at the Centre for Environmental Justice (CEJ), many areas have been filled for various industries. "Parts of the wetland near Wattala have been filled. There are settlements near the Kandana Road and Ja Ela. Therefore mangroves are now confined to a limited area. The Negombo Lagoon is also part of the wetland but due to hotels, factories, dry fish stalls and industries that discharge a lot of pollutants to the waters, its biodiversity is under threat."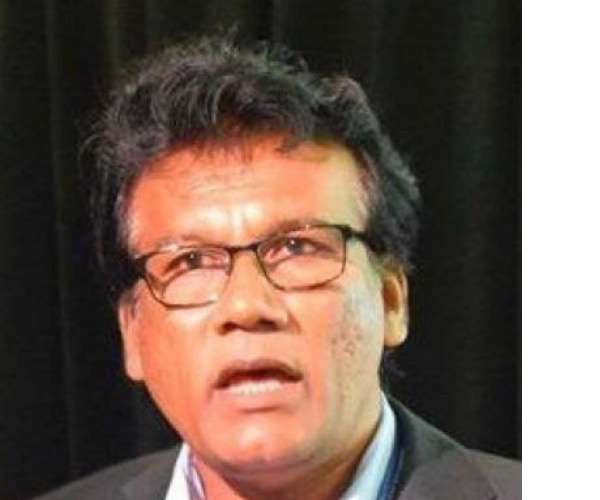 Pictured: Hemantha Withanage, Executive Director at the Centre for Environmental Justice (CEJ)
With the collapse of the Meethotamulla Garbage Dump, the Wetland became a potential garbage dumping site. "Due to the heavy digging and disturbances caused to the peat bog, there's a high level of mercury and peat in fish, thereby making them unsuitable for consumption. Muthurajawela is an extremely important wetland as it helps manage floods in Colombo and Gampaha. Therefore the remaining part of it needs to be protected."
Legal provisions
Apart from the Acts and Ordinances drafted to protect the environment, the State as well as the citizenry have a duty to protect the environment. Clauses mentioned in the Constitution are as follows :
•
Section 27 subsection 14 of the Constitution of Sri Lanka states that the State shall protect, preserve and improve the environment for the betterment of the community.
•
Section 28 (f) states that the exercise and enjoyment of rights and freedoms are inseparable from the performance of duties and obligations and accordingly it is the duty of every person in Sri Lanka to protect nature and conserve its riches.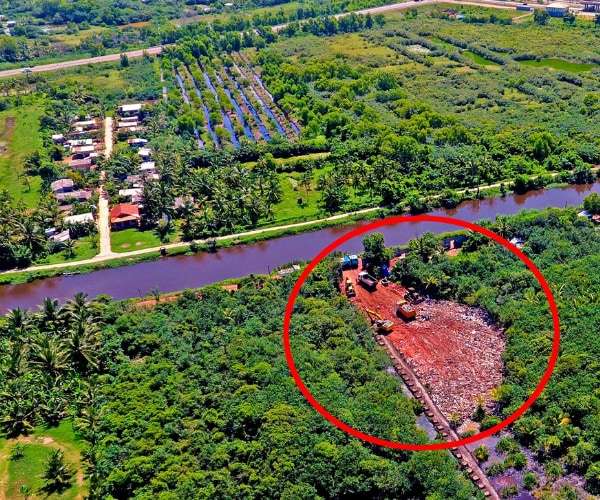 Image: Areas cleared for commercial constructions
The Muthurajawela Wetland is also classified as a sanctuary. According to Ravindranath Dabare, Section 7 of the Flora and Fauna Protection Ordinance States what people cannot do in a sanctuary. "If violated there are fines and jail terms as well. Therefore people make any fresh clearings, hunt, shoot or kill animals, kindle or carry any fire, erect any buildings be it permanent or temporary and construct any road or paths within the area."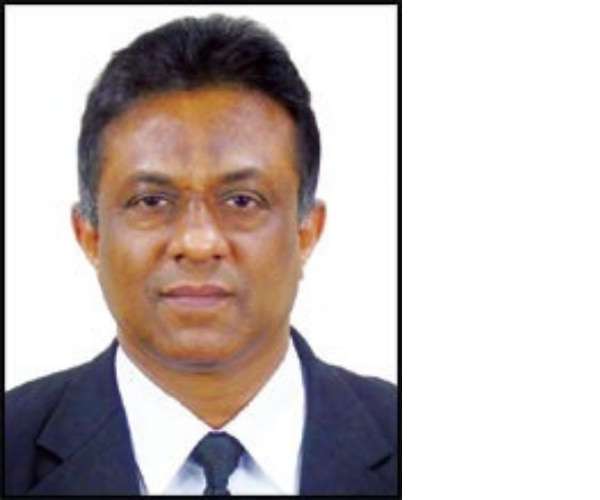 "Moreover, if an area of more than four hectares is being cleared, an Environmental Impact Assessment is required as per the National Environment Act (Gazette No. 772/22)," he continued. "Thereafter the report has to be made public to seek public opinions and due approvals need to be taken. If due process is not followed it's a violation of the law. Apart from that Section 23 (h) of the National Environment Act provides legal provisions on water pollution and Section 23 (n) provides legal provisions on soil pollution due to garbage dumping and other activities. The Muthurajawela Wetland is also protected by the Wetlands Ordinance which requires an EIA prior to carrying out any constructions."
Image: Fire at a garbage dumping site
Mr Dabare further pointed out that people could file action on grounds of Public Nuisance when looking at all the toxic waste dumped into the waterways. "Sections 261, 263 and 271 of the Penal Code also provides provisions for people to file action especially in the case of spread of diseases due to high levels of environmental pollution and water contamination in the area. These activities also violate the established Preventing Public Health Nuisances in the Western Province Statute No. 03 of 2012."
He also said that the Police and Excise Departments can raid illegal moonshine operations while the Water Board has a responsibility to inspect water contamination in the area.
Pic credits - Dinusha Nanayakkara