The women portrayed on Iromie Wijewardena's canvasses are bright and lively. This is her appreciation for women who are breadwinners of their families. Her paintings have been celebrated all over the world, where one of them was selected as a postage stamp in Yugoslavia and another masterpiece made it to the back cover of the Readers' Digest in 2000. However, like many other artists, her interests have explored everything from landscapes to temple art. Wijewardena recently returned from Bangladesh, after exhibiting her work at an exhibition held to celebrate the 100th birth anniversary of the founder of Bangladesh. Her paintings were based on the theme 'Empowerment of Women'. Excerpts: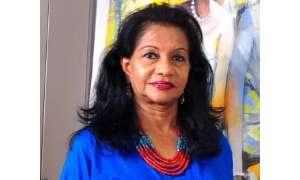 Q WHAT INSPIRED YOU TO BECOME AN ARTIST?
From the time I was in school I would doodle on my notebooks and sketch on any paper that was in front of me. The colours, techniques, and expression in paintings captivated me from a very young age. The immense success I had in 1973 at my debut solo exhibition, while still in school inspired me to fulfill my ambition as an artist.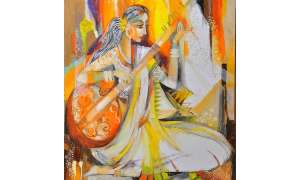 Q YOUR INTERESTS SHIFTED FROM LANDSCAPES TO TEMPLE ART TO WOMEN. TELL US WHY THESE TRANSITIONS HAPPENED.
I think this shift in my interest was an organic transition – whilst still in school I was very fortunate to be tutored by the renowned landscape artist, Ivor Baptiste. Therefore, initially my focus was on landscapes, and my maiden solo show was focused entirely on this. However, I found the painting process to be more photographic and lacked creativity. Temple art was one of the subjects I studied at the University of Kelaniya Institute of Aesthetic Studies (which is now the University of Visual and Performance Arts). I was very inspired by the methods and techniques of the subject. After a lot of research on the temple murals of the Kandyan and Pollonaruwa periods I decided to experiment with Kandyan period murals and instead of reproducing existing murals I depicted everyday chores, processions, historical themes and broke away from the traditional narrative of temple art. Although I find this process to be both incredibly challenging and rewarding, it was my work from this period that initially brought me recognition internationally – I soon realised that I needed more flexibility in my creative process. I found this creativity in life drawing and, more specifically, through the beauty of the female form. It has always captivated me and up to date has been my muse. I think it is natural for artists to find shifts in what inspires them, and I'm a big believer that this is necessary to go where inspiration takes you in order to be true to your Art.
Q THE WOMEN YOU DRAW ON CANVAS ARE COLOURFUL AND ARE FROM DIVERSE PROFESSIONS. ANY REASON WHY YOU ARE INTERESTED TO SHOW THEM THAT WAY?
The women I draw are mostly those engaged in what is perceived as 'mundane' daily chores or work, from weavers to market stalls and dancers. I employ a bright and lucid colour pallet in order to depict them in a different colourful dimension to what otherwise would be everyday insignificant tasks. Most importantly, I want to highlight the important roles they play as breadwinners of their families. I have always viewed the women I draw as larger than life figures and so I endeavour to depict them as such through the use of colour.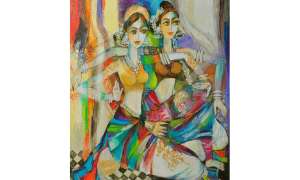 Q YOU HAVE TRAVELLED THE WORLD AND HAVE BEEN TO MANY ART GALLERIES. BUT TODAY, THE NATIONAL ART GALLERY HAS CLOSED ITS DOORS TO THE PUBLIC. HOW COULD IT BE REVAMPED TO PROMOTE ARTS AND CULTURE AND REFLECT OUR IDENTITY TO THE WORLD?
I always visit as many art galleries as possible whenever I travel and they are always buzzing with activity, be it exhibitions or art lovers meeting at the gallery coffee shop, etc. In my opinion, the most urgent call is for a refurbished modern building. In order to promote the arts and culture, this is essential, as the current National Art Gallery does not meet the necessary standards. A National Art Gallery housing invaluable paintings, sculptures, and artifacts should also have an impressive interior and exterior in keeping with national galleries in the Asian region and the rest of the world. This would require multiple stories, housing various installations, and collections, including a permanent collection of Sri Lanka's celebrated artists from the 43rd Group to date. Also, a well-equipped library with all the resources, be with books or videos, on Sri Lankan art and artists, a coffee shop for artists to meet at, regular exhibitions and exchange programmes to reflect our identity to the world. Over the years many plans have been drawn up to do this but sadly it has not yet come to, hopefully, in the near future, an initiative will be taken and this will come into fruition.
Q YOU RECENTLY VISITED BANGLADESH FOR AN EXHIBITION. TELL US MORE ABOUT THIS TOUR AND YOUR EXPERIENCES THERE.
I visited Bangladesh in February this year to exhibit my work at the invitation of the Bangladesh High Commission. The exhibition was titled 'Mujib Shotoborsho' to celebrate the 100th birth anniversary of the Founder of Bangladesh Sheikh Mujibur Rahman, and was held at the National Museum in Dhaka. As the exhibition was a few weeks prior to International Women's Day I focused my paintings on the 'Empowerment of Women'. There were also two artists' camps together with renowned Bangladesh artists where we got the opportunity to create art and fellowship.
Q WHAT ARE YOUR SUGGESTIONS TO IMPROVE THE ARTS SPHERE IN THE COUNTRY?
To improve the art sphere in the country more state-funded exhibitions where artists could showcase their work with adequate publicity, by way of publications, catalogues, interviews, etc. Sri Lanka should also increase its presence in the International Exhibitions and exchange programmes, with selections for these exhibitions being advertised in all media to enable equal opportunities. Government entities such as the Tourist Board can also create exposure for Sri Lankan Art by using paintings in their publicity campaigns and promoting art internationally. There is also a need for more private galleries that can create exposure for Sri Lankan Art. Another aspect of this is that artists should execute individual creations if they are to be recognised rather than emulate fellow artists. Original work is the stamp of recognition and success.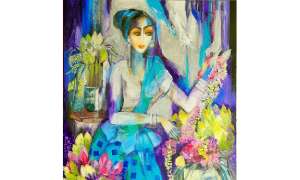 Q IF YOU RECALL YOUR BEGINNINGS AS AN ARTIST AND WHERE YOU ARE TODAY, WHAT HAS BEEN THE MOST SATISFYING PART IN YOUR CAREER AND THE MOST CHALLENGING?
There have been many highs and lows, as with many careers. The most challenging years were in the beginning and getting started, I remember being in University and having sketches that I had worked tirelessly on being stolen. However, I feel fortunate enough to have had many highs in my career thus far, such as having won 15 awards for my art up to date, and being part of many prestigious art collections, including the Presidential Collection. Some achievements that are most dear to me are for example, in 1985 my painting the Royal Procession being selected as a postage stamp in former Yugoslavia, - a first for Sri Lanka! This painting was also chosen for the permanent collection of the Josip Broz Tito Gallery. Having my painting 'Musicians' featured as the back cover of the Readers' Digest in 2000, being invited to be the Chairperson of the jury panel of the Asian Art Biennale in 2006, and the publishing of the book 'Iromie Wijewardena Paintings' by Sarvodhaya Vishvaleka to commemorate 40 years of paintings are also achievements I hold very dear. Accolades aside, what is most rewarding is being able to help younger or newer artists to support them in embarking on their artistic journey.