For Dr. SinhaRaja Tammita-Delgoda, life is an exploration of self. As one of the leading art historians in the country, his contribution to arts and culture has been widely acknowledged and appreciated. With an educational background in medieval studies and colonial history from the UK, Dr. Tammita-Delgoda has allowed the explorer in him to travel to different countries and explore cultures since his youth. The experiences he has gained have been valuable lessons to students in the USA, UK, India, Sri Lanka, and audiences in other countries as well. Apart from that, he is a recognised authority on Indian Ocean Strategic Studies, a published poet and an equestrian as well. With a deep appreciation of Sri Lanka's heritage, arts, culture, and traditions, Dr. Tammita-Delgoda is on a quest to show the world what this tiny island has in store. His recent expedition to discover the historic significance of the Malwatu Oya is a fine example.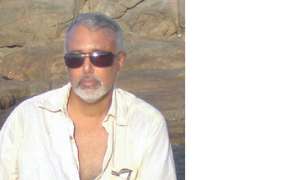 In a casual interview with the Daily Mirror Life, Dr. Tammita-Delgoda shared his views about the project and experiences in various walks of his life.
Excerpts:
Q

What was your inspiration to film 'In Search of the Malwatu Oya' documentary?
I read about the Malwatu Oya in the Mahavamsa and its deeply embedded history. I love travelling around the country and wanted to explore the River in detail. Thereafter, I started exploring the waters along with a friend. I was thrilled and terrified at the same time because I have never seen that many crocodiles in my life! Besides, I cannot swim but I still wanted to continue the journey. I met an amazing bunch of individuals who made this project a reality. I discovered Hiranya Malwatta and Tharindu Amunugama on Facebook and their photographs did the talking. Hiranya did most of the photography. But she had to capture them while on a very unstable platform, the canoe. However, her work shows what the Sri Lankan woman can do. We looked for young talents, young poets who made it interesting altogether. There was a lot of work to be done post-production and this included everything from voicing to editing, taking interviews, and fine tuning things. Ultimately it was a voyage of discovery.
Q

How was the response from the audience?
I'm satisfied with the response. It was an amazing experience altogether. The production took three months but everybody involved went out of their way to help out. It became rather popular and it even made it to film competitions as well. After all, we are not expecting anything from people but it's an attempt to educate them. The poems in the film were also done by a woman, Thilini Wickremasinghe. This has been an instance where a group of people worked in two languages at the same time and at the same level. In fact, the project is a blend of art, poetry, love, and adventure.
Q

What is the next step in this expedition?
This is just the beginning. Our aim is to search for the ancient Port of Mantai, which was situated at the mouth of the Malwatu Oya.
Q

You studied in the UK but decided to come back. Any reasons?
I've always been in love with this country. But when I came back the first time, I didn't like the environment. I realised that I couldn't fit in. I then travelled to India and wrote my first book 'A Traveller's History of India' (1994). I travelled through the Mediterranean and lived a bohemian life that writers aspire to live. But after a year and a half, I found something missing. I thought I wasn't doing something I regarded as important or meaningful. Thereafter, I packed my bags and returned.
Q

How did you develop an understanding of the Sri Lankan culture?
After my return, I realised that I had to understand my country and its culture first. I was introduced to the Chief Incumbent at Ridi Vihara and I stayed there for six months and studied Sinhalese and Buddhism. That experience made me change my understanding of the Sri Lankan culture. While I was pursuing a monastic education I wrote about arts and culture and studied Kandyan arts. This experience later inspired me to author 'Ridi Vihara, The Flowering of Kandyan Art' which was published in 2007.
Q

You have authored several other books. Tell us about them too.
Once I returned I met Nihal Fernando. He was looking for someone who could make his photographs talk. This was how 'Eloquence in Stone: The Lithic Saga of Sri Lanka' came into being. While I was a visiting lecturer at the Postgraduate Institute of Archaeology I asked several of my students to help me produce a small booklet on the artist Stanley Kirinde and published A Classical Vision in 1998. As a result, I was able to curate and sponsor an exhibition of paintings done by Stanley Kirinde. He was then asked by the Indian government to paint a portrait of President K. R Narayanan. Thereafter the late foreign minister Lakshman Kadirgamar had asked him to meet me as he wanted to get a biography written. What resulted was 'The World of Stanley Kirinde', a study of art and life of Stanley Kirinde which was published in 2005. Through this project, Mr. Kadirgamar and I wanted to show the world that we have something to offer in terms of the heritage, landscape, and culture of Sri Lanka.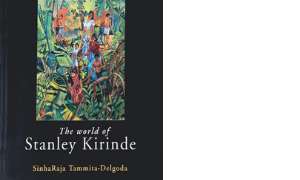 Q

We would also like to know about your experience as an English teacher and a reporter during the times of the civil war.
That was an experience that changed my mentality altogether. The Sri Lankan soldier was demonised in the international media and was being made to look like a monster. As a Sri Lankan, I felt it was my duty to do something about it. During the last phase of the war in 2009, I spent almost 3 weeks in the operational areas. Several of my pieces were based on interviews with LTTE cadres. Earlier I had lived as a volunteer teacher for six months in the border area of Weli Oya, where many of the LTTE attacks were concentrated. I taught English to teachers, doctors, soldiers, local officers, and the youth. While I was living there I learned so much about the LTTE and the lives, hopes, and fears of our soldiers.
Q

What is the most satisfying part of the different careers you have had?
When I meet talented and gifted people, I feel I've taken the right decision to come back to my country.
Q

The most challenging...
We cannot communicate with separate languages. There needs to be a crossover between English and Sinhala, English and Tamil. We can't have a divide between the two cultures, one western, the other national. Having lived in India, I have seen how people are deeply grounded in their culture. Innovation comes from understanding one's culture. For example, if we take a country like Japan, the Japanese understand their culture very deeply and they innovate a lot of things on their own.
Q

Your message to the youth.
Life is an exploration of self and we only learn if we come across things we can't do and things we are terrified of. I'm terrified of snakes, fish and I can't swim but I have been in all three environments. Sri Lanka is an outdoor classroom. Yet, Sri Lankans are taught to play safe. But, it is only when you face fear that you realise how small you are. It is only when you explore that you learn about yourself and begin to understand the world.