Raja Segar, the immensely talented and inspirational artist and Sculptor of Sri Lanka shared with us his thoughts and experiences about the art world while explaining his own art style, 'Segarism'.
Q

How did you get into art and what themes do you pursue?
My monotonous work in the office and the factory of Elephant House made me think. I started to scribble on any blank space and light prints on the newspapers out of frustration. Later I made greeting cards depicting the simple lifestyle of Sri Lanka. My cards became an instant hit in the bookshops as all of the other cards were copies of western countries during that time. Many who bought my cards wanted to see my art in big canvases. I had to resign from my job when I was 25 and stay at home to paint. My cards represented mainly the day to day life of the people I see on the road.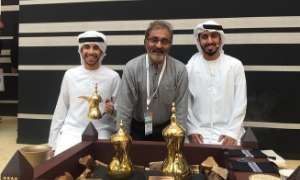 Q

What does your artwork represent and how do you identify with it?
My art always represents Sri Lanka. The refractive effect (when the light travels in different density) became my identity in art. Art critics liked my style and termed it 'Segarism'.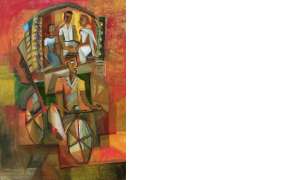 Q

Is there an artwork you are most proud of? Why?
I am never proud of my creations. But I like some paintings which became our family collection. There are as much as 20 paintings. All these paintings are being featured in my book; Segar Autobiography with paintings. ref Amazon.com.
Q

Do you have an artist tool that you cannot live without?
Other than paints, it is the palette knife I cannot live without. I hardly use a palette because I mix colours on any nearby flat surface.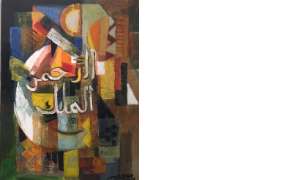 Q

Have you ever had a real-life experience that inspired any of your artwork?
Countless! Once, I was living in a house in Mosman Sydney, facing Obelisk beach where girls used to have sunbaths. Usually, they were topless and covering their face with straw hats. Occasionally the wind blows the hats away and get these beauties into an awkward position. Happily, I sketched this and converted to canvases.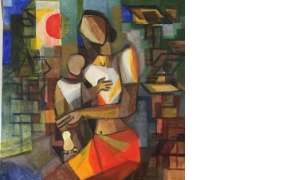 Q

Sri Lankan art doesn't fetch handsome prices in international art auctions even in comparison to our big brother India. What do you think about this?
The Indian art circle is wide and vibrant. Rich Indians, especially who live in England follow the art auctions like Christies and Sotheby's. Also some businessmen in India, in addition to investing in art, do money laundering in paintings. This skyrocketed the value of Indian paintings. Recently Indian Artist F N Souza's painting fetched 2.5 million USD in an auction in London. This is only a dream for Sri Lankan artists.
Q

You built your house solely with the proceeds from your sales of paintings. What was the story behind it?
I met Minnette De Silva, our leading Asian architect, during my exhibition in Alliance Francaise De Kandy. She wanted to buy my Abstract watercolour painting on Houses. Since it was not for sale, I had to do a painting for her in 'oil on canvas'. I had no plans to build a house in my JaEla land but Minnette was fascinated by its different contour and encouraged me to build a house. She even architected it. This house became famous and often frequented by art lovers and architecture students from England, Egypt, India, South Korea and the Netherlands. This was probably the last and most popular house by Minnette.
Q

As an artist who has represented Sri Lanka in many countries, can you share your experience in the international art world?
I represented Abu Dhabi Culture Summit twice. Culture Summit Abu Dhabi is a forum that convenes leaders from the fields of the arts, heritage, media, museums, public policy and technology, to identify ways in which culture can build bridges and promote positive change especially world peace. In its 2018 edition, the Culture Summit was attended by 350 delegates from 85 countries.
Artists emphasize more on abstract forms and building scapes. And also on Calligraphy arts. Figurative works, especially human figures, aren't welcome in the Arabic world. I did several abstract forms on canvas. With the help of Arab artists, I wrote Arabic poems in my Calligraphy handwriting.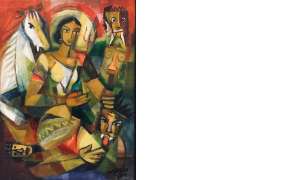 Q

You represented Sri Lanka at an art exposition in Bangladesh recently. Can you explain the kind of artwork that were featured there? Can you relate to their art style?
Artists in Bangladesh splash colours haphazardly on Canvas. They concentrate much more on techniques in the application of colours on the canvas. The art scene is very extraordinary. More colour compositions and variations in abstract forms. The man-powered cycle rickshaws are everywhere in Dhaka. The roads are flat, unlike in Sri Lanka. I couldn't resist the temptation of painting these colourful Rickshaws. I did three paintings of these Rickshaws in Dhaka art workshops.