Sri Lanka currently has six sign language interpreters who offer their services to a community of 500,000-700,000 hearing-impaired individuals. However, they too are fluent only in Sinhala and English, thereby leaving out the Tamil segment altogether. Having identified the need to communicate with hearing-impaired individuals, Dinesh Manjula Fernando was determined to learn sign language and subsequently, Braille. Today, while offering his services as a sign language interpreter, Dinesh is also the founder of Mother Charitable Foundation, a charity organization that empowers disabled individuals to be independent in life.
In a casual conversation with Daily Mirror Life, Dinesh spoke about the need to increase the sign language interpreters cadre, improve training facilities, and how society should react when associating with disabled individuals. Excerpts:
Q : What inspired you to take up this profession?
A : It wasn't pre-planned and this was not my ambition either. I initially worked at the Health Ministry and while on the way to work I came across a hearing impaired individual. Nobody knew how to communicate with him. Then I was curious to learn how to communicate with them. Then I took up the course at the Social Service Department. Subsequently, I learned Braille as well, both in Sinhala and English. Then the Department invited me to join as a visiting lecturer and after some time I joined the Department as a full-time sign language interpreter.
Q : What are the services offered by a sign language interpreter?
A : We appear for court cases and participate in events organised by the government. But we also provide other services such as writing letters and so on. But there are only six of us today and whenever there's a court case we have to travel far. I cover everywhere from Ratnapura to Puttalam and Kurunegala. There's no way we could reach out to the North because we don't have any sign language interpreters who have learned Tamil. The main challenge is that even if someone has an educational background they don't have the training to become an interpreter and vice versa.
Q : What are the educational qualifications that need to be fulfilled before one becomes a sign language interpreter?
A : There's a six-month training course offered by the Department and a Diploma offered by the National Institute of Education.
Q : Do you think there should be more opportunities for those who are interested to take up your profession?
A : Absolutely. We mostly do self-learning and as a paper qualification, only this Diploma is available. There's a need to increase the cadre. We have got the approval to increase the cadre to 26 but there has been no progress as yet.
Q : We initially saw a sign language interpreter in one news channel but now it has expanded to an extent. What are your thoughts?
A : I believe all TV channels should include this service. Today, we still don't have a way to be on-screen during breaking news. Apart from that, the service wasn't offered for educational programmes that are being aired during the pandemic. As a result, hearing-impaired children and other disabled children have been left out from the distance learning mechanism.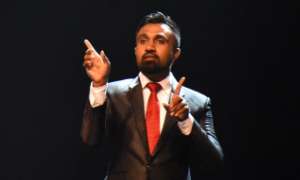 Q : How has the pandemic situation affected this segment in society?
A : It's difficult to do home-based learning for disabled children. They need continuous support. If we teach them to brush teeth every day, it has to be continuous. Certain activities we have taught them prior to the pandemic may have to be re-taught once things come back to normal.
Q : Let's talk about the situation in schools. How satisfied are you with inclusive education?
A : Many children still face challenges in going to school. Schools are reluctant to take disabled children. These children are not given a priority in the classroom and they are mostly cornered.
Q : What about recruiting shadow teachers?
A : Unless the family is willing to pay them separately, I don't think we can have a shadow teacher in a classroom. If not, someone from the family should be with the child but I don't think it's allowed either. There are some international schools that have shadow teachers but this is rare in the rural setting.
Q : How did the Mother Charitable Foundation come into being?
A : I did a lecture for a few parents of disabled children in Beruwala. Those children had a lot of problems from not being accepted in society to not being able to go to university and so on. So we started an awareness programme at Kalyanarama Viharaya in Kaluwamodara. Then in 2011, we established the Pathum Uyana project. Subsequently, we did another awareness programme in Matara. That too in a small scale at a temple and today this project too has been established. This is how it all began. Then we started running all our services from the Mother Charitable Foundation since 2013.
Q : What are the services offered through the Foundation?
A : There are 25 children with us today between ages 5-30. Those in school going age has to attend school for two days. We operate as a daycare and we always push parents to send their children to school. We work with children, adults, and elderly with special needs care, cancer and HIV patients, people with other illnesses, and those who have been rejected from society. What we do is train these individuals to be independent. Apart from working with children we also include parents in order to improve their psychological wellbeing.
Q : Most fathers have rejected these children. What are your observations?
A : Yes, there's a tendency for fathers to leave a family if the child is disabled. Therefore they go into a divorce, marry again and abandon this family altogether. There's also a situation where most of these children are rejected by their siblings. But some parents treat their children well.
Q : The disabled population is also called differently-abled, otherwise-abled, people with special needs etc. What is the correct terminology?
A : They are disabled but they have equal rights as every other citizen in this country. Their needs are similar to every other person's needs. So how can it be special or different?
Q : Your message to society.
A : Don't over-react or over-sympathise when you see a disabled person. We try to give them special attention. But if we ask someone to look after a disabled person for five minutes, they are reluctant to do that. So treat them equally.