On the final day of this festival which ran on four consecutive Mondays, moderator Savithri Rodrigo was in conversation with a panel of three inspiring women who are considered disruptors in their respective fields. The panellists were GoodLife Accelerator Co-Founder/Chief Executive Officer (CEO) and Hatch Works Director and former CEO Randhula De Silva, Ape Founder and COLLAB Co-Founder and Chief Operating Officer (COO) Himali De Silva, and Good Market Co-Founder Achala Samaradivakara. An appreciative audience at Lake Lodge a small luxury boutique hotel in the heart of the city listened intently as the three panellists related their experiences in starting their own businesses.
Speaking on the fact that despite others paving the way, the young generation are faced with carrying the torch, Randula said "My parents and teachers definitely planted that seed in my mind to celebrate my individuality and go out there and be independent. They encouraged me to question and not to be
afraid. If I did not have those traits planted in me, I don't think I will be what I am today. In a small community like ours, there is propaganda to tell us we can't do things. On the other hand, there are women who get excited when they see opportunities. It is also who you chose to listen to and align yourself with that makes a difference in your trajectory. In that sense, I have been privileged to have somany people inspire me."
When speaking about the challenges she had faced especially during the last year Randula said "During times of uncertainty, a lot of younger people especially are driven to become safe and very linear when things around them are uncertain. People don't want to rock the boat. However, that is not how things work, As we are all disruptors and innovators I had to learn that not everyone is prepared to take that step to be so.
Addressing the question of the obstacles Himali faced when she started her venture Ape, she said "When you are starting on a new venture you have to choose your ecosystem very wisely as there are many naysayers whose comments are often well-meaning but could have a negative impact on you. If I have an idea I will always make sure I run it past my trusted group of 4 or 5 people. You have to protect your energy and space when you are on the verge of embarking on a new business or project till you figure out your own rythmn and own pace."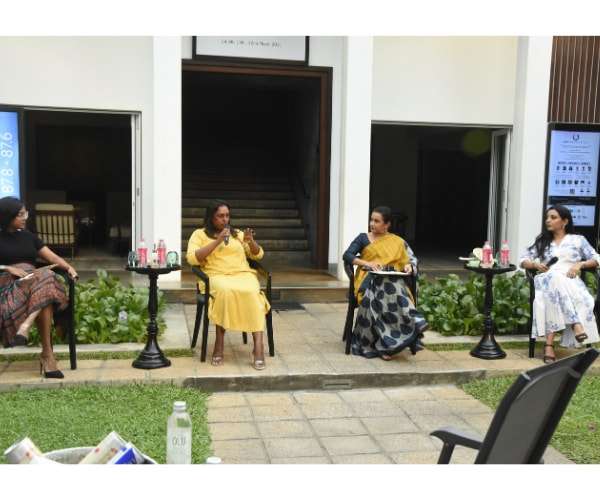 Speaking of dealing with people who have a mindset that is not willing to change, Himali said " Our community is a community within itself and you have to bring in a community feel to what you do. If you want to normalise a concept you have to make it sexy. You have to put real people behind a brand so that they can identify with them. I measure success in the terms of how many minds have I changed to accept the concept of Ape which is selling second-hand clothes." When asked how Achala deals with females especially in rural areas who are faced with cultural barriers she said "More than cultural barriers these women have a fear to come out and do what they want to. They are always held back by their family obligations. I have found in my experience that these various women even though they may have language barriers they somehow find a way of communicating amongst each other. I believe they need a push. If they are given that push they lose their inhibitions and realise they can achieve much more which will ultimately have a positive impact on their families. When you show them the opportunities and explain that they can have a great work-life balance they are interested in going forward."
The second panel of the evening comprised the legendary comedy duo Blok and Dino who have completely revolutionised the comedy scene in Sri Lanka. Passionate about solving problems through creative communication, they spoke of how society perceives females in Sri Lanka and their inspiration to create content that makes for better, more informed communities.