Il Cielo is an Italian fine-dining restaurant that is tucked away in the corners of Hunupitiya Lake Road. Offering simple Italian delights and a stunning city view. Il Cielo opened its doors back in 2016 and has since created a name for itself among those who enjoy Italian gastronomy.
Welcoming guests post lockdown, the restaurant now takes every precaution and follows strict hygiene and safety protocols to ensure guests can enjoy a safe dining experience. Changing up their setting, the tables and chairs have been moved a good distance away from each other and all staff members wear gloves and masks at all times. The tables are set up only once the guests are seated and all cutlery has been sanitized and sealed in paper bags that are opened and touched by guests when dining. Returning to IL Cielo since our first tasting back in 2016, here's what we thought about the experience
AMBIENCE
Perched on the 6th floor of the Goldblock building, IL Cielo offers a 360⁰ view of Colombo's skyline that is exceptionally unique to the area. The restaurant, fully covered by its giant glass walls, offers guests a stunning view in and around Gangaramaya, the Beira Lake and the city's brightly lit skyscrapers. With both indoor and outdoor dining areas, IL Cielo extends a warm and cosy atmosphere that's ideal for a private date or catching up with close friends.
FOOD & DRINKS
IL Cielo shares its beverage menu from its rooftop bar and lounge, the Berlin Sky Lounge which offers a wide selection of cocktails, mocktails, wines, juices, and tea and coffee. The food menu offers a wide selection of specialty Italian dishes as well as several meat and seafood-based main courses.

APPETIZER - Arancini Siciliani (Rs. 860)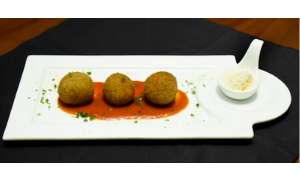 Amidst the salads and soups on offer, we opted to try their Arancini as our appetizer as it is an Italian snack that we rarely find on the menu at other Italian establishments. Arancini is made with a ball of risotto rice and cheese that is then coated with bread crumbs and deep-fried and is a staple of Sicilian cuisine. IL Cielo's appetizer portion offered three large Arancini balls stuffed with risotto, diced bacon, and cheese that was panko-crumbed and fried until golden brown. Served on a bed of tomato salsa and parmesan cheese, the appetizer saw us off to a good start.
Pizza Alla Maria Monte (Rs. 1420)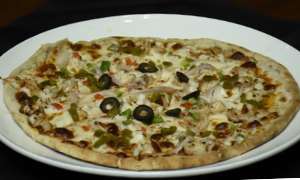 Is an Italian restaurant complete without pizza? Il Cielo offers nearly 10 varieties of pizza toppings that cater to both vegetarians, pescatarians, and meat lovers. We opted for the seafood pizza with olives, anchovies, and mozzarella. The seafood included a mix of prawns, cuttlefish, and tuna, and while not big fans of fish on pizza, we thought Il Cielo balanced out each ingredient well and loved how cheesy every bite was.
Rissoto Funghi Pollo (Rs. 1060)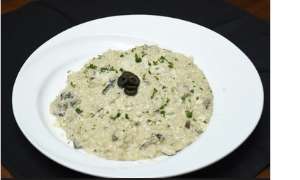 This writer has never passed up on a risotto dish that's available on a menu and was glad to have ordered this dish as it turned out to be our favourite of the night. Decadently creamy, this mushroom and chicken risotto was made with sautéed porcini mushrooms and chunks of chicken tossed in generous amounts of cheese, garlic, butter, and white wine and was authentic in its flavours. If you prefer a cheesier risotto, their Risotto Milanese with saffron flavoured rice and cheese will do the trick. IL Cielo also offers a very substantial portion in all its dishes so we'd recommend the risotto to be ordered as a sharing dish.
Chocolate Mousse (Rs. 225)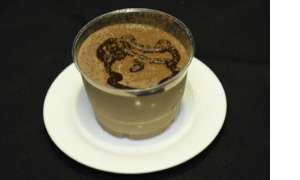 For dessert, we wanted to order their Tiramisu which was unfortunately unavailable when we visited so we settle for the chocolate mousse. Presented in a plastic individual portion-sized cup, the mousse while creamy and smooth, wasn't as great as we hoped it would be and left us feeling a little disappointed after a great meal.

SERVICE
Service was good and our dishes arrived one after another at our table with very little waiting time in-between. The staff are very courteous and friendly and patiently helped us sort our way through the menu and helped us pick dishes we'd enjoy.
OVERALL
Happy with the food we've ordered and the ambiance created by the restaurant's interior and city views, we had a great evening at IL Cielo. Given the quality of the food and its generous portions, we also found their prices to be reasonable on the wallet.
Parking Facilities – Available
Toilets – Available. Clean and Sanitary.
Opening hours: 12 – 3pm (Lunch) 7 – 11.30pm (Dinner)
Address: The Goldblock, 101/11, Hunupitiya Lake Road, Colombo 02
Reservations - 0114 366 355
Features: Dine in/Take Away/ Uber Eats
Price range: $$
Payments- Cash/Card
Pictures by Nimalsiri Edirisinghe