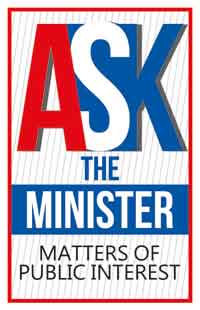 Some of our readers I'm sure, will be very interested in getting to know the progress of the present government and the future plans of the Ministers. With an endevour of creating awareness in this regard, Life Online met up with some Ministers and asked them a few questions.
Their answers will be carried in this weekly column.
This week, a chat with Gamini Jayawickrama Perera, Minister of Sustainable Development and Wildlife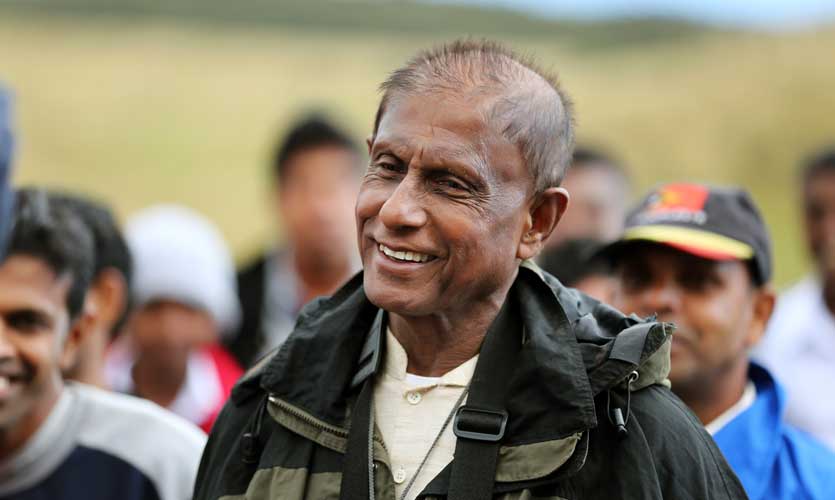 ---
Have they appointed a new Director for Wildlife?
At present Mr. Pathirathna is acting Director. He will be confirmed in the appointment.

There were a lot of complaints about the traffic in Yala and that the conservation and welfare of animals were not seen as a priority. Has anything been done about this?
In the last few months we summoned all the vehicle owners and told them that we will be very strict with them. The vehicles that have violated the rules have been blacklisted and punished and after that there has been some discipline. When we took over, there were only 20 vehicles and 20 trackers, and the drivers would just take any vehicle and go in.
We need at least 80 vehicles and I have submitted a cabinet paper regarding this as I need immediate approval for this.

We are going to divide Block 1,3,4 and 5 in Yala into two sections each. We have also put up new roads. When the drought comes in August, we will be encouraging vehicles to go in a rotate system to those areas. Then the animals will have more freedom. If we allow vehicles to move on the borders, we can minimise poaching and other violations.

Is there a shortage of vets?
Yes there is a shortage of vets in Yala. We need at least about five more. Now no one can go on leave or on a scholarship. But we will be getting a permanent batch when they pass out in September. Then it'll be fine. Until then we have a problem.

What long terms plans have been made to counter the animal – human conflict?
This is a national problem. We have to try and minimise this problem. All this time the department has been putting up approximately 3,500 square miles of electric fences and upto now we have spent ten thousand million on this. What we are trying to do now is, to give the contract of fencing to the societies in the areas so that they also feel that this belongs to them.
Fencing is a temporary measure because elephants are very intelligent, they are smarter than us. They bring a pole or tree and damage the fence and go. A long term measure is to grow trees and bushes with thorns such as Lime, Jute, Palmyrah or even Bougainvillea which the elephants don't like at all.

For co-existence and harmony we are trying to work out a system with the farmers where they would cultivate vegetables such as pumpkins inside the fencing during the Maha season. The elephant likes to eat this. The seeds come back with the dung and become plants. This a natural recycling system which we are in the process of implementing.
In places like Udawalawe, there are many unwanted shops which we want to remove and grow grass to make more area for animals. This project will take approximately 3 years to complete. We are also replanting and reproducing trees in many other areas.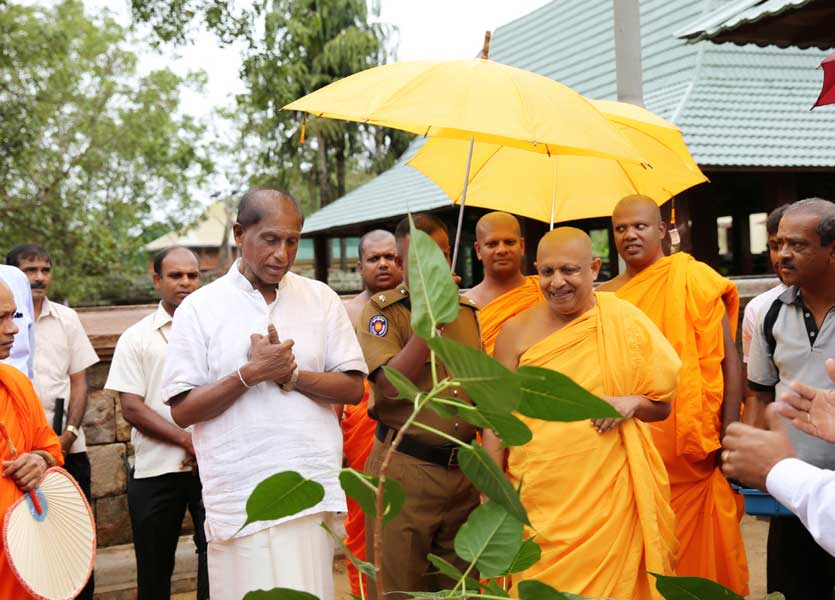 Can you confidently say that no wild elephants will be caught from the wild? What about the statement government officials have made saying elephants from the wild will be captured and taken for Peraheras? There's some confusion about it. Can you elaborate?

No one is allowed to capture elephants. We will not allow that.
We will train 35 elephants from Pinnawala and other parks for Peraheras. We will also have a school for Mahouts as they need to be trained to be kind to the animals, talk to them and look after them. A cabinet paper was submitted in this regard and it was approved.
Temples and elephant owners who can afford to look after the elephants will get permits to have elephants but if they are not looked after properly they will be taken away. There is a team which includes Mr. Weliamuna looking into this matter.

Recently when all the elephant owners came for a meeting, we told them that they have to participate in the Peraheras. They will be given temporary permits to transport their elephants after our officers have processed their applications. Where there are cases and CID investigations, we will not issue permits.

As there is a shortage of Tuskers, we are trying to breed through artificial insemination in collaboration with a Zoo in New Zealand which does research on elephants and has the expertise in this matter.

The authorities have been asked to catch crocs from the Menik Ganga. Is this not a short term answer? Would it not be better to fence the area people bathe in?
Massive crowds in thousands come during festival time so fencing it is not a practical solution. We can't have man eating crocodiles where people are bathing. A British team came and trained our people to catch crocodiles, so what we have to do is to catch these crocodiles and put them in other rivers where there is no danger to humans.

What are your plans for the Dehiwala Zoo?
The Dehiwala Zoo will be like an open Safari park. It will not be called a Zoo. It'll be like the leisure park in Singapore with restaurants and play areas. In about two years it will be completed.

What is happening with the Animal Welfare law?
Mihindu Arahath is the one who preached about the law for animals. He said that the animals and birds have the same right to the land as the humans and they should be able to move around as freely as humans. So we work within that framework and try to see that harmony prevails.

Pet shops - there have been many calls to regulate them. What is happening?
We will be looking into this and working out some policy to streamline these pet shops. Some of these animals are not even given proper meals.

What about the leopards killings that have been reported in the recent past?
Yes this is happening in Yala and up country. There is a Mudalali behind this incident. It's a mafia operation. I'm trying to get the CID to get the names of the mafia behind these killings and get them to courts.

What happens to the man who has posed with hunted animals, and posted pictures on Facebook?
This is an incident that happened five years back but the law is such that a man who kills animals, just like human beings can be arrested and charged even ten years later if there is sufficient evidence.

Early this year, Sri Lanka destroyed 359 pieces of blood Ivory. This was an event where Sri Lanka received massive positive publicity internationally. This entire event was made possible by you sir, any comments?
It was my duty. I can't take the credit as we were a team that did it. My officers, politicians, media and lots of people supported this. Until we got worldwide publicity a lot people didn't realise how important this was.

How do you plan to keep track of the elephants in the future?
In the future we will be checking the DNA of elephants and having these records with their photographs, height, length, blood type etc. to identify them. We will also be inserting a chip so that we don't lose track of them.
---
Did you know?


Gamini Jayawickrama Perera was educated at Nalanda College, Colombo.

He was a member of the College's first XI cricket team and captained the team in 1960.
He was a pioneer in the Sarwodaya movement which started off as a shramadhana campaign in school.
He has been an avid wildlife photographer from the time he was a young boy.
He has one of the best collections of the Somawathie.
---

Questions for the ministers can be emailed to dmlatm@gmail.com