Anthony Horowitz and Charles Cumming are two masters of the detective and espionage genre and in this duet, they spoke extensively about their work and the complicated space between fiction and reality in modern espionage writing.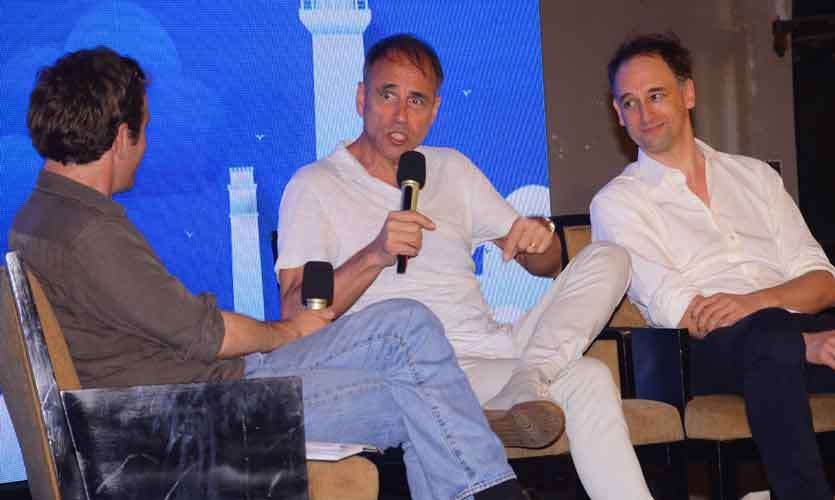 "Writers like us can't write fiction anymore! We think of the greatest plot we can think of, but the very next day we see it in the newspapers as a realistic event!"
Both Anthony Horowitz and Charles Cumming entered into a witty conversation as they spoke about their work, the differences between spy and detective novel writing. Charles Cumming spoke about his work and how he attempts to keep his writing realistic while Anthony Horowitz spoke about how his work is to sell a spy world as a reality. The duo, though in similar genres, illustrated the stark differences in writing and spoke extensively about espionage.
We also spoke to a few audience members for their thoughts on the session;
"It was a really good session. It was very funny and interesting to hear about the differences between spy and detective novels" – Judy

"Absolutely fabulous! It was an engaging conversation. It was very interesting and well balanced and the two writers worked so well together" – Monica

"Absolutely fantastic. They really went in depth about their writing styles and it was such a comical conversation. And they talked about how they work their writing around in a way that they can continue writing the novels" – Kanishkha

"Oh fantastic! I'm a huge fan of Anthony Horowitz. I got to hear him speak and got some answers to my questions about his work" – Ashinsa

"A very lively session. I'm interested in the spy novel aspect and it was interesting to hear how spy novels keep getting more sophisticated" – Patrick
Pictures by Waruna Wanniarachchi