After a lot of buzz on social media and over 4123 organic views and 195 likes to a rather interesting take on a music video "Heavy is the Head that Wears the Crown" by Stigmata has proved that after being in the industry for 18 years, the band still had a few tricks under their sleeve. Formed in 1998 amongst a group of school friends, from practicing at home in Mount Lavinia to International tours, Stigmata has come a long way and gone through a few changes and faced many trials, tribulations. How do they do it, what is this new lineup like, why a music video like this?

We had the same questions you did so we hunted the boys down and this is what they had to say!

Why decide to do a Video that features Cosplayers and not just another usual music video?
Suresh: Well what happened was we were approached in February by local cosplay icon Ushan Gunasekera and Shayne Brad of Meraki United to create a soundtrack for the local version of the Avengers: Infinity War trailer. We suggested that instead of recreating the existing score, we should create a new song as an official anthem exclusively for the local trailer. We ended up with two music videos thanks to Meraki United and are the first artist in SL to release two official music videos for one song.
How did the new line up come about?
Tenny: We were at a point where our previous members had a different vision about the band and about their personal goals regarding life and music. We wanted to still be a band focusing on original music and also in creating new music. So we had to look for like-minded individuals to get on board with us. The first person we found was Thisara, then Shafeek joined our ranks and finally, Hafzel and the rest is history.
Is the style of your music changing and will you be changing the sound of your style in the future with the new lineup?
Tenny: We have a new sound but the music will still very much be Pure Sri Lankan Metal. We don't really change the style of our music according to the lineup. But sure, we will be experimenting with a whole new approach to our writing. Which is always fun. We have never stuck to one sound or style, it's always about having fun writing and performing meaningful music and songs.

What was the inspiration for the sound of the song?
Tenny: Shayne and Randy had an idea to do an Infinity War Sri Lankan trailer so we decided to keep it to a Sri Lankan theme. The main melody is inspired by two wannams which is the ukusa and hanuma wannams.

How does Meraki United play a role in all of this?
Suresh: Meraki United comprising of Brothers Randy and Shayne and Randy's wife Portia. They are a budding creative, production and animation agency that is making waves doing a lot of innovative and groundbreaking work. They talk the talk and walk the walk and are down to earth and relentless. Amazingly talented. The band artwork illustration used in this article is by Randy as well and we are looking forward to working with them in future.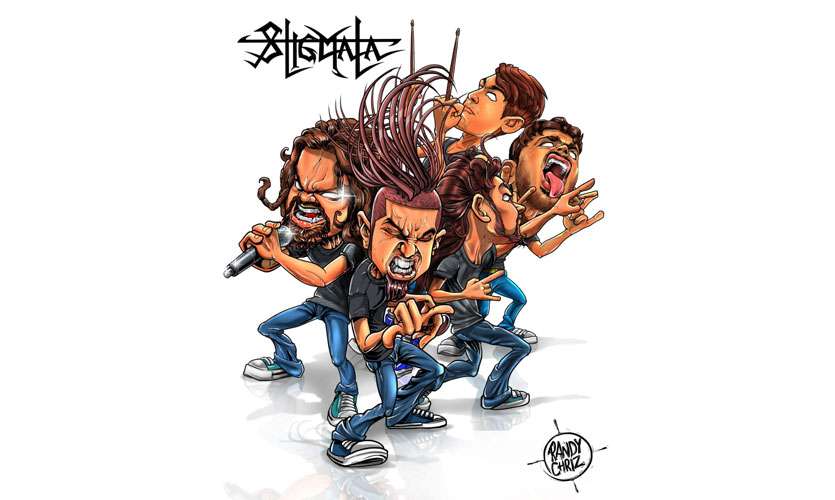 Stigmata a became the first band in the Sri Lankan Rock and Metal history to have an official music video premiered before a private screening of an international movie at a Sri Lankan cinema how does that feel?
Suresh: We were elated. I was – blown away and transported back to my childhood. It was a dream come true. These are the rewards and merits of having sustained ourselves as a band and worked hard to get where we are. To have an Official Music Video screened in its entirety prior to Avengers: Infinity War being shown actually rendered us nearly comatose. It was an exciting experience that we wish to thank the S.Thomas' College Class of 2002 for organizing a private screening as part of a fund raiser for College.
18 years is a long time for a band to stick around for how do you see yourself going forward from now on and how do you remain consistent in doing what you want to do?
Suresh: A very good question. It's never a bad thing to take a step at a time and to work collectively as a united front to achieve whatever targets we have set for ourselves daily, weekly, monthly and even annually. Consistency comes from dedication and sacrifice and knowing what to compromise and what not to. We will compose more music and work on what will be our 5th album, we won't rush it, but we won't procrastinate with this lineup either. So maybe by the end of 2018 or sometime in2019 a new record will see the light of day. We are getting so many bookings at the moment that we are being very careful in meticulously picking the right shows, that exposes us to different crowds. Don't forget to catch us on the 8th of July at the Floor By O from 5 pm - 8pm.