In this series, we talk to people who turned their passion for food and baking into a business idea amidst lockdown and COVID-19 fears. Some have been in the market for years and others saw the new opportunity and took it! These home businesses are changing the game and have overcome the odds of running a business during the quarantine. With increased restrictions once more, we talk to home bakers who are operating during these times to bring deliver the sweet and savoury to your very own doorstep!

Roo's Deli
Run by wife and husband duo, Ruwanthi Fernando and Jeevanathan Renganathan, Roo's Deli is the realization of a long-founded dream of Ruwanthi to start her own venture in cooking. "Good delicious food has always been a cornerstone in our family and I always wanted to start my own business in food but I stalled it for the longest time. But then last year, I thought 'what am I waiting for?' and Roo's Deli was born!".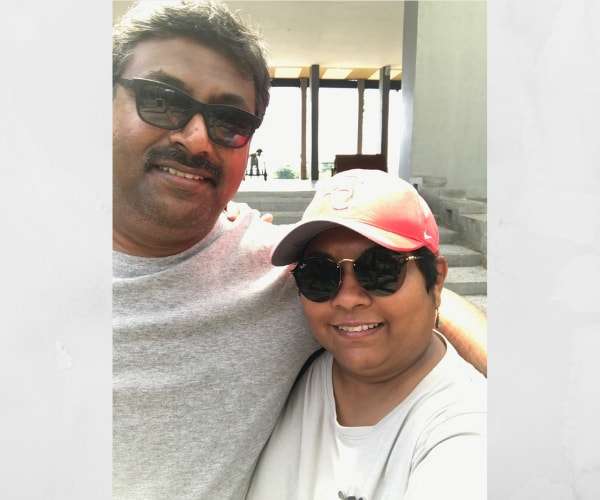 What do you offer?
At Roo's Deli, the philosophy is to provide gourmet and artisan food that is made straight from the heart. "Artisan Food" is all about providing handmade food in small batches without colourants and preservatives. Roo's Deli offers a variety of food from Roasts and Ribs with the Sides, Sri Lanka Cuisine including specific Jaffna specialities, Banana Leaf Warped Layered Biriyani, Lamprais, Italian Pasta, Desserts, Spices such as Jaffna Curry Power and Kalu Pol Spice Mix and Fresh Marinara Sauce. Our Italian Pasta range only offers Artisan hand-rolled pasta and the sauces made from scratch. The Roasts include authentic spice blends such as homemade Dukkha Crumb, Jamaican Jerk Price. The Asian Range include Thai Baked fish, where the Thai spices are homemade with local ingredients. The desserts such as the Panna cotta is made with fresh fruit coulis.
When did you start operations?
Roo's Deli has been in operation for 1 year as a home kitchen, with a model to deliver food based on pre-orders. When curfew broke out Roo's Deli was shut down as the key philosophy of delivering food with fresh and quality ingredients were difficult and the delivery of food was not possible. However, once suppliers obtain ingredients were in place, a few weeks after the onset of the lockdown, a new catering channel was opened within our own neighbourhood where our neighbours were keen to have a different meal, a break from cooking or even a birthday cake for a special occasion. Therefore, Roo's Deli was able to provide a selected cross-section of the menu to our neighbours and then we re-opened at the end of June.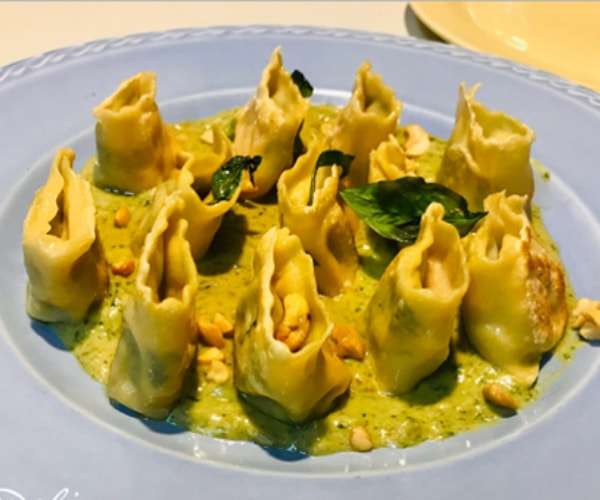 What is it like running your operations in times like these?
The idea that Roo's Deli was established is to ensure we continue to maintain the same quality and food standard. Therefore, Roo's Deli took on only orders that were possible to create. Post curfew, Roo's deli has grown with greater momentum due to customers interest to obtain clean and hygienic food from trustworthy sources. Roo's Deli also ensured to keep the social media informed of its edible creations during the lockdown period, therefore, we received many calls inquiring and requesting we open up even before the re-start. Additionally, Post curfew, obtaining ingredients have become a very difficult task. Recently I was made known that premium long grain basmati rice is not available due to import restrictions and that only Basmati rice is available. Situations such as these make preparing delicious dishes more difficult. The raw material prices also have increased, therefore the margins to sustain the business also has been a challenge. However, the philosophy is not to reduce the quality or portion size, but to ensure good costing methods are maintained and waste is reduced.
How are you ensuring that proper hygiene measures are taken in preparation and delivery?
Roo's Deli is a home kitchen equipped to take on a certain number of orders for the day. The cooking area and the facility is well equipped and maintained, in order to ensure the hygiene of food. Ingredients are sourced to order. All food is hygienically packed in disposable foil containers, and re-packed in a heatproof Rigi foam box to maintain heat and hygiene during transportation. Roo's deli deliver's food only through its known Meter Taxi, to ensure a further level of safety is undertaken. Our Lamprais are not only wrapped in the Banana Leaf but we build in an additional Foil Wrapping to ensure food hygiene. Roo's Deli also maintains eco-packaging principles and only uses paper bag, foil and glass containers. Single-use plastic is rarely used.
What do you enjoy about baking and operating your own home baking business?
We are an Artisan Home Kitchen. What is fascinating about being able to create Artisan Food is that you are daily challenged on creating new methods of cooking. For example, the sauces for the roasts, the salad dressings, the mayonnaise for the potato salad are all homemade, as per the order requirements. Roo's deli has created its own recipe for many spices such as the Jaffna curry powder, Kalu pol spice mix, Dukkah crumb mix and the Jamaican Jerk spice rub. These innovations create increase delight and passion in the cooking. So, it's actually a 'dream come true!'.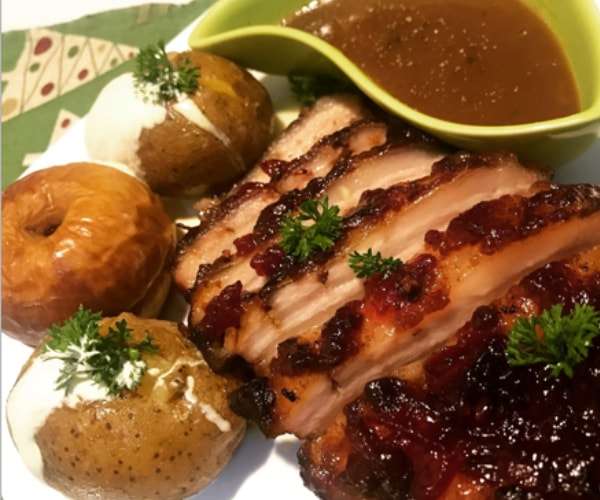 How has COVID-19 and the current state of the world changed your business and your baking?
The current state has given greater stability for the business due to the increased reliance to buy home-made food. The Roo's Deli track record not to reduce its standards has also ensured this continued stream of success.
How do you see home bakers going forward post-Covid?
It is a growing market. However, one must ensure that you don't overdo and have food waste because that would cause the business to bleed.
Any advice to anyone who wants to start their own business?
Start small, Think Big, Invest without debt, grow with caution. Don't do what you cannot just because others are doing it.
Oh My Oats!
A fashion designer by profession, and an ardent baker at heart, Vidushi Samarasekera founded Oh my Oats as a way of delighting every health-conscious heart. "Oatmeal cookies have a high fibre content compared to normal sugar cookies and they also contain a significant amount of minerals like calcium, iron, magnesium and potassium. The best part? Our oatmeal cookies have less calorie content so it's a true guilt-free indulgence."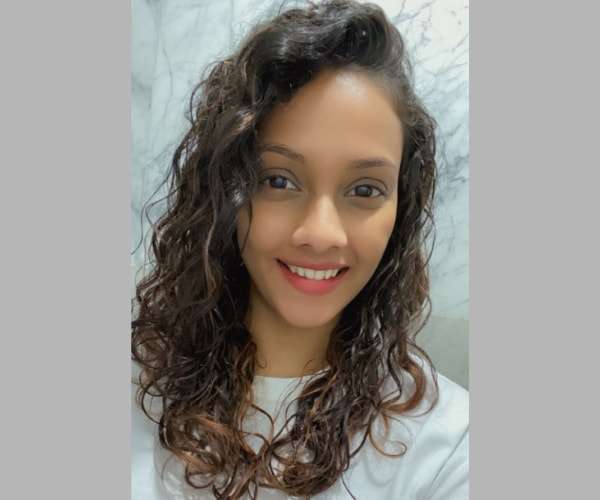 What do you offer?
We provide a wide range of cookies and brookies – Chocolate Chip, Dark Choc Chip and Sea-salt, Choco Marshmallow, Cashew and Raisin, Almonds and White Choc Chip and also a banana oatmeal option for toddlers. We also do a range of vegan and sugar-free options for most of the same flavours. The best-sellers are the Chocolate Chip, dark choc chip with sea salt and White Choc Chip and Almond.
When did you start operations?
This was an idea I was tinkering around with as early as last year. I knew I wanted to do something with food and I had an idea it was going to be something to do with baking, but it took a little thinking to fix on oats. I started thinking seriously about it just when we went into lockdown and I had a bit of extra time between working from home for my 9-5 job, and of course that changed a lot of things. I took a little time to understand the product, what I want to do (get the product right), and do the basics – name/logo and social media. In a way, Covid kind of pushed things along faster. So about 2 months ago, I stopped planning and started executing.
What is it like running your operations during times like these?
I would say, since the last lockdown, the recent one was a bit more organised, there were options to purchase things online and delivery services did a really good job of covering the logistics of it. Of course, due to unexpected lockdowns, there are a few glitches, but I guess we have to learn to adapt and figure out a way.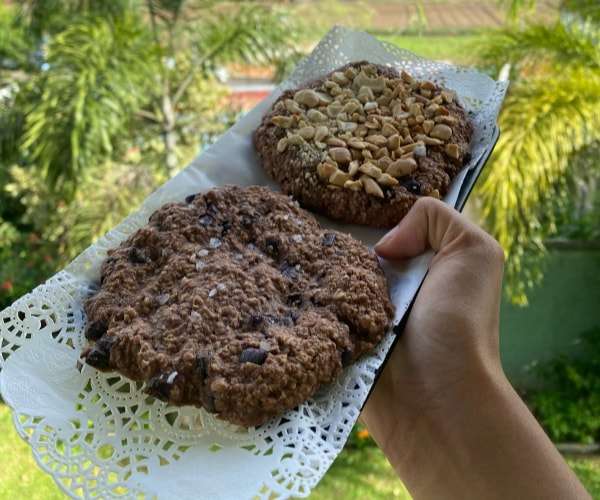 How are you ensuring that proper hygiene measures are taken in preparation and delivery?
I started operations about 2 months ago, which was after the initial lockdown, so Covid and safety were always on my mind. Getting a separate room for making and baking was important. Restriction on people coming into the room or to the house. All items I either purchase or get delivered, go through a sanitisation process and is dried off and then put into sealed containers and using gloves and facemasks is important too.
What do you enjoy about baking and operating your own home baking business?
I get to do what I love and create new recipes; I enjoy getting feedback. My whole idea for a healthy cookie seems to resonate with a lot of people.
How has COVID-19 and the current state of the world changed your business and your baking?
In most ways, due to Covid, a lot of small businesses had to go digital. Even the delivery partners, they use the medium well, so in a way, it has made it more efficient. Of course, the drawback would be that we can't have many bake sales and pop up stores.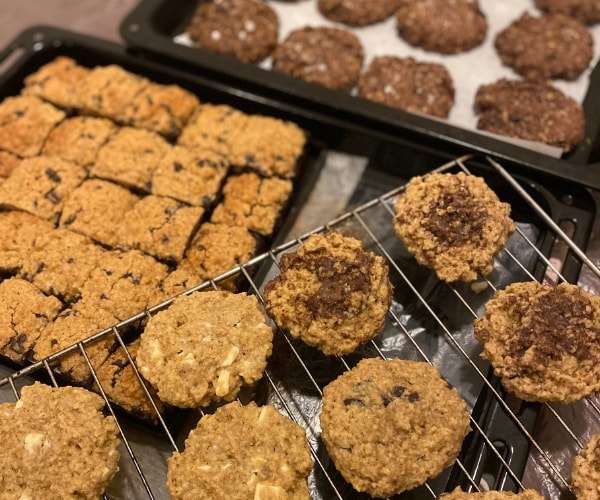 How do you see home bakers going forward post-Covid?
I think due to growing demand, there will be a lot of people doing their niche product to cater to the marketplace. And it's overall definitely a positive thing, especially when it comes to generating an income.
Any advice to anyone who wants to start their own business?
Don't get stuck on making the perfect plan. Have a goal. Just start. The only way is to get on with it and try it out. Taking that first step is important. And of course, you need support from friends and family.