The final day of Mercedes Benz Fashion Week saw key industry players showcase their collections. Fashion forward collections with emphasis on ethical manufacturing and upcycling saw businesses showcase collections that ticked all the right boxes. The three day event saw some great Sri Lankan design talent which bodes well for the design future of Sri Lanka and provided a fitting finale to the AOD's theme of Innovation Island
MAS Linea Aqua
Presenting their Exotic Wonder collection Linea Aqua created looks for their muse, a young carefree andbold spirited woman with passionate goals and dreams: the ideal representation of young women today. The range consists of design multifunctional wear infused with the likes of neoprene fabric, mesh, elastics, while a key focus lies on prints and multifunctional swimwear.
MASKreeda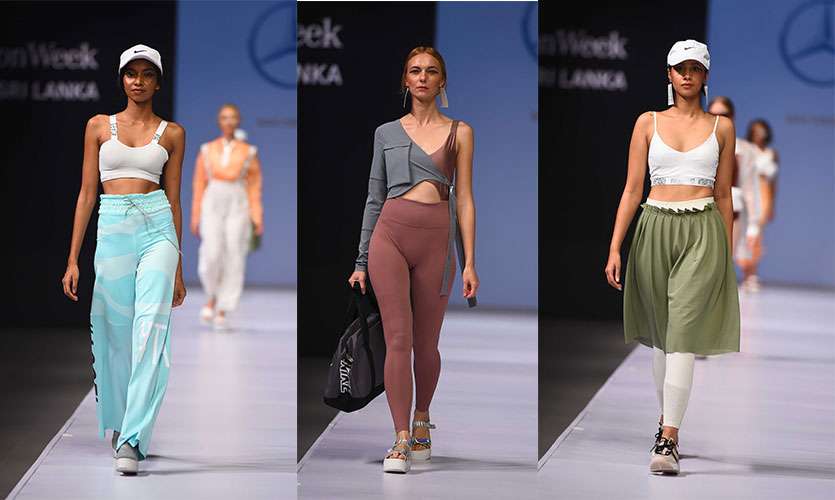 MAS Kreeda's #taggeneration range boasts of versatile pieces that mix and match to create your ideal outfit. Aimed at the millennial consumer this collection blurred the lines between fashion and function to capture a globetrotter lifestyle.
MAS Fabrics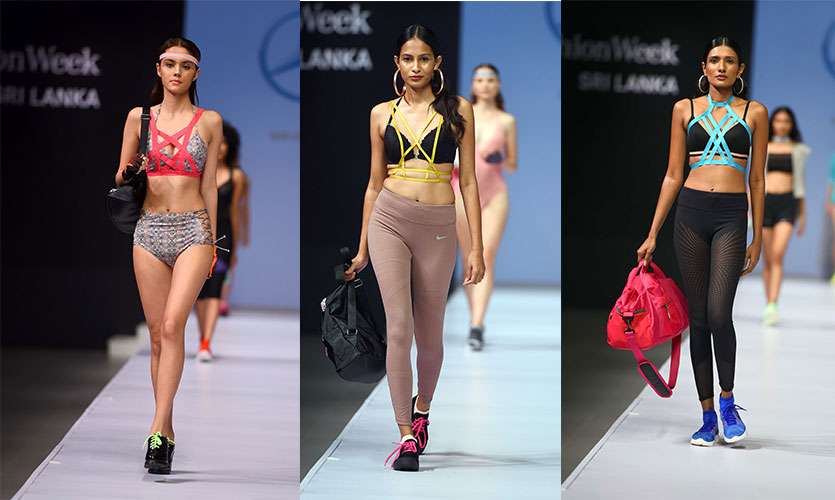 Their collection 'Conscious Active' for the active and 'aware' woman saw engineered products minimising seams and components while keeping the design aesthetic alive and diverse with MAS Fabrics product portfolio -Functional fabrics from Trischel, digital prints from Textprint, Lacetronics and engineered garments from Noyon, shoes and full garment designs from Matrix .
MAS Intimates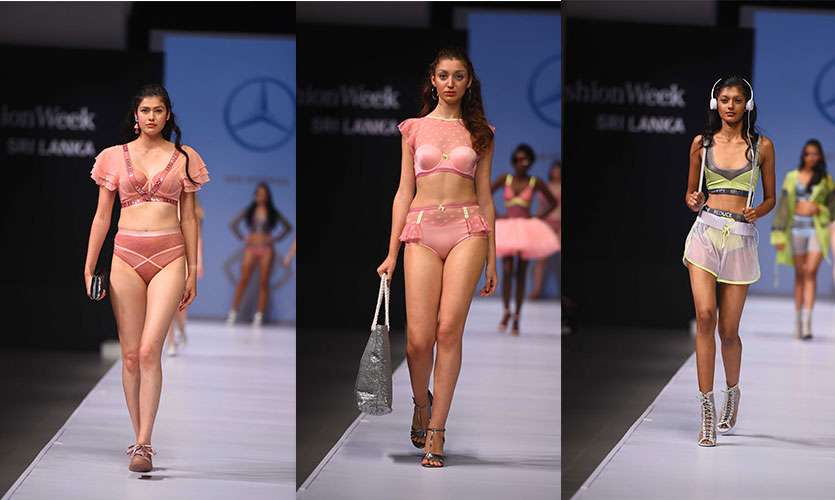 Lingerie Travel Journey
Titled Lingerie Travel Journey, this collection showcased hybrid multi-functional looks merging and function to reflect theeco conscious and transient modern lingerie consumer. A millennial pastel colour palette underpinned with mineral shimmer was used to create three key looks from playful lounge and edgy street glamour for summer nights to sporty.
VogueTex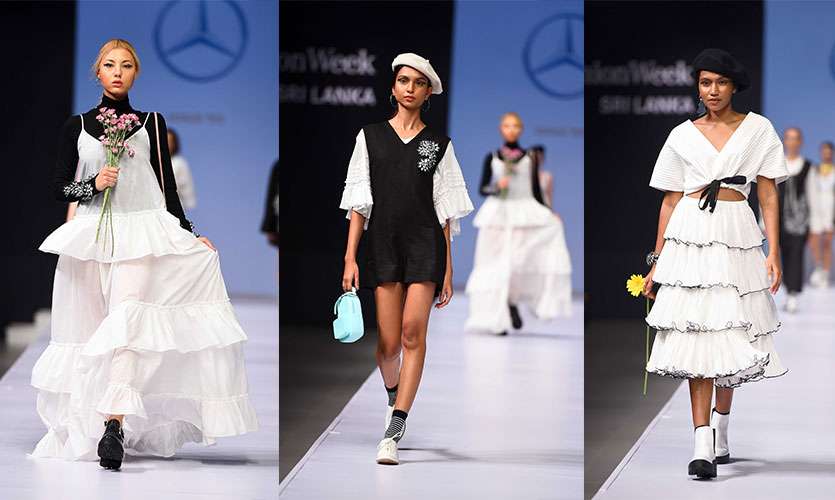 Their Ying Yang collection excelled through its monochromatic palette of black and white which projected asubtleboho chicness. Surfaces were styled by hand embroidered lotus flowers and 3D cutwork embroidery which gave a sophisticated look and feel.
RUMPUNCH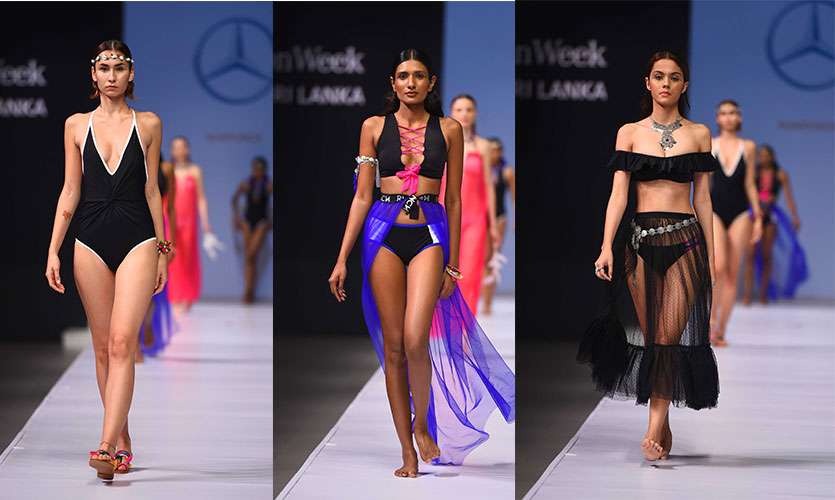 Presenting a collection titled Festive Traveller, Rumpunch veered away from its usual bright colours and instead used a sedate colour palette of black with cover-ups in vibrant hues which added colour to this collection. The Bohemian Feather played a pivotal role in adding interest to this collection along with embellishments of studs and a few rips.
Teejay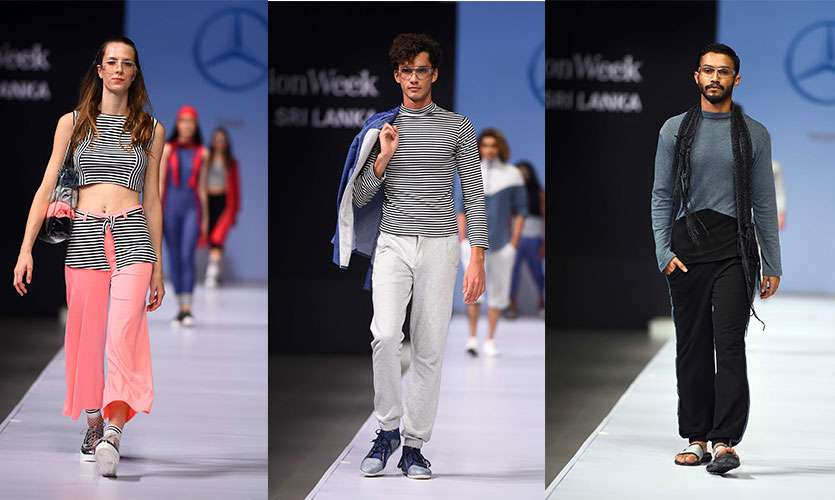 Athleisure looks played a key role in this collection titled Versatility. Looking to bridge the gap between performance and comfort the concept is to keep the wearer cool and dry. Constructed with lightweight fabrics including breathable moisture wicking for cool and dry comfort, the collection was functional at best.
Hirdaramani Knit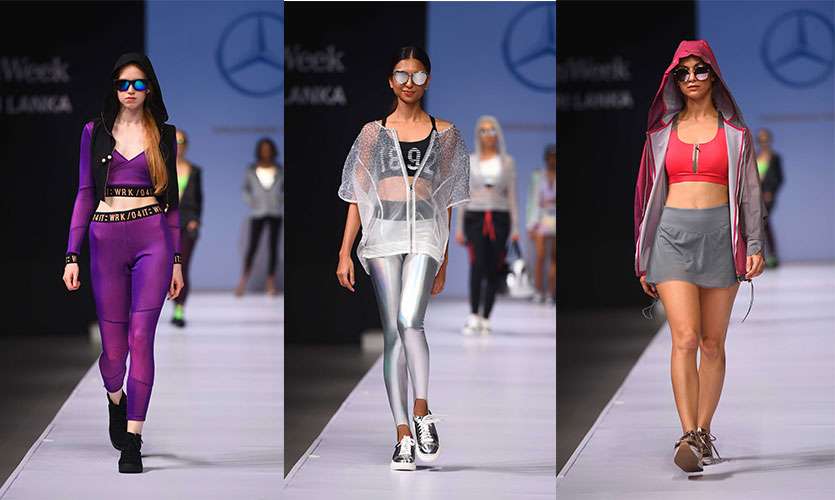 Using an accent colour of glow in the dark neon, this Travel Style Illuminated collection was created for the traveller who loves functional and intelligent active wear and comfortable casuals that do not compromise on aesthetic.

Hirdaramani Woven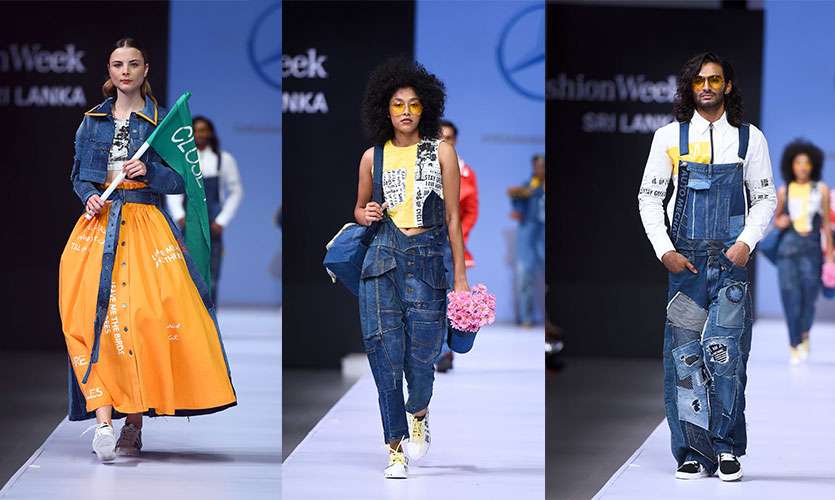 Their Get Your Green On collection paid homage to denim which returned to its workwear roots and into the streets. Using upcycled denim the creations were inspired by contemporary worker uniform silhouettes and turned into edgy street style looks. Colour blocking with bright colours added some vavavoom to these pieces which were pieced together using waste fabric and rejected garments.

LICC Jeans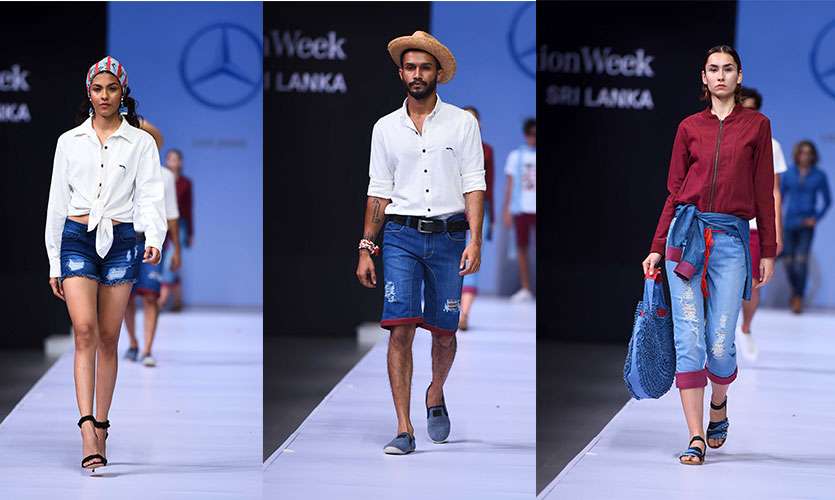 Drawing inspiration from tropical Ceylon and its oriental exoticism, "Indigo Traveller" is a collection of modern-day geometric silhouettes featuring unique laundering techniques and handcrafting. The collection caters toMillennialtravellers, who love to feel the tropical magnificence.
House of Lonali with Rainco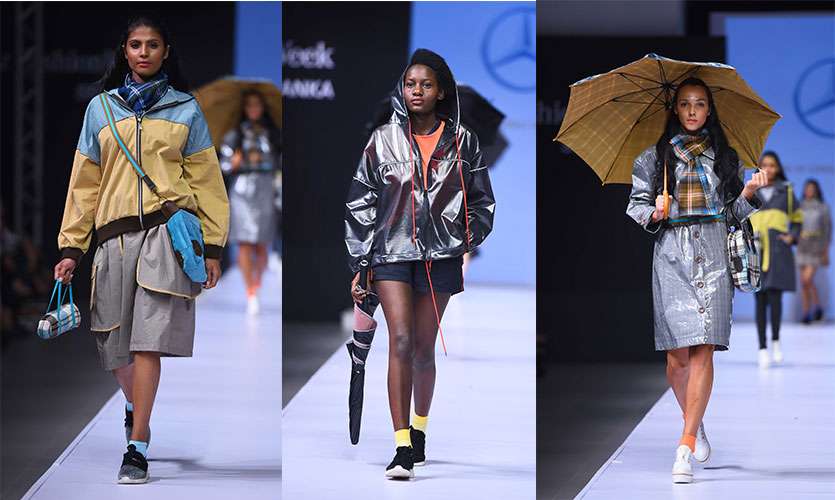 House of Lonali with Rainco, unveiled Cityscape a collection of casual, day and nightwear for the young city-dweller. Inspired by the fast paced, ever-changing cityscape, this collection embodies the spirit of exploring the big city with the use of brown, grey and black colours infused with acid yellow, sea green, red and silver accents.
Emjay International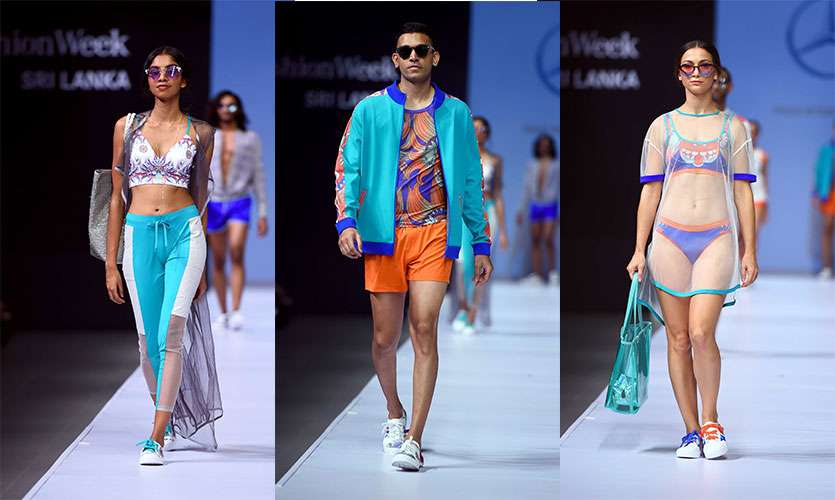 Travel Junkies is a blog of a couple who captures and shares their travel lifestyle on social media. This Spring / Summer 2020 collection is a fusion of versatile loungewear and underwear inspired by Sri Lankan arts, crafts and attractions which grabs the world's attention."
7N80E by Norlanka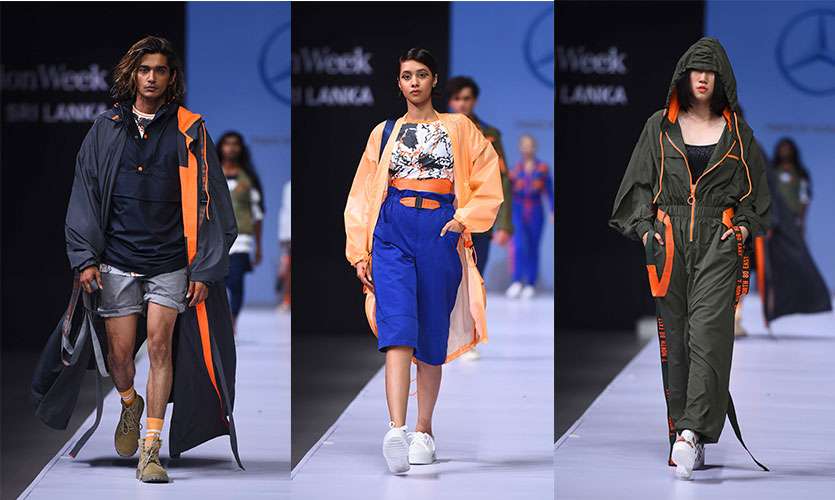 This collection explores the practical needs of a consumer who travels globally. Sri Lanka's latitude and longitude coordinates are established as branding and a vintage Ceylon map is simplified into a modern camouflage. Utility colours and mixed back with bright colour pops, make the collection edgy.
Aqua Island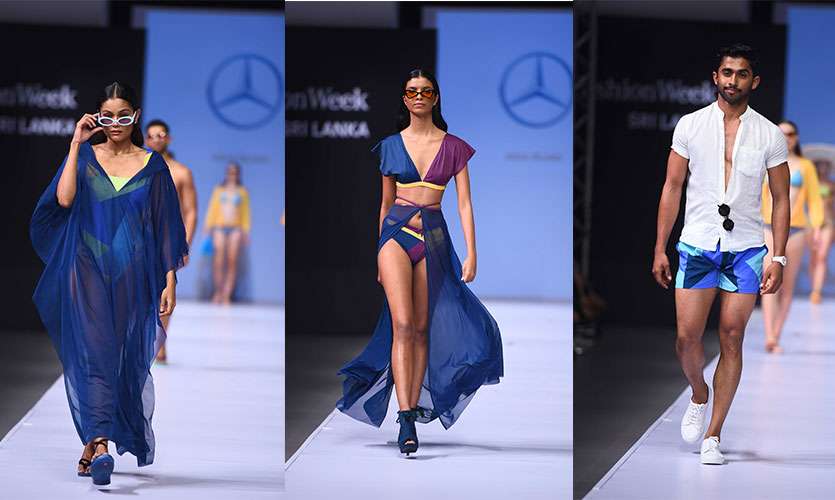 Tactile Breezer is their spring summer offering. A significant beach to bar collection with shape and form that adapt to a person's entire vacation. The silhouettes are unshapely within the torso, fitting at the bottom, giving an ornate taste to any contrasting figure. Fabric for this collection is a recycled polyester spandex made with recycled plastic bottles.

Fast Fashions by Moose Clothing Company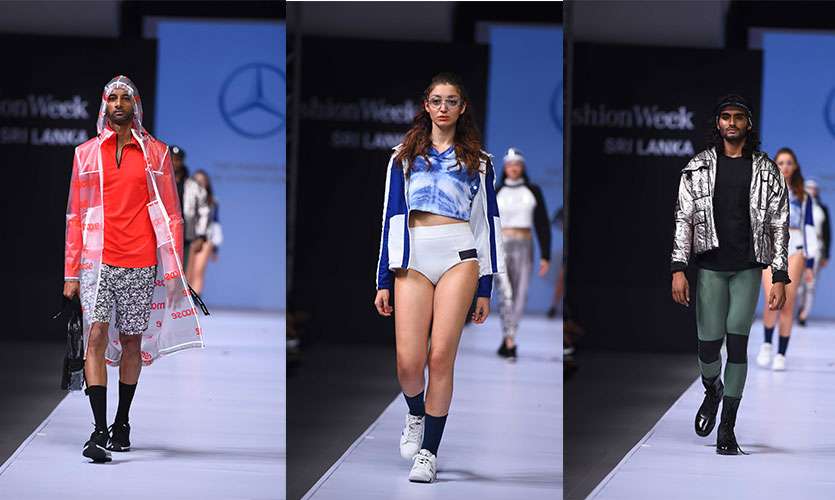 Titled Dauntless Travelbug this collection of athleisure clothing is geared towards those with wanderlust. A functional wardrobe while maintaining a stylist vibe, this collection used the four elements of air, water, fire and earth whichtravellers will encounter whenever they are on the go.
Casualwear by Moose Clothing Company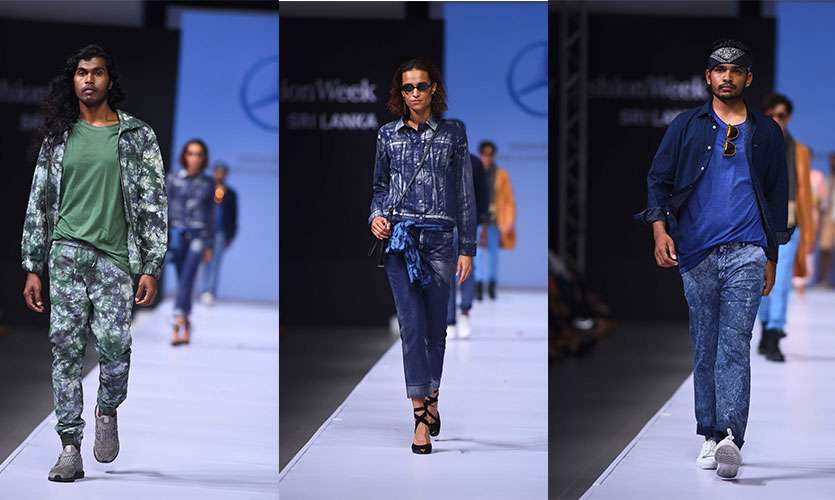 Featuring fabrics which gave a distressed look, this collection titled Business Traveler is geared for those with a fashionable mindset who have a keen eye for detail and travel for a purpose while enjoying his travel to the fullest. They had used special finishes such as coffee dye and turmeric dye to impress followers of a sustainable approach to a global trend.