Day 2 of Colombo Fashion Week held at the Shangri-la saw a clutch of established designers present their collections. Central to their collection was the "RE" theme set by Colombo Fashion Week which focused on creating clothes without harming the environment. Colombo's well-heeled were out in force to support the island's main fashion event of the year.
Aslam Hussain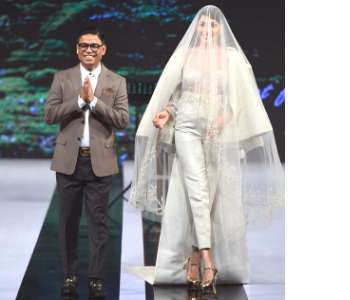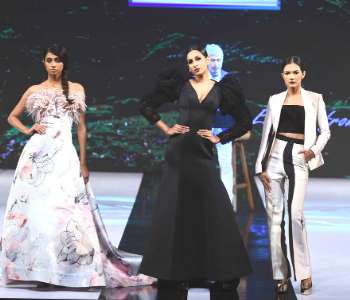 Aslam's signature style is creating high fashion looks which add visual drama through his unique ability to turn simple fabric into stunning couture creations. His craftsmanship as a designer lies in skillfully engineering fabrics to create visually dramatic clothing, bringing an air of sophistication and finesse to the wearer. Inspired by the festival of Holi his colour palette included bright hues interspersed with pastel shades. His collection was a departure from his usual high fashion couture look and instead, he presented down slightly pared-down versions of his usual uber-glam creations.
Lovi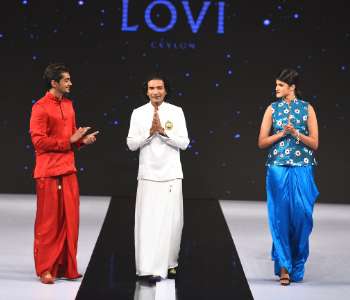 Engaged in a mission, Lovi aims to bring the thrill of sarongs to the world by introducing the first patent-pending designs with built-in pockets, belts, and lining to suit modern lifestyles. LOVI aims to spark excitement about Sri Lankan roots as well as foster confidence about our island home, and help define a new Sri Lankan clothing identity. Using the finest silks the collection which was in jewel box colours of red emerald and blue also had a sprinkling of silver and gold threadwork. Asanka's the founder of the brand had used the Salmala as his leitmotif for this collection.

Wraith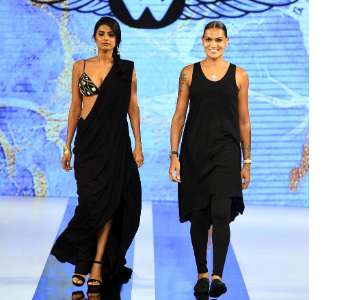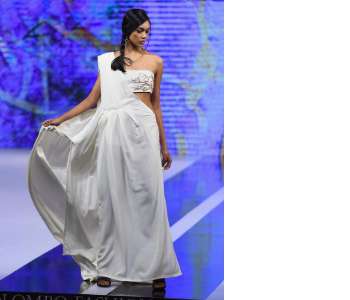 Dinesh Chandrasena presented a monochrome collection with asymmetrical hemlines on a range of silhouettes. The summer 2020 collection from WRAITH draws from the Japanese concept of "kintsukuroi" where broken porcelain is REpaired with lacquer work, underlining that something REworked has more intrinsic beauty and value. The fabrication of Bamboo in colours of Onyx and Alabaster have jute artisanal embroidery by Panchali Liyanawaduge using thread from discarded jute sacks. This is highlighted with broken porcelain pieces REworked by the creative team with discards from Dankotuwa porcelain.

FH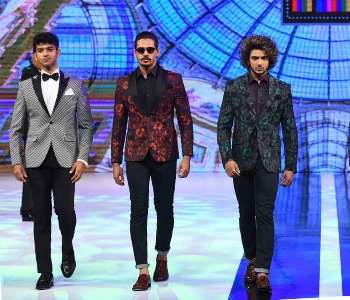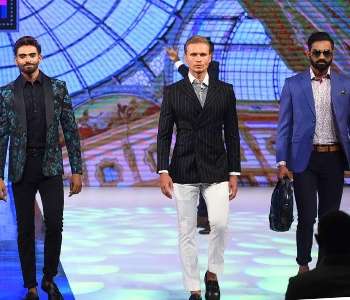 Maintaining his inimitable style, FH presented a collection of snazzy suits with floral jackets. The collection also featured smart suits with single and double-breasted jackets creating dapper looks for the style-conscious men of Colombo. For FH this season, the collection is all about happiness and the power of colours while focusing on sustainable fashion. The collection created to depict the positivity through colours also had as its goal to educate men on how to choose the colours that fit your tone. It was a collection of masculine tailoring with an extra serving of happiness for those that dare to be dapper.
Vogue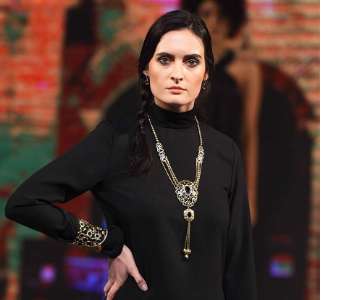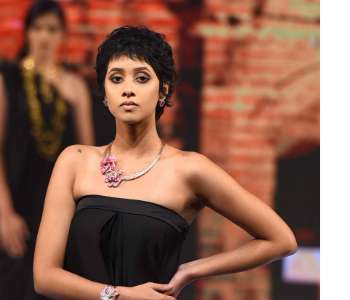 Award-winning jeweller Vogue Jewellers made its debut at Colombo Fashion Week. Necklaces earrings pendants and bracelets bore testimony to the exquisite craftsmanship that Vogue is renowned for. The show stopper was a pair of drop earrings which could be illuminated a first of it's kind in Sri Lanka and even the world
Koca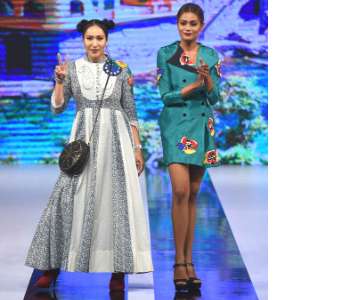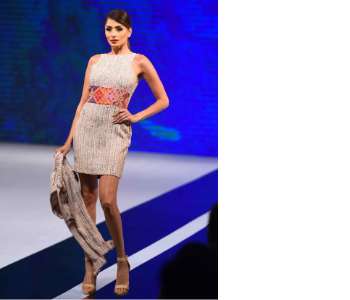 Inspired by the gorgeous aspects of mother nature and it's amazing creatures, KOCA by RN presented a combination of summery floral day wear recreating the concept of office into evening wear with a luxurious twist. A quirky eclectic collection of separates which can be mixed and matched with ease.
Dimuthu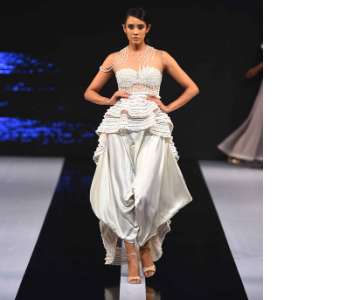 Retaining spot as Sri Lanka's premier couturier Dimuthu Sahabandu revealed a promising collection. Beautiful red-carpet-worthy evening dresses in black, gold and biscuit with embellishments made their way down the runway. Dimuthu is blessed with an ability to tease, cajole and manipulate fabric into place so that it creates the most beautiful drapes. The collection derives its inspiration from Kuveni and the aboriginal inhabitants of ancient Sri Lanka, 'Yaksha' and 'Naaga' tribes. The collection consists of a range of hand-embellished evening wear and includes a few one-piece silhouettes designed to be deconstructed and worn as separates after the first couple of wears as a one-piece garment. Upgrading and prolonging the lifespan of these hand made garments.
Pics by Pradeep Dilruckshana