Creative Director and CEO of Salvage Recycle, Subha Grassi also runs her own design company in Sri Lanka, Ruby Studio, which partners with innovative brands and worthy causes, with their experienced team of creative designers. She is also the CEO of a local non-profit, Community Concern with a variety of different projects that help marginalized communities.
Subha was immersed in art from a young age. She continued to study art giving her a foundation that she has leaned on throughout her career. She worked in many different roles in education and the creative field. In the USA, she worked as the Visual Arts Curriculum Developer at an Integration School District in Minnesota, as an Art Instructor at an Art Centre outside Chicago and as a Ceramics Instructor at Wheaton College to name a few. In Sri Lanka, she was the Executive Creative Director at Minds FCB and also an Instructor for Foundation of Design at the Academy of Design.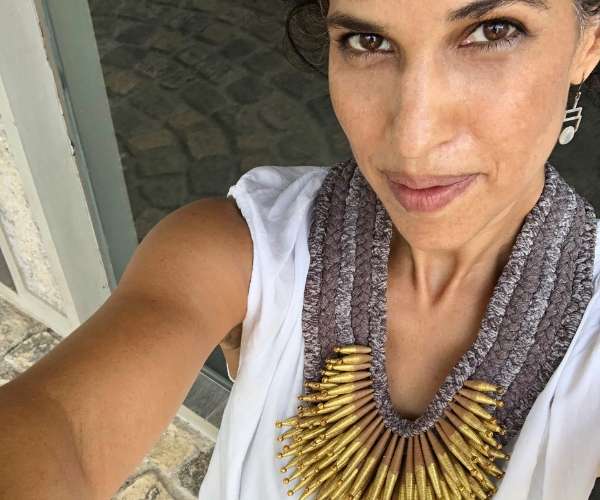 Q WHAT INSPIRES THE PIECES YOU CREATE?
The need for repurposing waste materials and the need to evoke a pride in women for what their hands can produce.
Q WHO IS YOUR MUSE?
Latest global fashion trends particularly Donna Karen, Alexander McQueen and Zulu Tribal masks.
Q WHAT IS YOUR DESIGN ETHOS?
Salvage has stayed true to two aspects: to recycle and to rehabilitate. We try our best not to create waste and use all the materials we acquire in the most responsible way. The primary aim of Salvage was to make a difference in marginalized women's lives.
Q WHAT IS YOUR BRAND'S SUSTAINABILITY CREDENTIALS?
Sustainability is a part of our design. We have built sustainability into every step of the process, from our solar-powered head workshop, our 'No Print' policy, to our up-cycled display units. Sustainability is everybody's responsibility in the Salvage team.
Q HOW IS YOUR FEMININE IDENTITY IS PORTRAYED THROUGH YOUR COLLECTIONS?
We believe we are all queens! This comes through in many of our pieces, from our Cleopatra necklace to our Princess earrings. We don't hold back when it comes to our femininity.