Transitioning from a teacher to a fashion designer, Najila made her entry into the industry in 2009. Having first launched her brand KOCAbyRN (which she works on alongside her sister Rusla) at Colombo Fashion Week in 2012 Najila has been a regular fixture at Colombo Fashion Week.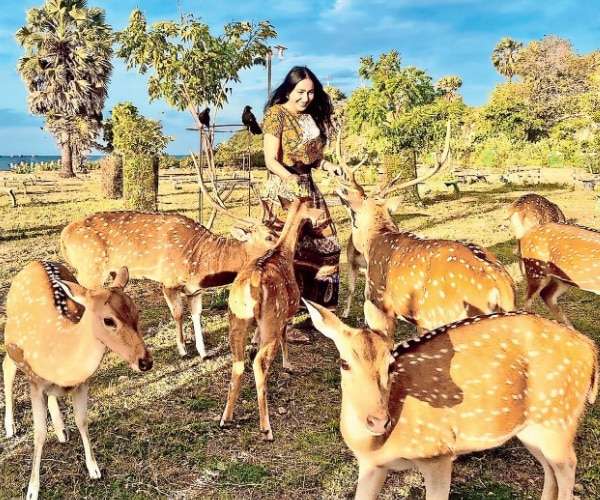 WHEN DID YOU LAUNCH YOUR BRAND?
We started our brand with LIFT - Chic fashion show in 2009 and launched with Colombo Fashion Week in 2012.
WHAT SPARKED YOUR INTEREST IN FASHION DESIGN?
It was at a prominent fashion show back in 2002 called "Our Heritage" done by the JD Institute of Fashion Technology (now LIFT) where my sister Rusla was a participating designer. I was a teacher at the time and I made the switch.
WHAT MADE YOU TAKE FASHION MORE SERIOUSLY AND MAKE A CAREER OUT OF IT?
I'm not sure that I would say I'm taking fashion more seriously now. We have a clientele that is interested in our perspective of fashion and I enjoy the work that I do more than anything else.
ARE YOU SELF TAUGHT OR DID YOU STUDY FASHION DESIGN?
I'm an alumnus of LIFT which is affiliated with the University of Northhampton in the UK. I further refreshed my knowledge related to the industry with "Singapore workforce skills qualifications" in Singapore in 2019.
HOW HAS YOUR WORK EVOLVED SINCE YOU BEGAN YOUR OWN LABEL?
We started our collections with appliqués made on simple viscose materials. Today we have ventured into using all kinds of textures incorporating beautiful art, embroidery and prints. We also have grown to be more conscious of our environment and its people while we work.
ARE THERE ANY TYPES OF CLOTHING THAT YOU AVOID DESIGNING?
We don't focus on swimwear. Besides swimwear, we cater to all other silhouettes and types of styles for women.
WHERE DO YOU LOOK FOR CREATIVE INSPIRATION?
I look to life experiences both good and bad to ignite inspiration for me. It may not necessarily translate into fashion automatically but it plays a role in how it is created. Almost anything can help creative inspiration if you are tuned into it.
DESCRIBE YOUR LATEST COLLECTION?
The latest collection is about three personalities of women. It translates to nature/wildlife and architecture.
WHAT ARE YOUR SUSTAINABILITY CREDENTIALS?
Woman empowerment
Uplifting and working with SMEs / HBBs in Sri Lanka & overseas.
Zero waste.
Minimise water pollution by using eco-printing techniques.
Practice initiatives like Reuse Restyle & Upcycle concepts like "six yards of upcycle".
Fairtrade
We make an active effort towards reducing our carbon footprint in our process and try our best to do as we can towards sustainability.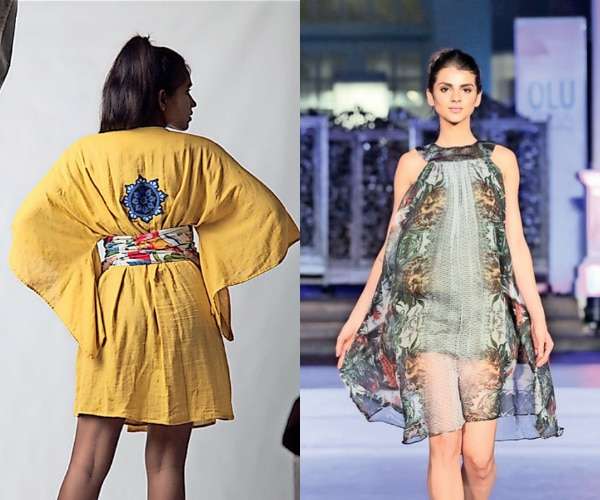 WHAT ARE YOU FASCINATED BY AT THE MOMENT AND HOW DOES IT FEED INTO YOUR WORK?
I'm fascinated by underwater life and bird watching at the moment.
WHAT IS THE BIGGEST LESSON THAT YOU HAVE LEARNED SINCE YOU STARTED YOUR COMPANY?
As a creative entrepreneur, I would say that there are always lessons to learn. It is a constant learning process but a big learning for me would be to work alongside other SMEs that I could trust and are the right group of individuals to liaise with.
WHAT IS YOUR FAVOURITE PART ABOUT BEING A DESIGNER?
It's the process before a launch of a new collection and having the opportunity to collaborate with like-minded individuals.
HOW DO YOU WANT WOMEN TO FEEL WHEN WEARING YOUR CLOTHES?
Clothing in itself to me is an art form. It is not defined or limited to a particular type of texture or way of creating and is more about a feeling that an individual gets when adorned in the attire. Be it an understated elegance or exuberance, we try to create it (sustainably) for the wearer in the most simplistic and innovative of ways.