It was a mixed bunch that gathered at the Design Collective on a Saturday morning to see how Indian designer Anuj Sharma would create an item of clothing sans a single stitch. Anuj Sharma is credited with being able to create exquisite clothing without employing a needle and thread but simply by using buttons and rubberbands.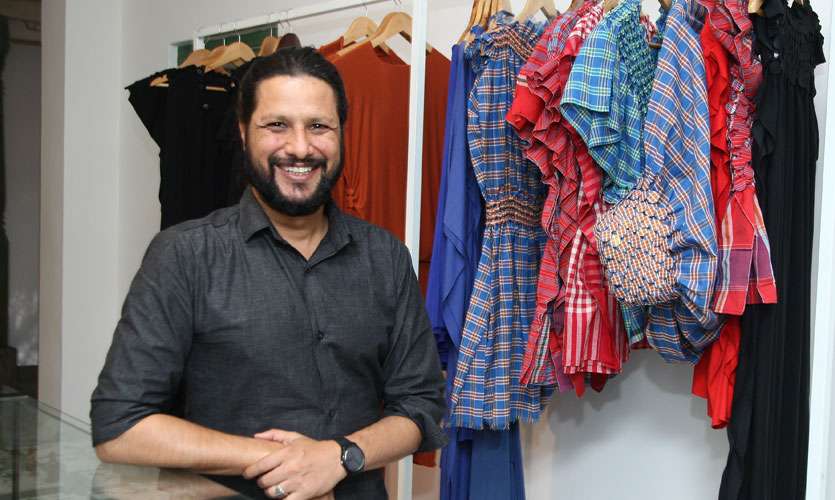 Anuj Sharma
It was a great move by Shahili Gomes and Binu Wickramasinghe to bring down Sharma (whose clothes retail at the Design Collective) to conduct this workshop as a celebration of the first anniversary of the Design Collective which is fast gaining a reputation as a fantastic place to shop.
Sharma's obsession with creating clothes with rubber bands and buttons began when he spotted a man whose clothes were not buttoned properly. This made him question the possibility of working with buttons using a simple grid system where buttons were stitched on to fabric at a distance of two inches. The separate fabric straps had buttonholes at the same distance as the buttons. He then used the straps to drape the fabric into garments. This innovative collection which was showcased at Lakme Fashion Week won him a legion of fans.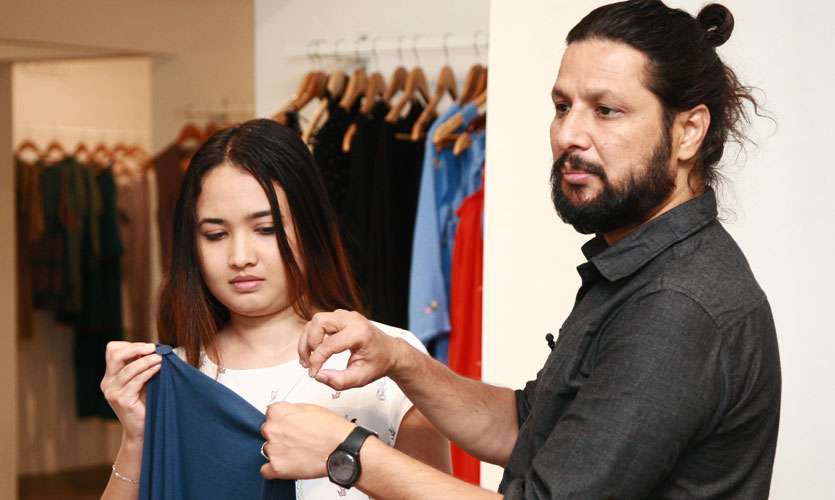 Not content with that, Sharma continued to experiment and came up with a new vision which created a new version of his original innovation. He replaced the buttonholes with rubber bands. This eliminated the need for stitching. He also discovered that if you inserted buttons into the fabric and affixed it with a rubber band there was no need for any other machines or tools to create clothing. This lead him to create further collections which caused a storm on the runway and earned him wide acclaim.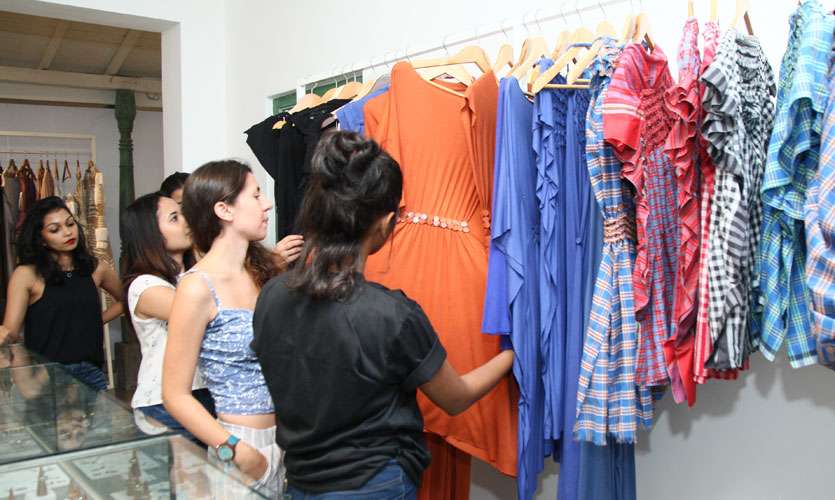 In Colombo for two days, Sharma conducted two workshops. Fashion designers, accessory designers, and fashion students were eager to learn this new technique which is completely unique to Sri Lanka. Sharma estimates to have taught his Button Masala technique to over 30,000 students around the world. He also reckons that the button masala technique is the most popular technique after sewing and knitting. His personal ethic is "waste not want not" and advocates that excesses harm the planet we live in. His workshop which was conducted during a four hour session covered the history of Button Masala, a live demonstration on the technique and an interactive session where the participants created a garment with rubber bands, button and fabric.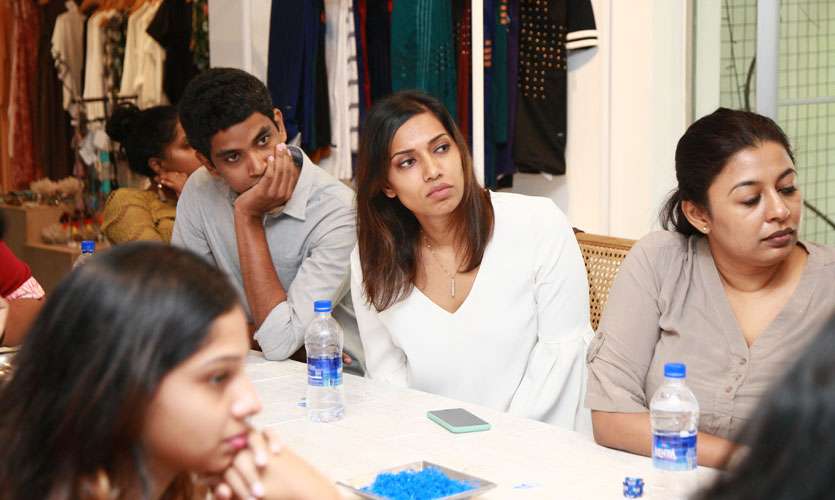 The workshop was fun and creative. The participants were put through their paces when they had to think on their feet and drape the two meters of fabric and use the buttons and rubber bands to create an item of clothing. Some made jumpsuits, while the others made dresses. The creative energy was palpable and each one thoroughly enjoyed their time at the workshop. How popular this method will become in Sri Lanka remains to be seen, but it certainly seems a trend that many people may cotton on to!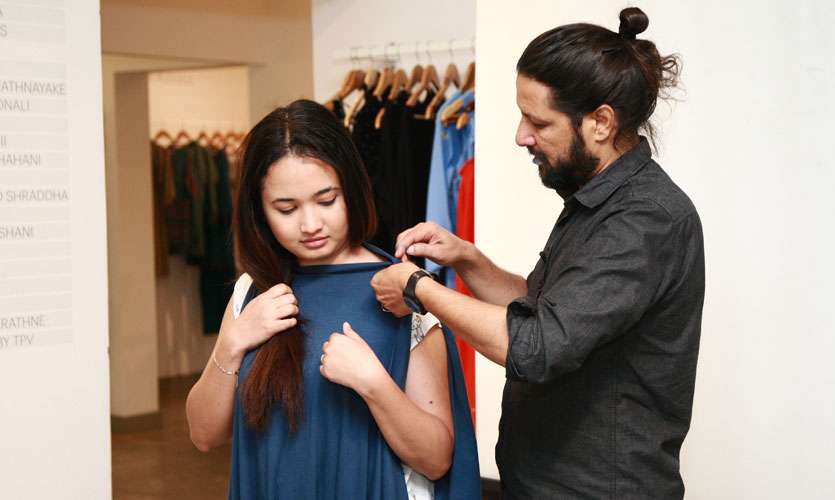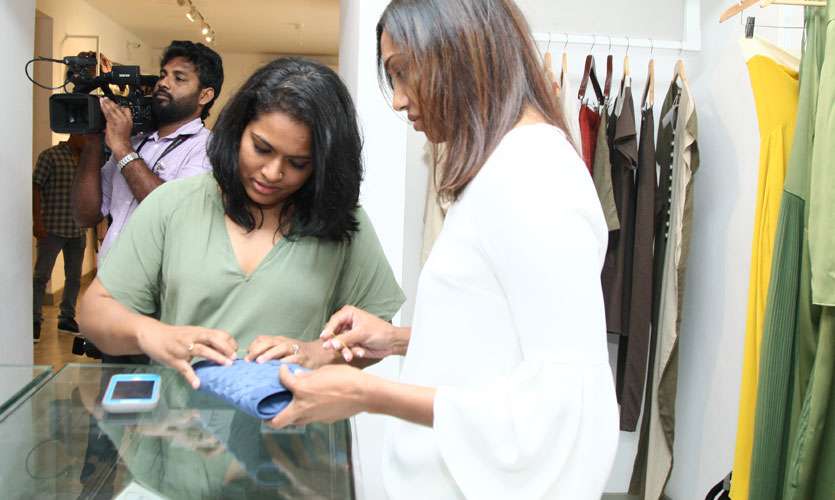 Binu – Co-Founder of The Design Collective

" Anuj has been retailing with us for a while and we thought it was a good idea to bring him down to conduct a workshop as a celebration of our first anniversary.


Rukshi – Founder of RumPunch

"As a designer I was keen to see this technique. I think it is a fab and fun way to create something quirky"

Suly – Co-Founder of Navya accessories

"I might consider using this technique to embellish some of the bags we create"




Kate – Teacher AOD

"This is a novel technique I learnt today and it is easier than it looks"

Photos by: Damith Wickramasinghe