Goût de France (Good France ) is a unique global event that is held in 5 continents with the participation of over 150 countries. The fifth edition of Good France will take place on the 21st of March 2019 with the active participation of French Embassies and chefs around the world. This year will see some 5000 partcipating chefs taking part over the course of 4 days to celebrate French gastronomy.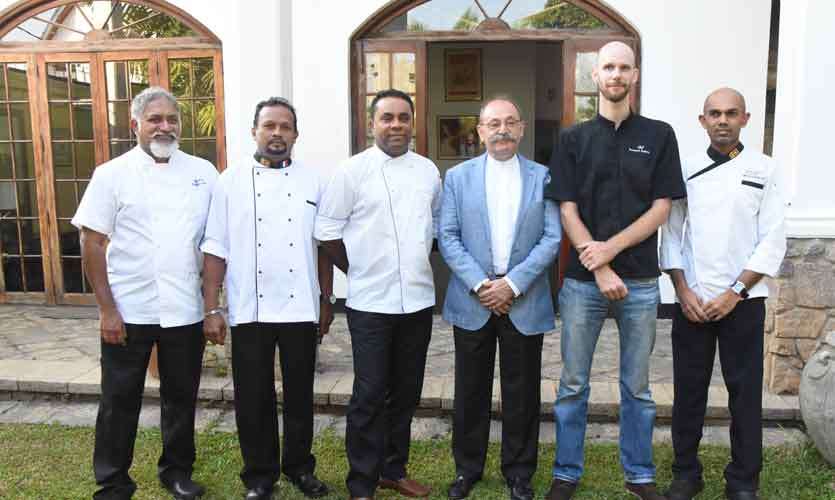 With gastronomy being one of the pillars of the French tourism industry, this year's Good France has taken a greener approach aimed at better respecting the planet's resources.
At a press conference on the 6th of March, the Ambassador of France to Sri Lanka and Maldives, Mr. Eric Lavertu announced that four restaurants will be taking part in this event to honour French cuisine in Sri Lanka with distinct concepts. These four restaurants are Cafe Francais, the 1864 at Galle Face Hotel, The Grill at the Kingsbury and the Vistas Bar at Movenpick.
CAFÉ FRANÇAIS
Michelin Star chefs Jacques and Laurent Pourcel are two of the best ambassadors of French cuisine in the world. After establishing restaurants in France, Morocco, England, China, Japan, Singapore and Bali it was Sri Lanka that the Pourcel
brothers and their associates Olivier Château and Jean-Charles Toussaint have chosen in 2014 to create what will become the Café Français, a French bistro, the first in the capital of this country.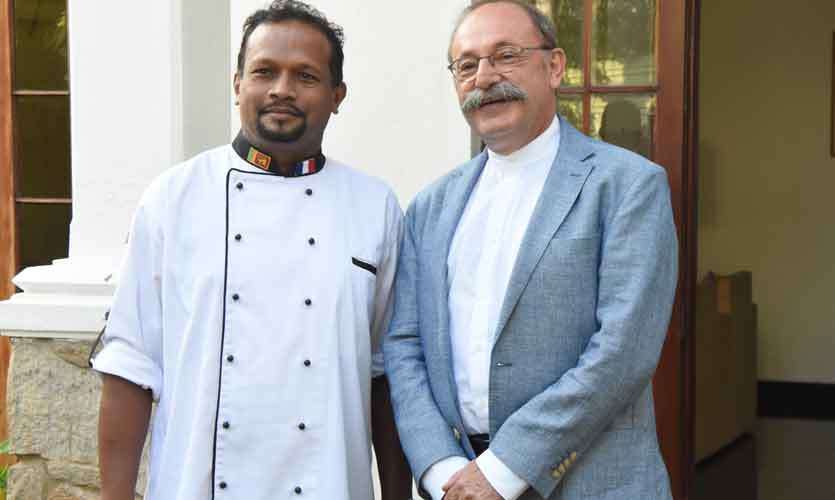 At the Press Conference, Executive Chef of Cafe Francais, Bertrand Dubois, spoke about the 'Classic France' 5 course dinner menu that has been specially curated for the Festival.
The Dinner starts with a glass of Moet and Chandon Champagne and Provencal mini cake before proceeding to French snail croustillant with garlic butter, toasted brioche and french herbs. The third course consists of wild mushroom veloute with pan seared foie gras and confit egg yolk. The main course includes duck shepherd's pie and baby spinach infused with truffle and the dinner is tied together with caramelised apple profteroles, vanilla ice cream and salted caramel butter.
Priced at Rs. 7500++ per person, Cafe Francais will only offer this special menu on the 21st of March.

THE 1864 - GALLE FACE HOTEL
One of the best fine dining restaurants in Colombo, the 1864 restaurant at Galle Face Hotel is at the forefront of serving guests perfectly prepared modern European cuisine. The Exective Chef at Galle Face Hotel, Chef Jay Kay Govind is an award winning chef with a career spanning 25 years and has worked in over 5 different countries.
At the press conference he spoke of 1864's inspiration for the Good France menu. "Our curated dinner menu for Good France is inspired by the sort of love marriage between Sri Lanka and France where we've used the old techniques of the French cuisine and the spices of Sri Lanka and created the perfect marraige between the two."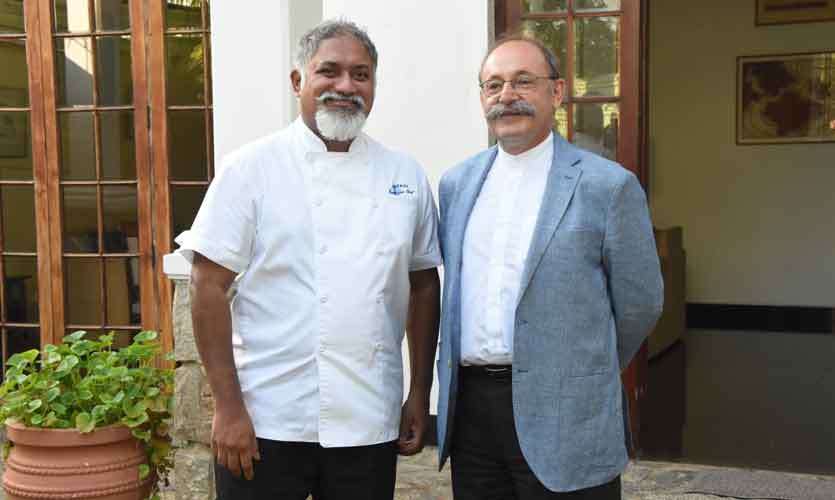 The '5 Courses - 5 Spices' menu uses traditional french dishes and recreates it with the use of Sri Lankan spices. Starting off the dinner are flash seared scallops that are imported from the UK with turmeric butternut squash puree, gotukola fritters and young fennel salad followed by a foie gras terrine, cinnamon tea jelly, ambarella jam and toasted brioche. The third course is a bisque of Sri Lankan crab with cardamon coconut cream and cracked coriander. For the main course the chefs will serve tradtional coq au vin with juvenile roots, mace rubbed pork belly, pinot noir glaze and ginger salt and the meal is wrapped up with a savarin with citronella spiced wild berries, palm honey limoncello emulsion and pistachio crumble.
Priced at Rs. 15,000 per person, Galle Face Hotel will offer this special menu from the 21st - 24th of March.
THE GRILL - THE KINGSBURY HOTEL
The Grill is one of the best restaurants in Sri Lanka to enjoy gourmet grills offering a feast of flavours with their extensive menu, which includes steak, exotic seafood & chicken dishes, paired with rich wines & signature cocktails. Executive Chef Kithsiri De Silva has been with The Kingsbury Hotel since the beginning and brings with him over 30 years of experience.
At the press conference he expressed that French cuisine is 'one of his favourites' and that he was thrilled to prepare a 5 course menu.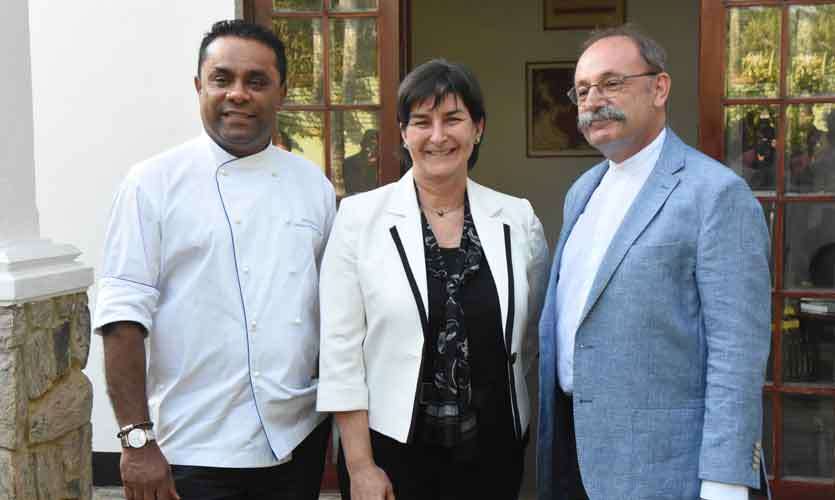 The dinner starts off with a sauteed foie gras pecan crusted goat cheese Arugula and apple compote followed by a pan seared calamari and yellow fin tuna tartar with a spicy coriander vinaigrette, watermelon, tomatoes and avocado salad. The third course is a provencale fish soup with garlic crouons, gruyere cheese and rouille. The main course of the mal is a trio combination of grilled French cut lamp chop, baby chicken and black Angus fillet of Beef with tomato confit, beans, roasted asparagus, zuchchini and sweet potato followed by a sweet desert of caramelized apple tart with warm vanilla sauce.
Priced at Rs. 8,000 per person, the Kingsbury will offer this special menu from the 21st - 24th of March.

VISTAS BAR - MOVENPICK HOTEL
The Vistas Bar at the Movenpick Hotel boasts one of the most stunning views in Colombo and is the trendiest open air lounge in the city offering panaromic sunset, city and sea views on its 24th floor. Chef Meththa Ekanayake has gained exposure and experience amidst some of the world's best trained chefs and has worked in numerous international hotel chains in Dubai.
At the press conference Chef Meththa spoke about how this is Movenpicks second year in participating at the Good France event. "This is our second year and we thought we'll do something a little unusal."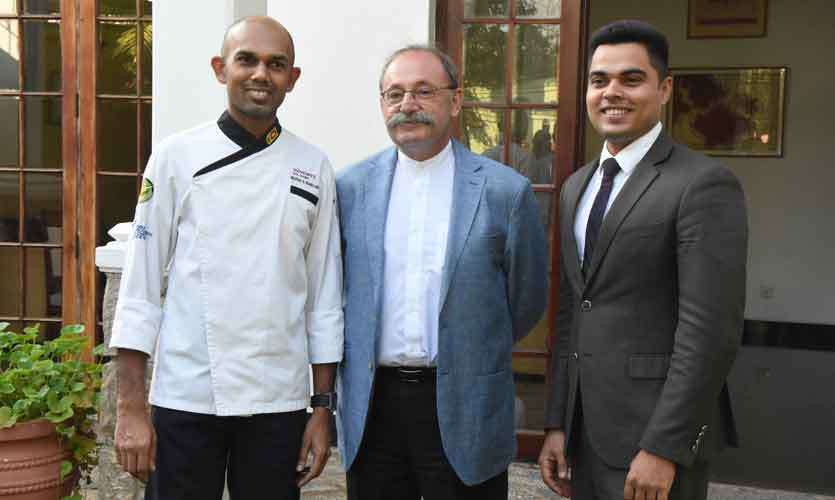 Movenpick Hotel will offer guests a Platter of 5-6 different imported French cheese such as Brie, Camembert and Comte and a wine pairing with a wine selection of over 25.
Priced at Rs. 5,900 per person, Movenpick will offer this special menu from the 21st - 24th of March.
Pictures by: Nimalsiri Edirisinghe