Presenting literary aficionados with an opportunity to get up close and personal with some of the past winners of the Gratiaen Prize, Bentota Beach – The Cinnamon Luxury Collection in partnership with The Gratiaen Trust presented 'A Weekend with Gratiaen Winners' held at Lunuganga and the Bentota Beach hotel.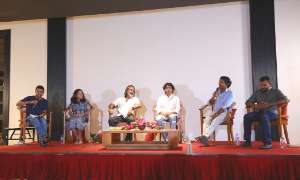 Setting the scene for the first event of the day, against the beautiful backdrop of Geoffrey Bawa's country estate Lunuganga, a varied selection of poetry by past Gratiaen Prize winners Jean Arasanayagam, Vihanga Perera, and Thiagaraja Arasanayagam were read out by Ranmali Mirchandani a Gratiaen Trustee and Delon Weerasinghe, himself a member of that elite group of Gratiaen Winners.
Many of Jean Arasanayagam's poems read were from 'The Life of the Poet' which won Jean the coveted Gratiaen Prize. A collection that contained forty-six poems, 'A Poet's Life' demonstrates the observant senses of a soul that speaks with introspection and retrospection. The poems reflected how its author would observe the varied human emotions and global events which all formed part of the journey where one feels the empathy towards humanity is realised deep within.
The prose of Vihanga Perera and Thiagaraja Arasanayagam were also read out by Delon Weerasinghe. Moving further down to a large expanse of grass just outside the Gatekeeper's House in Lunuganga the audience was greeted by poet Vivimarie Vander Poorten, herself a past Gratiaen Prize winner who read a selection of poems.
In between the poetry readings scattered in four different picturesque locations of Lunuganga, Channa Daswatte, Chairperson of the Geoffrey Bawa Trust was on hand to explain interesting anecdotes about Lunuganga. After a balmy morning of poetry interspersed with landscape and architectural tales, the group moved on to another of Geoffrey Bawa's architectural gems the Bentota Beach Hotel.
Escaping from tropical heat to the cool airconditioned comfort of the Bentota Beach Hotel, guests feasted on a delicious lunch before embarking on a brief tour of the Bentota Beach Hotel with Channa Daswatte as our guide. From explaining the history behind the colourful mosaic of batik ceiling panels created by Bawa's contemporary to helping us understand the genius behind Bawa's method of cantilevering, Channa was the epitome of a perfect guide imparting as much knowledge as possible making the tour a pleasant and educational one.
Flitting between understanding the genius of Bawa to the finer points of literature, we were back indoors to hear Andrew Fidel Fernando, the most recent winner of the Gratiaen Prize speak of travel writing and how his book A Traveller's Tale came to being. That one-hour session with Andrew was an absolute treat as he showed many photos of his travels around Sri Lanka and related many interesting anecdotes of his experiences in the course of writing his book.
For day pass holders the last event of the day was a panel discussion which included Andrew Fidel Fernando, Shehan Karunatilaka, Vivimarie Vander Pooten, Lal Medawattegedera, (all Gratiaen Prize winners) along with Kumar Sangakkara moderated by Harshana Rambukwella. With an audience of over 75, the discussion which lasted an hour revolved around identity, writing about cricket, politics, travel, and contemporary Sri Lanka. Each of the panels brought in their own unique perspectives on each subject and made very valuable contributions especially on the subject of Sri Lankan identity and literature.
From university students and literary lovers to those just curious as to what this event was about, the audience was a lovely mix of ages and interests. One of many in a series of curated luxury experiences. this experiential event successfully filled a void in the literary circles, especially in the aftermath of COVID -19.
Guest Comments
Dilu De Mel Punchihewa
"The setting for the poetry reading was fabulous. I felt like I was transported back into a different era rich in history and literature"
Shivanthi Atukorale
"The combination of architecture and literature helped to make this an interesting and varied experience"
Upeka Peiris
"It was a great opportunity to listen to Channa Daswatte share his interesting perspective on Bawa, Lunuganga and also the making of Bentota Beach Hotel"
Stasshani Jayawardene
"I enjoyed listening to Vivimarie read her poems around the gardens at Lunuganga, the backdrop was spectacular and the poems beautiful."
Helen Cheung
"The tour by Channa Daswatte at both Lunuganga and Bentota Beach Hotel along with listening to the authors was a lovely experience. Definitely will look forward to more of these experiential events"