Tired of spending endless hours trying to whip up the perfect Christmas cake? Perhaps it's finally time to relax this season and be jolly, as Life Online tried and tested several places in and around Colombo to help you serve your Christmas best at the table.
Here's a list of 9 places we visited to pick the top 3 cakes of the season.
Sponge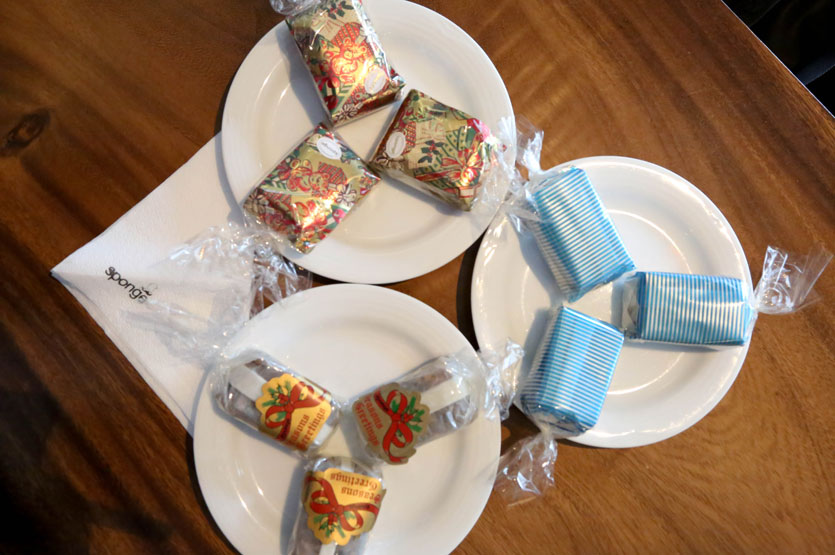 Presentation: Neatly packed with festive wrappings to capture the spirit of Christmas.
Taste: Selecting a piece sans the almond topping (alcohol included) was a good way to kickstart the cake tasting round as it wasn't excessively sweet which well suited our preference. Contrastingly, the alcohol-free piece with an almond topping was quite sweet, yet not as rich in texture as the former piece with its tempting hints of alcohol.
Value for money: Sponge offers reasonable rates for its sizeable quantity and overall satisfaction of content.
Single piece without almond topping: Rs. 200
Single piece with almond topping and white wrapping paper: Rs. 220
Single piece with almond topping and special wrapping paper: Rs. 240.
500g without almond topping: Rs. 1600
500g with almond topping: Rs. 1800
Address: 347, Galle Road, Colombo 03
Phone number: (011) 2 573 321
Facebook: www.facebook.com/sponge.lk
Yumi Cake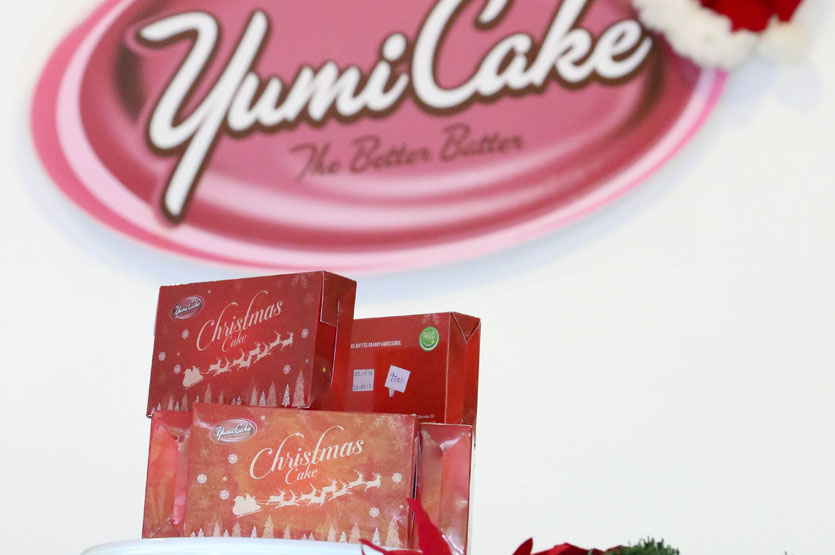 Presentation: Delightfully packaged in red boxes which are convenient for gifting or taking home for repackaging.
Taste: If you're looking to spice up your Christmas then head down to Yumi's this December. Their Traditional Christmas Cake has sharp traces of both spice and alcohol which differ from the conventional sweeter Christmas cakes our palates have become accustomed to.
Value for money: This is subjective to individual preferences as those who opt for sweeter cakes might be left feeling slightly dispirited. Those desiring for some spice can purchase a 450g Traditional Christmas Cake at Rs. 900. Yumi Cake's however have a wide variety of Christmas cakes ranging from the Brandied British Way Christmas Cake to the Festive Fruit Cake with Marzipan.
Address: 16, Flower Road, Colombo 07
Phone number: (011) 2 574 019
Facebook: www.facebook.com/yumicake.net
The Cake Factory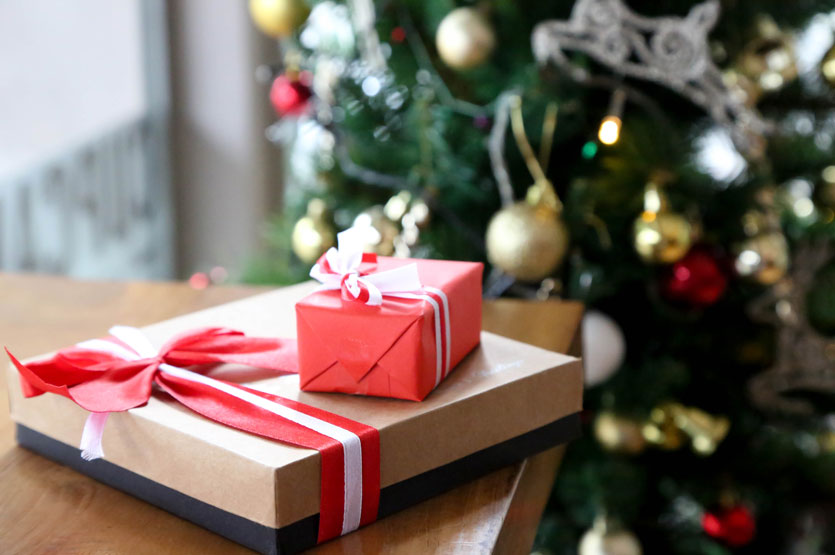 Presentation: The cakes were neatly wrapped in red and silver and we thought it was perfect for gifting.
Taste: The cake had a nice gooey consistency but we found the marzipan to be a little too hard. It was rich in flavour for a non-alcoholic cake.
Value for money: You will definitely get your money's worth. The cake pieces were very generous in size and was priced at Rs. 190. A 500g slab was Rs. 1450.
Address: 91A, 5th Lane, Colombo 05
Phone number: 0777 382 510 or (011) 2 868 414
Facebook: www.facebook.com/TheCakeFactoryColombo
BreadTalk (Union Place)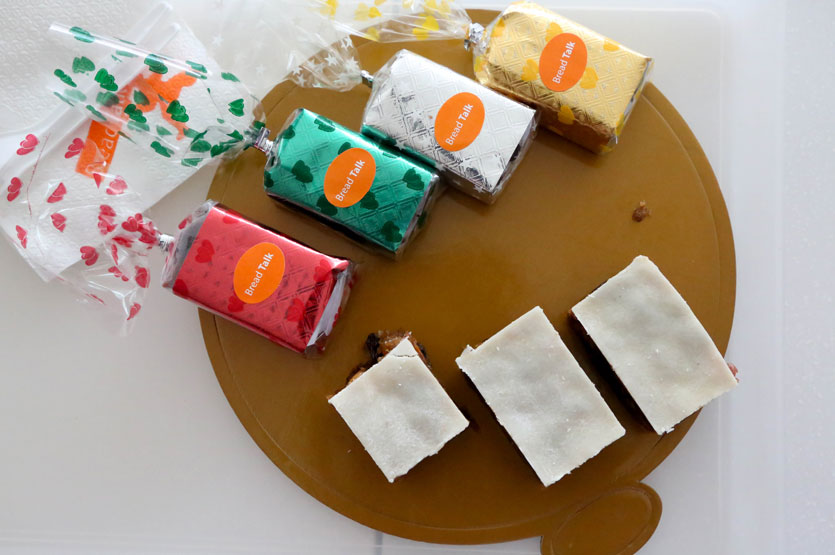 Presentation: Pleasantly wrapped with seasonal prints.
Taste: While the filling had an adequate supply of fruits we felt that the thin marzipan layer was inconsistent with general expectations. The alcohol inclusive piece was not too gooey or rich in its texture and was satisfactory in relation to its size. If you're craving for a sugar rush then perhaps this might satisfy your sweet tooth.
Value for money: Keeping on par with its standard range of prices, a single piece of 100g is Rs. 265 while the 500g pack is Rs. 1750. As BreadTalk is an international franchise, the considerable cost incurred by a customer is explainable. It's questionable how it will perform in comparison to other competing places which sell at a lesser cost.
Address: 525, Union Place, Colombo 02
Phone number: (011) 7 356 777
Facebook: www.facebook.com/BreadTalkSriLanka
Little Miss Shortcake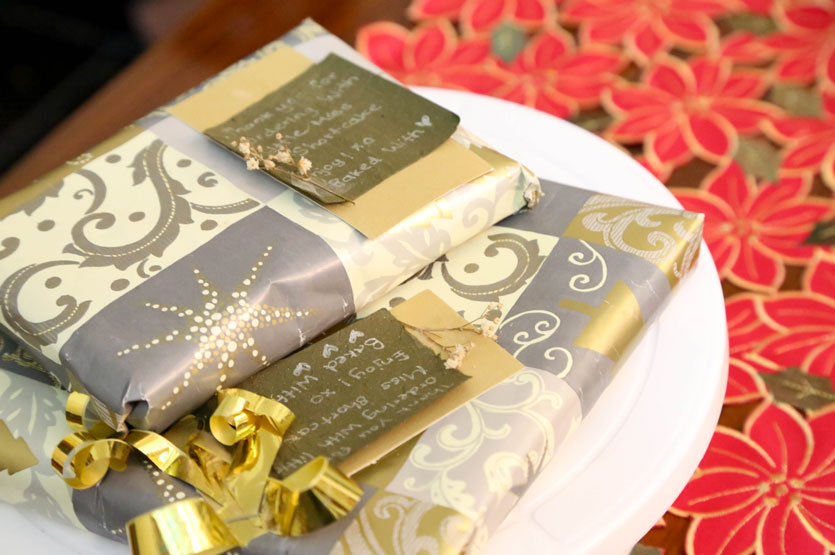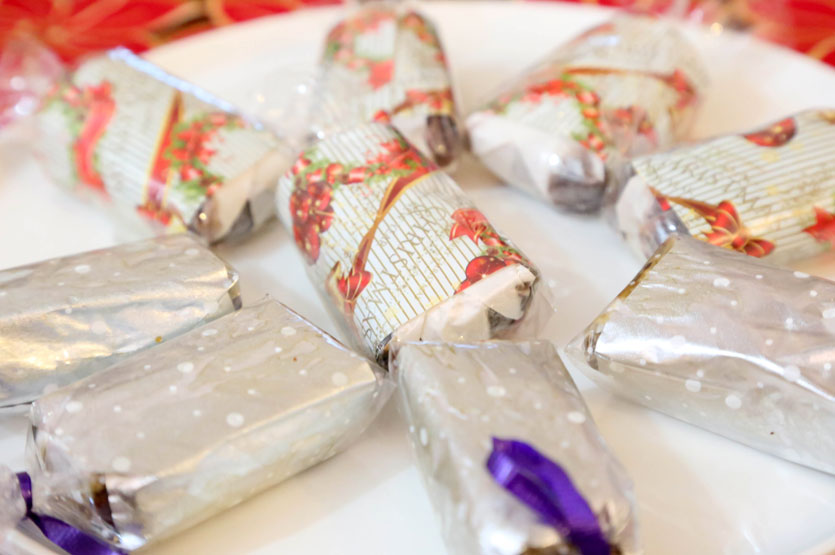 Presentation: We recommend the beautifully wrapped 500g pack with a personalised note.
Taste: Doused in an array of rich ingredients and flavours. Its extremely moist and gooey texture prevents the cake from holding its shape, a feature that is both intentional and unique for this aspiring young home baker. Her desire is to ensure that customers relish the abundance of elements.
Value for money: If you're solely interested in a scrumptious Christmas cake then a single piece of 100g (without alcohol) is Rs. 150, single piece with alcohol and without a marzipan topping is Rs. 160 and with both alcohol and a marzipan topping is Rs. 180. 500g without marzipan is Rs. 1500 while a 500g pack with marzipan is Rs. 1800. Drop by on Sunday, 18th December at Racecourse between 1:00PM - 10:00PM to purchase some of her goodies!
Phone number: 0773 123 644
Facebook: www.facebook.com/Little-Miss-Shortcake-533438286728062
Party Treats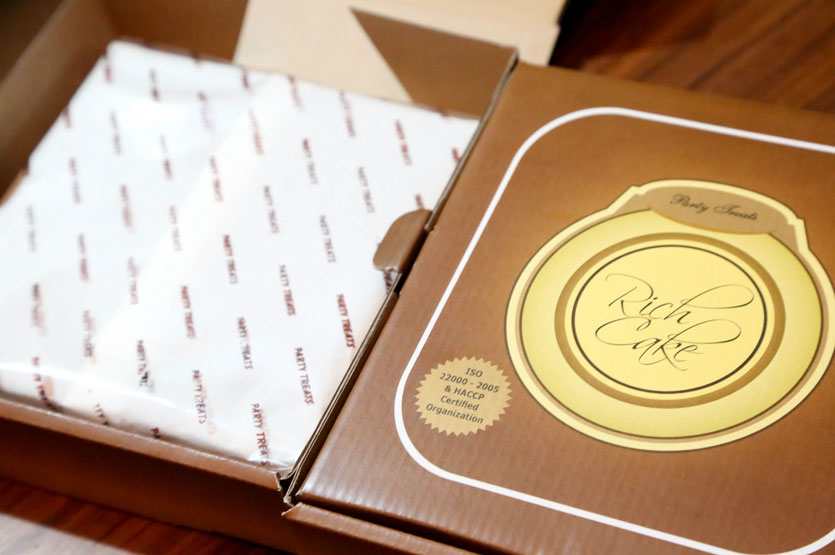 Presentation: Meticulously cut and crafted to perfection
Taste: Their sizeable piece is generously supplied with well-cut imported fruits. They offer their Rich Cake (typically served for weddings) during the Christmas season as well. Their taste, like their packaging is striking, consistent and excellent. Alcohol is included only upon request, with no additional charges.
Value for money: Possibly the best deal in the market place in terms of its quality and quantity with 450g (without marzipan) being sold at Rs. 800 and with marzipan at Rs. 900. Individual pieces selling at Rs. 140 each are usually offered for weddings only.
Address: 19/1, Salmal Mawatha, Nedimala, Dehiwala.
Phone number: (011) 2 722 960
Web: www.weddingdirectory.lk/Detail_page.php?id=173
Email: gmarambe@gmail.com
Tori House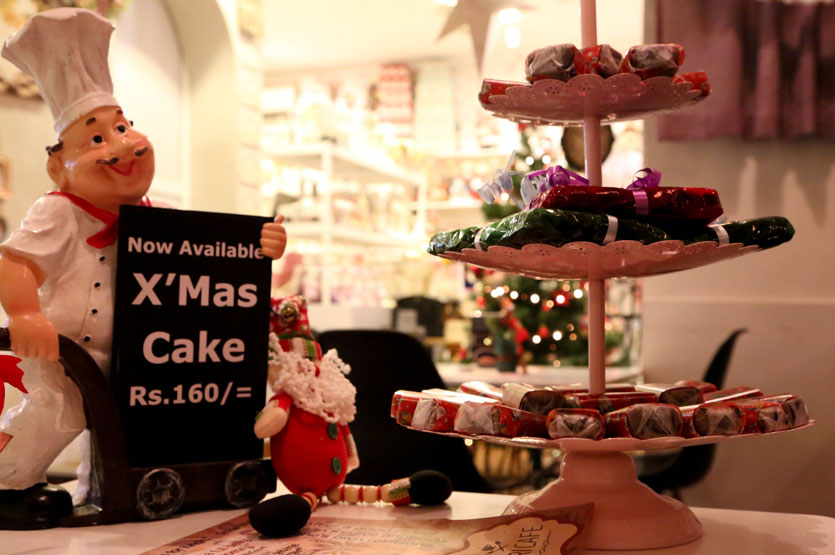 Presentation: Wrapped in a green and red Christmas themed paper the pieces stood out from the slabs that were wrapped in one colour and decorated with ribbons.
Taste: The cake was not too sweet and we really liked it. They don't do it with marzipan but if you love a traditional piece of Christmas cake we guarantee that you will love theirs.
Value for money: The pieces were generous in size but we found the slabs to be a little too thin for our liking. However they do offer a 250g slab that was not offered anywhere else. A piece was priced at Rs. 160, a 250g slab was Rs. 660 and the 500g slab at Rs. 1320.
Address: 7, Siebel Avenue, Colombo 06
Phone number: (011) 4 848 398
Facebook: www.facebook.com/torihouse.lk
Cravings by Sue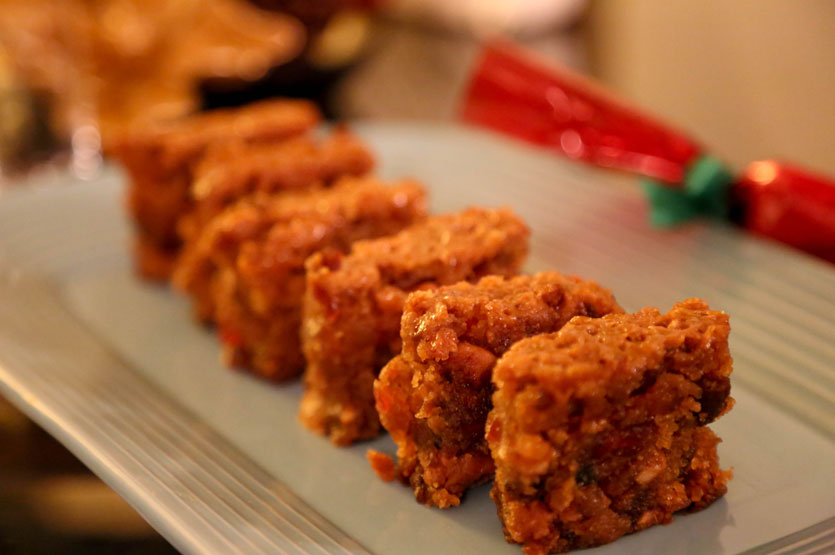 Presentation: The cakes are wrapped beautifully with gold paper and bright coloured big ribbons. We loved it!
Taste: We really enjoyed the traditional Christmas cake made by Cravings by Sue. The cake was not too gooey and sweet but rich in flavour and delicious. She also does a layer of marzipan on request.
Value for money: They only offer slabs of 500g and 1kg and the cake is extremely tasty thus definitely worth the money. 500g = Rs. 1300 (with marzipan, it's Rs.1650) and 1kg = Rs. 2600 (with marzipan, it's Rs. 3300)
Phone number: 077 474 0211
Facebook: www.facebook.com/CravingsByS
Cherry on Top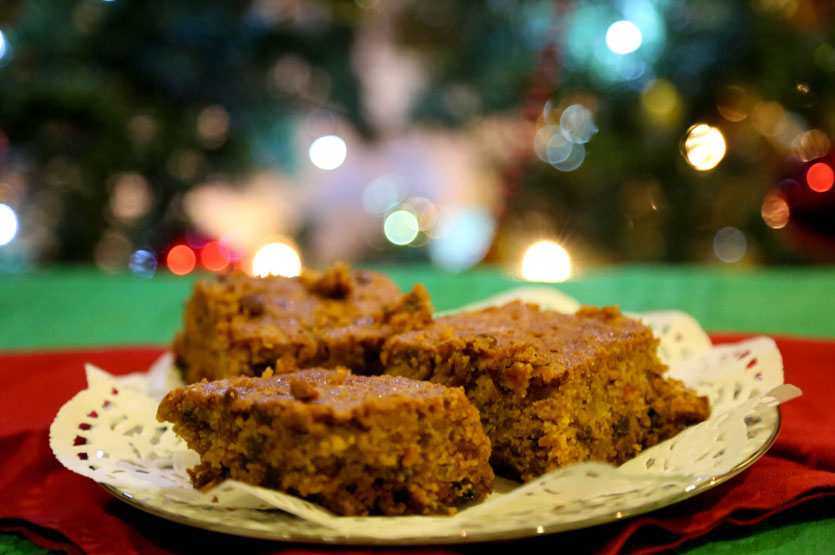 Presentation: This home baker believes that Christmas cake should be served like any other cake on a tray and not wrapped up. But she will wrap it for you beautifully on request.
Taste: She follows a family recipe passed on through generations and her cake is the best traditional Christmas cake that we tasted. It was not too sweet and absolutely delicious and something we would go back for and highly recommend.
Value for money: They too only do slabs of 500g at Rs. 1100 and 1kg at Rs. 2200 but we guarantee that it is definitely worth your money.
Phone number: 077 324 2977
Facebook: www.facebook.com/The-Cherry-on-Top-344786912285735
---
Our top 3 picks!
Party Treats
Cherry on Top
Sponge
A special mention must be made to Cravings by Sue.
By Stephanie Nicolle and Jithendri Gomes
Photographs by Zeeshan Akram Jabeer