I found myself wandering about the Taj Samudra Hotel last Saturday in search of The Golden Dragon, having never been, and couldn't help but notice how well-spirited the hotel staff were, despite having to work during times like these. I was keen to see what the hotel's signature Chinese fine-dining restaurant had in store for me, having heard a few good reviews.
The Ambience
I do in fact applaud whoever designed such a magnificent space. What the restaurant lacks in floor space (which in fact, it actually has quite a large area) it definitely makes up for in height. The towering ceilings really do add to the entire atmosphere. Apart from this, the highlights of gold found on the dragon statues and the blue furniture and glassware give the space a warmer, more modern feel to it rather than taking the traditional oriental theme.
The Service
Their service was incredibly warm. I was able to chat with the waiters, crack a jest here and there and even get a few recommendations from them. They're incredibly quick too! I learnt as soon as I walked in that they hadn't prepared the meal for me yet since they preferred I had it fresh out the pan. I was thoroughly surprised to have my food at my table not more than 10 minutes after I sat down.
I must note that with regards to Covid-19 protocols, the staff is well equipped as well as trained to handle dishes and carry out the proper sanitary procedures.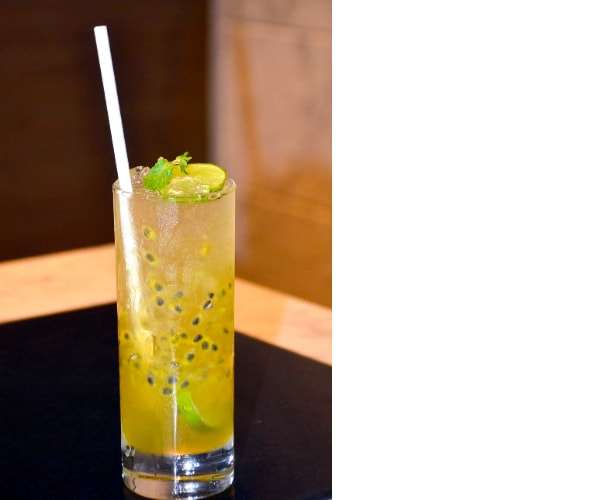 The Food
The Golden Dragon focuses on Sichuan Cuisine - one of the most popular cuisines in China. Sichuan cuisine is known for its aromas through the use of garlic and peppers, quite liberally I might add. What's to complain about? That's exactly where the smell of "Chinese food" really kicks in and that's most definitely a smell we all love.
As I sat down for my meal I was told what they were serving me with for the night and I was quite excited (and frankly very hungry) after hearing about the menu.
The dishes were served altogether (and not to worry, everything was still piping hot when it reached my table) so I wouldn't particularly have an order to which I ate, so let's just get to it!
The Cantonese Style Fried Rice (Rs. 1600/-) with Chicken was just the perfect balance. It had the right amount of seasoning and wasn't overly oily. It was light and fluffy but incredibly filling and the so-called "small" portion was enough for two people.
I was also served Hakka Noodles (Rs. 1600/-) which had an egg-based feel to the noodle and a soy stir fry of vegetables and chilli peppers. This dish had a particular flare from the peppers to add to the mild soy-like flavour.
The Sichuan Chillie Chicken (Rs. 1030/-) was on the slightly sweeter side of things, with a well-balanced serving of onions for a little crunch and green bell peppers for more greener flavours. They also served Lagoon Prawns with black fungus, carrot, broccoli and asparagus (Rs. 2180/-) and the prawns were huge! They were beautifully cooked and the sauce was to die for. The Stir-Fried Bok Choy and Broccoli in Soy Sauce (Rs. 1680/-) had a more earthy tone to it, and if I was looking for a vegetarian option I'd go for that.
Finally, I was served a freshly made dish of Hot Butter Cuttlefish (Rs.1500/-). This dish, in particular, is one almost everyone uses to judge an eating establishment and justly so. Cooked the right way, it is in fact an incredibly flavourful dish. While most places choose to hide the cuttlefish under more than just a smattering of "garnishes", this dish was plated quite elegantly with six (or seven) cuts of cuttlefish lined up, lightly battered and mixed in with chilli. The crunchy exterior and soft cuttlefish came together really well.
For Dessert, I chose to try out something different and go for their Peanut Butter, Chocolate and Banana Dumplings (Rs. 840/-) with a side of Vanilla Ice Cream. I was pleasantly taken back by the dish, no doubt. Breaking into the dumpling, the sauce oozes out and makes for a lovely little pocket full of flavours. Definitely, a must-try.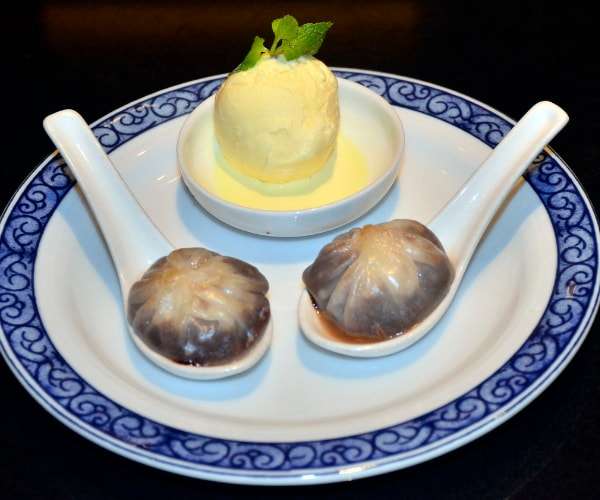 It has in fact been a while since I've stepped out in the city for one of my foodie escapades and a lot has changed since I last did. I find myself in a quieter version of Colombo on a Saturday night on the brink of December. The city trudges on with many restaurants opening its doors to a few folks who like to step out for a warm meal with the purpose of actually making some semblance of business for themselves. It is important to understand that everyone is trying their best in times like these and it's always good to support them. So if you get the chance, drop in at the Golden Dragon and try out their incredibly extensive menu! You won't regret it.
The Golden Dragon is found at the Taj Samudra Hotel, Colombo and operates for lunch from 12.30 p.m. till 3.00 p.m. and dinner from 7.30 p.m. till 11.30 p.m. every day. You can make your reservations through the hotels official website or give them a call on 0112 446 622 for more information.
Note:
Cutlery is served in steaming hot water to disinfect the utensils before use so be careful not to burn yourself! It stings!
Text Vihan Wickramasurendra
Photos Waruna Wanniarachchi