Preparations are underway to pull out this year's International Christmas Charity Bazaar (ICCB) on a grand scale. As one of the events which kick-off the festive season, it has become a much anticipated event in the pre-Christmas calendar.
Those who shop at ICCB are not only purchasing their seasonal goodies but they are also contributing to charity. Visitors can also get involved in the raffle draws and lucky dips which are for both adults and children and win exciting giveaways. ICCB is a multicultural gathering where several countries put up their stalls and sell attractive items and delicious foods to support local charities. This is another unique feature of this grand marketplace.
Several stallholders have been with ICCB since its inception and here's what they had to say:

"We have savoury items, sweets, dresses, jewellery and décor. We also have people doing henna as well. India has been participating for a long time and we are supporting Victory School. It's very exciting to be a part of ICCB because the goal and purpose is very clear." – India




"We are a very small group but we have been taking part for the past few years. We choose our charities after the bazaar but we try to support all charities we have been working with in the past. We are selling most items coming from the UK which include food and gift items. We have various projects throughout the year and one of our main projects is the Deaf and Blind School in Jaffna. It's fantastic and I have been involved for many years." – United Nations Women's Guild




"We have our own hand-painted stools, food including lamprais and we also have a gingerbread house like last time. Other Christmas goodies and decorations are also available. We have also introduced a reusable bag which we will sell because I'm quite concerned about the plastic pollution that has become a threat to the environment. They come in three different sizes and it's a source of income for the mothers of our children. It's wonderful to be a part of ICCB with this lovely bunch of people." – Anoja Rajapathirana, EASE Foundation




"We are supporting a charity by the name Hilfsbrucke and have many items from Germany including traditional Christmas cake, gingerbread etc. I like to do charity and it's a nice feeling to be here." – Germany

"It is a very nice to help women, children and those in need during Christmas. Hopefully we will be able to see more of these activities in future." – Shang Chenglin – Chinese Embassy


"We have been actively involved in ICCB for a long time. There will be Japanese sweets, souvenirs and many other items. It's a good idea to have an event such as this during Christmas." - Gabriella Ozaki and Misako Takamizawa, Japan


"This is the third time that we are participating at ICCB. The Turkish embassy in Sri Lanka is quite new and since we are in Sri Lanka we want to establish good relationships and get involved in more social activities. During our first we sold Turkish food which was a bit of hard work and this time we are doing more hand-painted items such as tiles, the blue eyes which is believed to keep evil eyes away. So you can wear them as bracelets, necklaces or hang them anywhere in their houses. We hope everybody enjoys this event and we want to collect as many funds as possible for charity. Last year we gave all funds to a school with differently-abled children where we gave them a computer and a printer." – Ahu Emine, Turkey


"This is a great way to engage in charity during Christmas. We are hoping to sell Christmas decorations, cards, translated Russian books and Russian delicacies." – Sriyani Ranasinghe, Russian Embassy

"The IEA sells Christmas items handmade by our Sewing & Craft Group, packaged foods and crafts from our members' many home countries, goodies baked by our members and many other unique gifts donated by IEA members. All items are creatively packed by our members using recyclable materials. We use cloth, paper, jute, glass, cellulose cellophane etc. for packing. We are the winners of the 'Best Stall Award' for the past three consecutive years. Our stall is unique as members from different nationalities come together and bring out the best through their common interests" – Savita Tiwari, International Expatriate Association (IEA)

This year ICCB has also taken on a new project titled the Pink Tuk Tuk which is part of an international charity called the Rosy May foundation. ICCB supplied a pink tuk tuk to ensure the safe transport of women and girls driven by a licensed female driver.
Speaking about the project, Mary Storrie, Director/Cofounder of Rosy May foundation said that right now there are 10 female drivers and those women are working in their own communities. "They take children to school and women to work. It's been very successful and we have created a great interest throughout the island. When they see another woman driving a tuk they get motivated and that way we are creating positive role models to break the gender barriers and reduce gender discrimination. At the moment we function in the Galle District and we hope to expand to other areas as well. Women go on hires after they have been pre-booked so they are not seen in tuk stands or on the streets picking up people. So they are not challenging other tuk drivers. This way we ensure their safety as well. "

So if you want to purchase your seasonal goodies and also contribute to one or many worthy causes this Christmas head over to ICCB. This year there will be 2600 reusable Keells bags to make your shopping experience an eco-friendly one.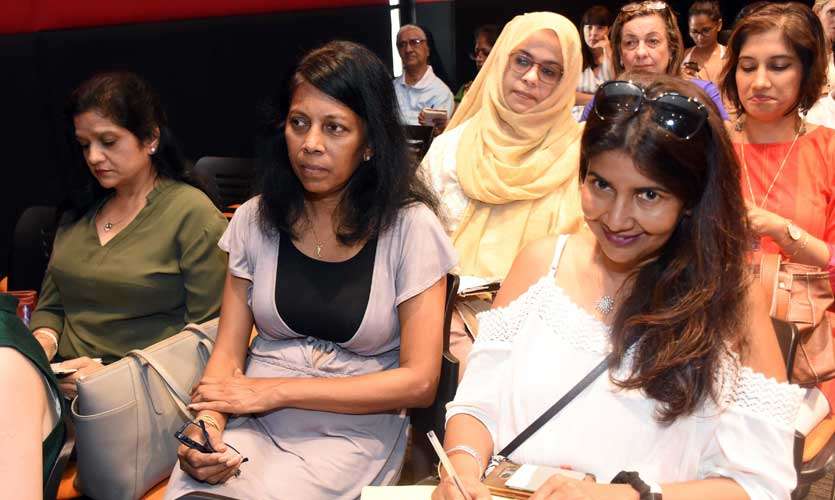 ICCB will be held on November 25, 2018 at the Galle Face Hotel from 2.00pm-6.00pm. Tickets are priced at Rs. 700 and are available at :
Café Kumbuk 60 Horton Place, Colombo 7
L'Atelier Touché, 50 R.A DeMel Mawatha Colombo 3.
The Gallery Shop, 2 Alfred House Road, Colombo 3
PR, 41 Horton Place, Colombo 7
Trunk, Cinnamon Grand, Colombo 3
Bien Être Salon, Fairway Galle
Pics by: Kushan Pathiraja