In an effort to deviate from your standard café style food, Sugar Bistro has introduced an exclusive 'Hot Dog Promo' for the month of November! The most interesting part about the promo is that it's a rather wholistic one. So ideally for a limited time only you'd be able to enjoy a massive Hot Dog, a Milkshake, Onion Rings and the famous Sugar Bistro Churros for just 1250++.
We were invited over to try it out and this article contains everything you need to know before you go on over yourself. We managed to try out two of the 6 different Hot Dogs on the menu and its safe to say both blew our minds in their own unique way.
The Ollie Dog
The Ollie Dog is your classic New York style hot-dog that came with a chicken sausage (you can choose a pork sausage if you'd like to). It had caramelized onions, a tasty mustard sauce and tomato sauce as well. If you've watched enough movies, this one would make your think about the Hot Dogs you've seen street vendors serve at Times Square. We would go so far as to classify it as comfort food because it was tasty, and it has the capacity to make you feel like you're standing by the pavement in NYC. 10/10 for the Ollie Dog!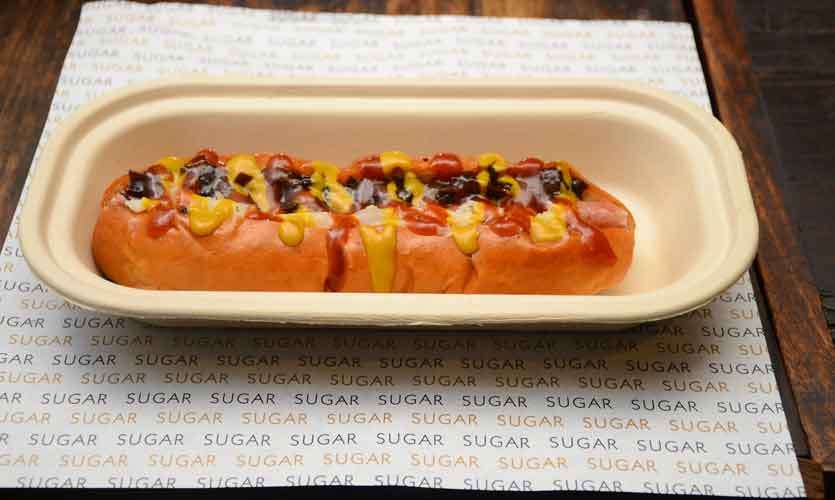 Return of The Mac!
This 'Dog' is just as exciting as the song it is named after. It's looks amazing, it tastes amazing and it makes you feel all groovy inside just by looking at it. This Hot Dog came with a pork sausage, macaroni and cheese pilled on top with bacon jam drizzled everywhere!
The Bacon Jam was a first for us and therefore it was extra exciting! The Jam is made with bits of bacon, coffee, balsamic vinegar and sugar among other things. This coupled with creamy Mac & Cheese, a home-made hot dog bun and a pork sausage is literally a combination made in heaven.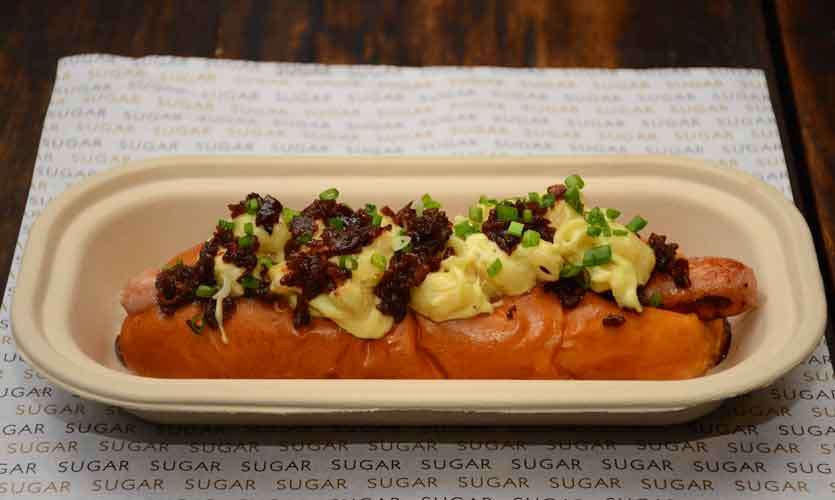 The Milkshakes and Sides
The whole purpose of Sugar Bistro launching this Combo Deal is so that people could have a wholesome meal inclusive of a drink, a side dish and a dessert item. For both Hot Dog Combo's we got Onion Rings which were super crunchy and fresh, we got the famous soft Sugar Bistro Churros for dessert in addition to a creamy Strawberry Milkshake & a Chocolate Milkshake!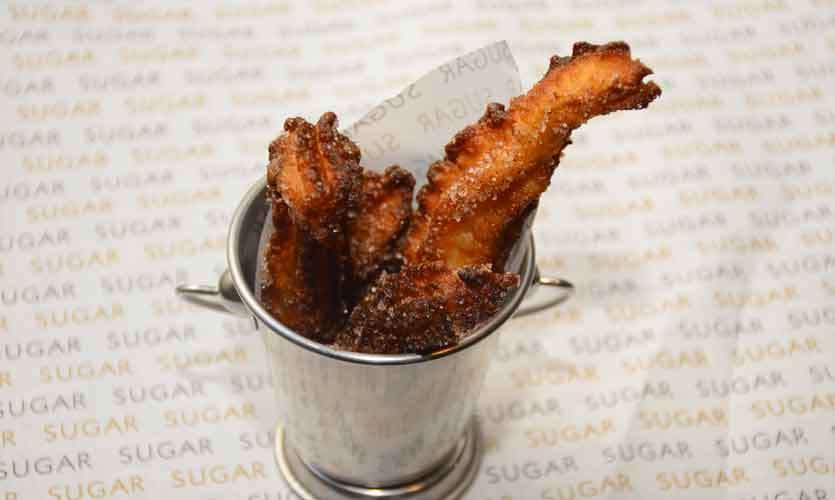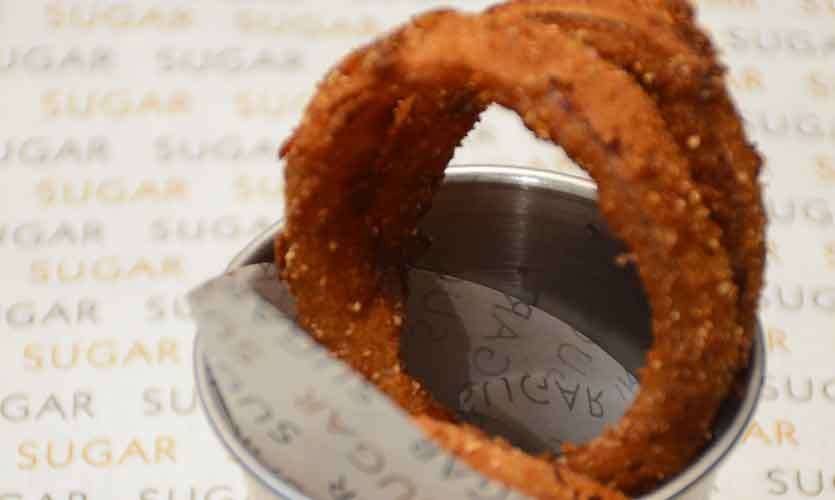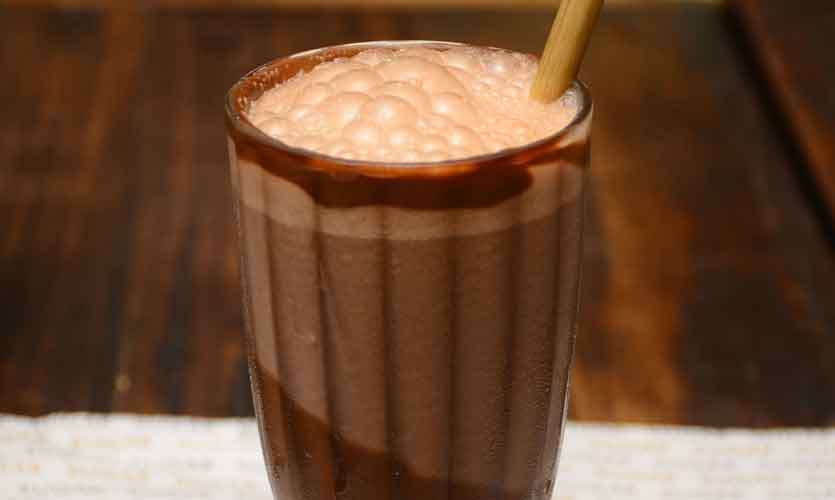 In conclusion its totally worth the 1250++ you would pay should you go for it. Sugar has also thought about a Vege friendly option and they've introduced a carrot based 'Hot -Dog' as well, so there is literally something for everyone. We would also like to make a special note about the fact that Sugar Bistro has switched from paper straws to Bamboo straws and they have eliminated plastic packaging as well. When asked why they said it was because they wanted to set an example and do their part for the environment which we think is commendable.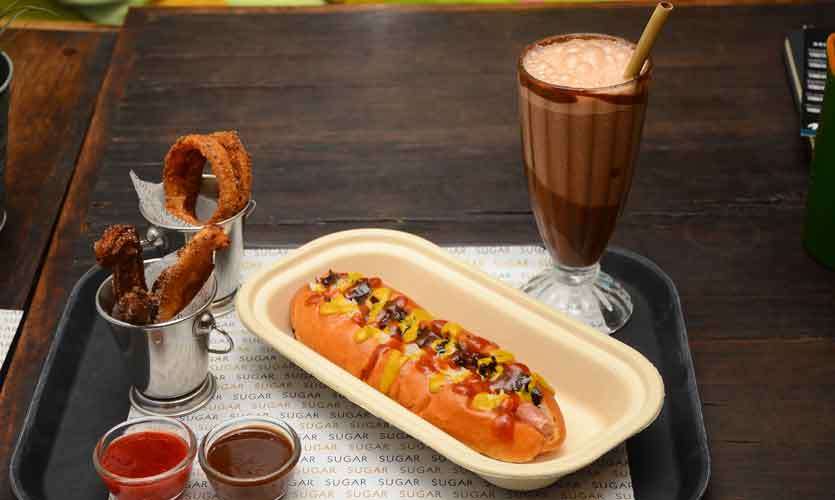 This offer can be enjoyed at Sugar Bistro Odel or Crescat Only.
Address - Crescat Boulevard / Odel Alexandra Place
Contact Number - 0112 446 229
Facebook - https://www.facebook.com/sugarbistroandwinebar/Instagram - @sugarbistro
Pictures – Waruna Wanniarachchi