Nothing much has changed since the last time we dropped in to Ramen Misoya. Their open kitchen and large eating space is still a main attraction. Although I wanted to sit at the cool bar-style table near the kitchen, I opted to sit with our kind hosts.
If you remember my last Ramen Misoya review, you probably remember that they serve three types of Miso ramen. Since we only tried the Ise Ramen last time, we went in for the Kara Ramen. We wont settle till we have it all.
Kara is said to be a favourite at RM and its flavours will surely entice our Sri Lankan tastebuds (go curry!). unlike the malty Ise, Kara is more red with an extra kick of chilli!
Before we jump into how good the ramen was (did I let the cat out of the bag?),lets talk about the other items we tried.
Food - 5/5
The Miso Chicken Karage (Rs.650) is like a Japanese fried chicken served with a mayo-miso sauce. We loved this! The coating was as crispy as a , well, perfectly deep fried chicken. It was darker in colour and the flavours were richer than a usual fried chicken.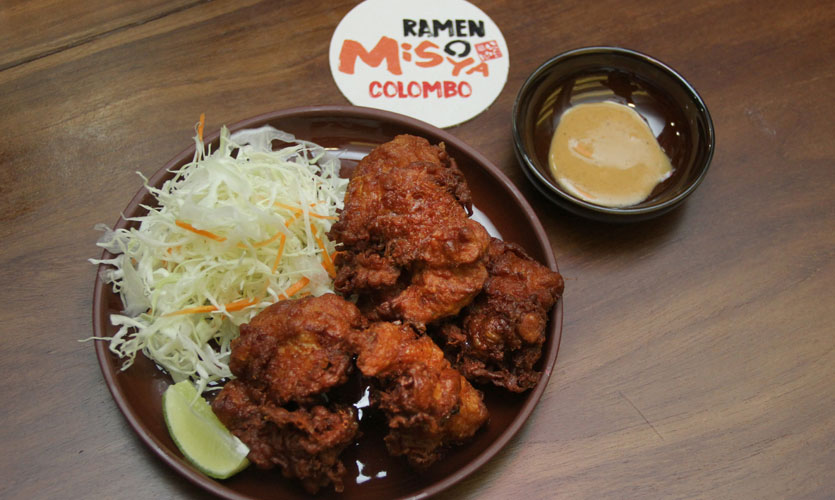 Our second appetizer was the Vege spring rolls (Rs.650). This item isn't really different from any of the spring rolls you would have already tried, but it was definitely much bigger in size. Now isn't that pleasing?
Okay. Let's get down to Ramen business.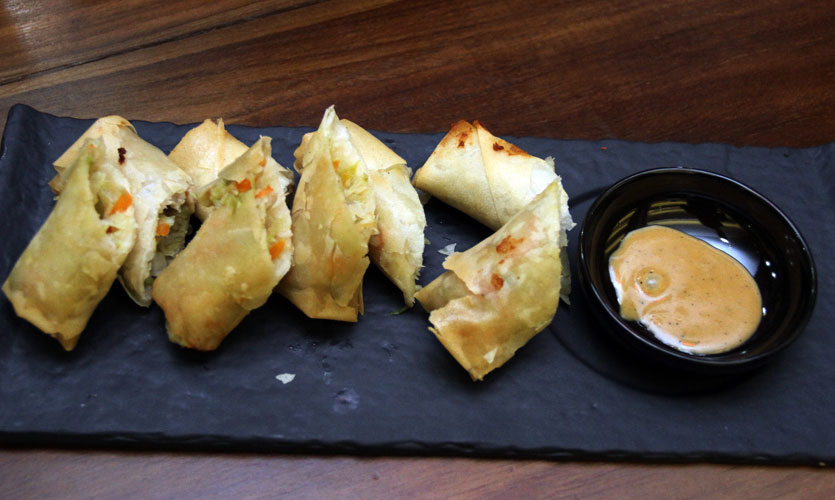 By the end of this I probably won't be able to tell you what Ramen I liked best, but let me tell you one thing, you HAVE to try these gigantic noodle bowls out!
We had the Kara Ramen Pork (Chashu)(Rs.1750). The best part about these ramen bowls are the variety of ingredients in it. Even though it seems like there is a lot going on in that bowl, each ingredient is present to balance out the other.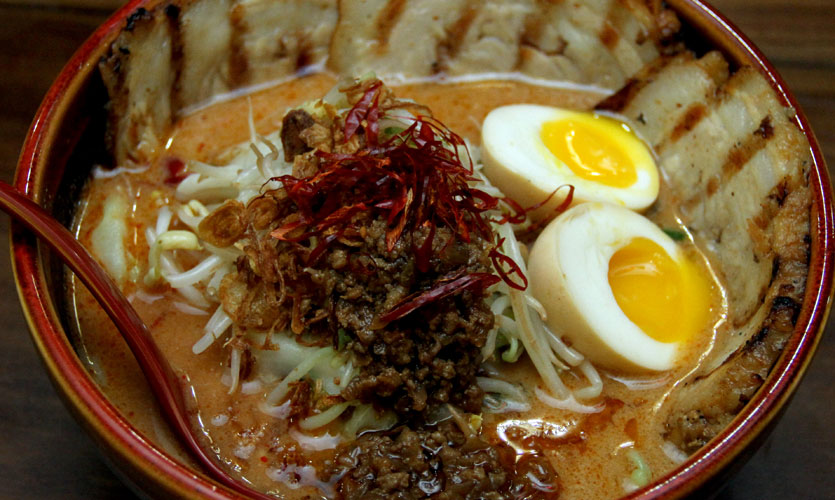 The flavour of the ramen base was super rich. It was definitely close to a curry like flavour. There was something very enticing about the thick red broth. It is even their main picture on the menu!
Their chashu (pork) slices were nothing short of splendid and were obviously too much for me to finish in one go. So you know that you are guaranteed a serving of generosity as well! If you don't want the 3 slices of cha shu, order a basic ramen bowl (pork/chicken Rs.1200) and order a topping of one chashu slice instead. This can be done with chicken as well.
With this, you can also order a miso egg (Rs.120) (boiled in a miso broth and refrigerated for 24 hours). I got myself an egg as well. They also added a slice of butter (Rs.100) into my broth to create a double-creamy texture. I suggest you help the butter mix in to the whole broth. If not, you will just be eating butter. These can be ordered from the topping/add-on section of their menu. I would definitely recommend getting this half boiled egg. It is not your usual boiled egg, you know?
Prior to placing an order, they asked us whether we wanted our broth salted or not. Obviously, I was confused. But now that I am not, let me explain. You can order your ramen broth without salt if you think the salt-malt taste is overpowering.
Like I said before, I can't pick which ramen bowl I like best. If I had a lot of curry for lunch, I would probably go for the Ise. Kara would be to satisfy my curry cravings. Look at me trying to make sense for you lovely foodies.
For dessert, we had something different. The fruit shaved ice with fruit flavoured toppings (Rs.550). We opted for the watermelon, pina colada and green apple. This is basically fruit shaved iced topped with condensed milk. As the ramen bowl is quite heavy (who am I kidding, it's huge), fruit shaved ice is the perfect lightweight dessert. Tip: Don't chew, let it melt in your mouth. My favourite was the pina colada and watermelon. I made my own mix!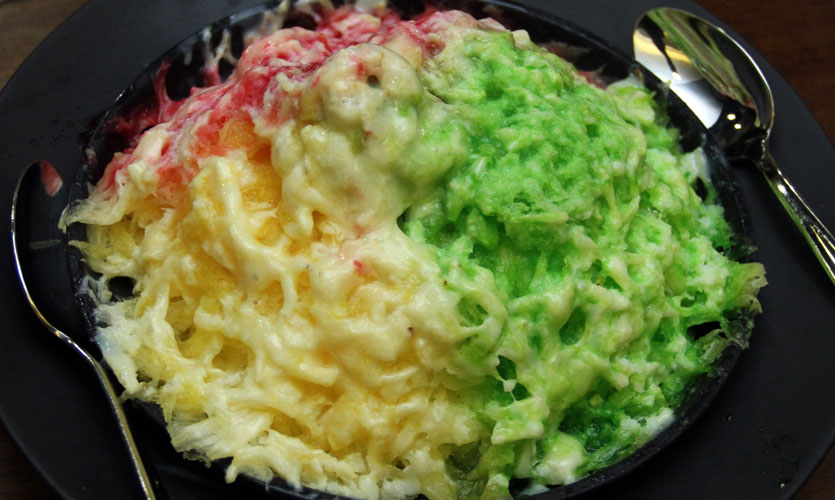 What we recommend: I suggest that you try their Kara Ramen and move on to the others. Their Miso Chicken Karaage is their best appetizer. They do have a tasty double pork chahan (rice) for those who prefer their rice meals. Definitely, try their Homemade ice creams. The sesame was my favourite.
Service: 4/5
Toilets:3/4
Parking: 4/5- parking is at the Racecourse parking grounds
Not trying to scare you, but you should probably go have a ramen bowl before they alter their menu. That's what the rumour is!
Would we go again? AMEN RAMEN! 100% yes! Those ramen bowls are irresistible.
Tips/notes by author Use the buzzers present on the table if you require a waiter to assist you. Make good use of your paper bibs. You will know what I mean.
Photos: Pradeep Dilruckshana